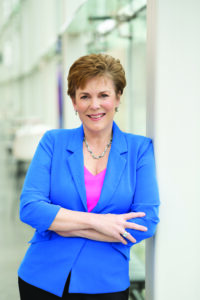 If you ask June Rainbow about her accomplishments, she'll turn the conversation around. She insists that it's not about her leadership and mentorship of others, but those who have led and mentored her.
Rather than touting how she worked her way up from an entry-level accountant to senior management positions during her 38 years with Collins Aerospace, Ms. Rainbow prefers to talk about opportunities she was given to learn and the wonderful people she worked with. 
"June is a shining example of a truly dedicated member of this community and does all she can to spread the word about the struggles our neighbors face in this community, to invite and inspire others to come together and to make an impact," wrote Kristin Rogers, president & CEO of United Way of East Central Iowa. 
Ms. Rainbow has volunteered with that organization for 20 years and currently serves as the chair of Women United, which provides women with health care access and more. 
"June leads this group of volunteers with her authentic self and is willing to be vulnerable to help others," Ms. Rogers wrote.
A South Dakota native, Ms. Rainbow moved to Iowa as a senior in high school. While studying accounting at the University of Northern Iowa in Cedar Falls, she became pregnant and married. 
The young couple received public assistance, which paid for the birth of their daughter in a local hospital. One evening, she overheard a staff member say that staff hated that ward because the patients there were "menaces to society who had to be taken care of." 
Shaking, Ms. Rainbow spoke to the staff member. "I'm one of those people. I'm going to finish college, whatever it takes, and make something of myself. I promise you that I'll give back tenfold what I've received in assistance." 
She ended with, "Please don't judge everyone. Not everyone is a menace to society," before she began to cry.
"I think that's what kickstarted my solid resolve to give back. I knew what it felt like to feel almost helpless," Ms. Rainbow recalled.
She graduated, accepted the only accounting job offered to a woman at Collins Aerospace (then known as Rockwell Collins) that year, and moved herself and her daughter to Cedar Rapids while her husband continued his studies. At one point, while waiting for payday, Ms. Rainbow subsisted on the free saltines and butter she took home from the cafeteria. 
Ms. Rainbow felt blessed in her career. She moved from accounting to pricing and financial planning and control, then into contracts with suppliers and at the time of her retirement, was a senior manager in publications and training solutions. 
"There was such a variety of different jobs that I had, and every one of them fueled a spark in me," Ms. Rainbow said. "I just loved what I did."
But it wasn't always easy for a woman in the corporate world: often, she was the only woman in the room. She credits male and female "phenomenal mentors," naming Tatum Buse, Dorene MacVey, LeAnn Ridgeway and Rose Donnelly, among others, for opportunities. In turn, she mentored women and men. 
"June has influenced and encouraged many young women through her entire career at Rockwell and has the most 'can do' attitude I've ever seen," wrote Teri Gibson of TrueNorth. The two women met through Women United and Waypoint. 
In her nomination letter, Ms. Gibson listed some of Ms. Rainbow's past and current volunteer efforts: Waypoint board of directors, one of the founding members of Collins Aerospace Women's Forum, HACAP Homeless Children's Trust, Gems of Hope founding president and current trustee, Iowa Art Works board and treasurer and March of Dimes.
In her retirement, Ms. Rainbow hasn't slowed down much, despite battling skin cancer and breast cancer. Her family includes her husband of 30 years, Peter, and their blended family of three grown daughters – Sarah, Melanie and Stephanie. And there are grandchildren: each daughter has a son and daughter. 
Some causes Ms. Rainbow volunteers for connect to challenges her family has faced. These include a grandchild born four months prematurely and another with a rare genetic disorder. 
---
This profile was originally published in the CBJ's 2023 Women of Influence publication. The 2023 Women of Influence are an inspiring group of community leaders who have each overcome adversity, taken chances and challenged themselves to make a positive impact in their community, despite demanding schedules in their personal and professional lives.
The CBJ will host the 2023 Women of Influence banquet from 5-8:30 p.m. Thursday, May 4, at the Hotel at Kirkwood in Cedar Rapids. Tickets are still available to this event, which includes networking, dinner and remarks from the winners. To learn more and purchase tickets, visit https://corridorbusiness.com/event/women-of-influence/