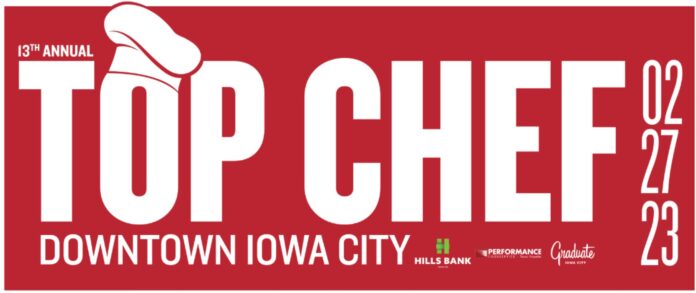 Winners have been announced in the 13th annual Top Chef: Downtown event held Feb. 27 at the Graduate Iowa City. Twenty-six businesses competed in the sold out event, presented by the Iowa City Downtown District.
Downtown and Northside Marketplace restaurants prepared signature dishes from some of the area's favorite restaurants, while area mixologists crafted cocktails. This year, a barista category was added to represent downtown coffee shops.
Awards were decided by a panel of culinary experts as well as the 400 attendees for the People's Choice Awards.
The 2023 Top Chef: Downtown winners are:
JUDGE'S AWARDS
Entree
First: the Webster
Second: Baroncini
Third: Graduate Iowa City
Dessert
First: The Dandy Lion
Mixology
First: Wild Culture Kombucha
Second: Get Fresh Cafe
PEOPLE'S CHOICE AWARDS
Entree
First: the Webster
Second: Baroncini
Third: Graduate Iowa City
Dessert
First: The Dandy Lion
Mixology
First: Wild Culture Kombucha
Second: Short's Burger & Shine