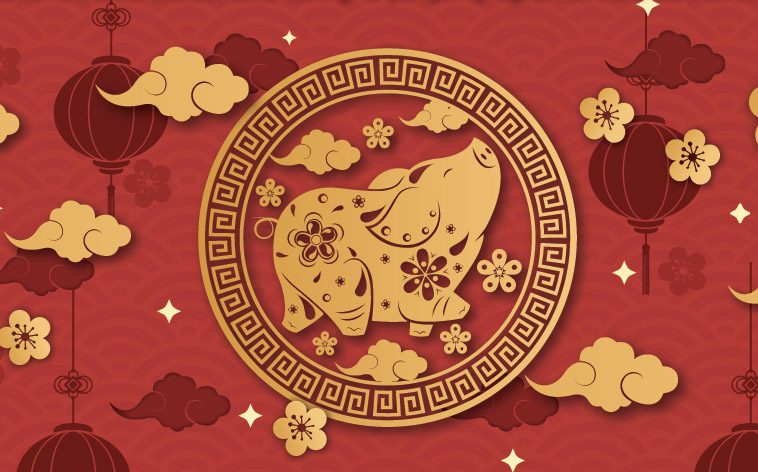 Iowa farmers, manufacturers looking for prosperity signals as trade talks continue
By Emery Styron
news@corridorbusiness.com
According to the Chinese calendar, Feb. 5 kicks off the Year of the Pig, a creature whose chubby face and big ears symbolize wealth in the culture of the world's most populous nation. The lowly farm animal could also be a symbol of prosperity in Iowa, the nation's top pork-producing state, and an example of how tightly the economies of the world's nations are intermeshed.
China's 1.39 billion people are among the top consumers of Iowa exports, including pork, beef, soybeans, corn, farm equipment, auto parts and many other manufactured goods. The nation's factories are also major suppliers for Iowa businesses.
"It's hard to roll back. The cat's out of the bag. We all depend on each other," said West Music Chairman Steve West, whose family business imports instruments and other products from China, India and Europe to sell nationally and internationally. "All our economies are based on international trade."
Recent statistics bear that out. In 2017, Iowa ranked No. 27 for exports and No. 37 for imports among the 50 states, selling nearly $13.4 billion in goods abroad and bringing in $9.16 billion in finished products from other countries, according to the U.S. Census Bureau. Iowa's $4.2 billion trade surplus was third best in the nation that year.
The state was second only to California in ag ex­ports, topping the nation in pork ($2 billion) and feed grains ($1.32 billion), and ranking second in soybeans ($3.11 billion). Iowa's exports of man­ufactured goods totaled $13.2 billion, more than double the dollar value of those ag commodities, according to figures compiled by the Iowa Eco­nomic Development Authority.
Exporters range from giants like grain trader Ar­cher Daniels Midland and manufacturers like John Deere and Collins Aerospace Systems – formerly Rockwell Collins – to many smaller companies. Of the 3,200 Iowa exporters in 2015, more than 80 percent had fewer than 500 employees, per the U.S. Department of Commerce.
Iowa's top exports, excluding waterborne bulk commodities, were industrial machinery, motor vehicles and parts, meat, cereals and animal feeds. Leading the list of imports were industrial and elec­trical machinery, motor vehicles and parts, organic chemicals, aluminum and furniture.
The state's strength in ag exports has made Iowa a target for retaliation in the U.S. trade war with China, said Lindsay Greiner, a farmer and pres­ident of the Iowa Soybean Association, and Iowa State University Economist Chad Hart.
When China slapped 25 percent tariffs on soy­beans last year in response to U.S. tariffs, the mar­ket "shrunk dramatically," Mr. Hart said. The cut­back from China of 700 million bushels was equal to all of Illinois' annual soybean production, with an estimated nationwide impact of about $5.6 bil­lion, he noted.
An ISU study released in September projected loss­es by Iowa's ag industry from trade disruptions of as much as $2.3 billion. That includes soybeans, $545 million; corn, $333 million; pork/hogs, $776 mil­lion; and ethanol $105 million. The report pegs the overall impact to Iowa's Gross State Product (GSP) at $1-2 billion, from a total GSP of $190 billion.
Recent soybean orders from China are encourag­ing, Mr. Greiner said, but are a "minimal amount" compared to normal purchases. He suggested Chi­nese purchasers are simply waiting on the next South American crop to begin harvest.
On the positive side, U.S. farmers have gone hard after other markets and replaced about half the lost crop sales with orders from the European Union, southeast Asia, north Africa, Taiwan, Iran and Iraq. Corn is another bright spot.
"Pricewise, we're at or a little better than where we were a year ago," Mr. Greiner said. "Getting the Mexico-Canada trade deal done was really good for the corn market."
Corn and beef exports are each up around 18 percent and pork 6 percent, with growth occurring in southeast Asia, Mr. Hart said.
Asian markets also helped the U.S. dairy indus­try notch record exports in 2018, said Tom Vilsack, president and CEO of the U.S. Dairy Export Coun­cil. Iowa's 1,200 dairies and 22 processing plants accounted for $118 million in exports last year.
"We have recently increased our presence in key markets" including Mexico, Canada, China, Japan, South Korea, Philippines, Indonesia, Malaysia, Vietnam and the Middle East, Mr. Vilsack wrote in an email. The industry is also working to boost cheese sales through research partnerships with universities and pro­motions with large restaurant chains.
Ratification by Congress of the U.S.-Mexico-Canada Agreement (USMCA), the new trade agreement negotiat­ed to replace the North American Free Trade Agreement (NAFTA), could "help return some profitability to the in­dustry here," Mr. Vilsack said. "The dairy industry is fo­cused on remaining competitive and I think we can hold our own. Some of the other commodities (soybeans) might not be so lucky."
Manufacturers say keep talking
The CBJ interviewed representatives of two Eastern Iowa manufacturers who say international commerce is increas­ingly important to their business and that equitable settle­ment of trade disputes is needed.
"Confidence in the stability of free and fair trade agree­ments is the key to expanding export sales," wrote David Chadima, international sales manager for Dexter, a Fair­field-based laundry equipment maker, via email. "While it obviously is disadvantageous to the USA when other countries charge significantly higher tariffs on products we export to them than we do on similar products imported from them, uncertainty about the basic ground rules can have an equally detrimental effect, even in countries where tariffs are reasonable."
The original intent of the Trans-Pacific Partnership (TPP) was to enhance trade between member nations in the Asia Pacific region by eliminating tariffs and other trade barriers to offset the growing threat of low-priced ex­ports from China, he said. With the United States now out of the TPP and China hoping to join, U.S. exports to the region could suffer, he said. ­
"Already we are seeing a flood of low-priced competitive equipment from China" coming into southeast Asia, Mr. Chadima noted. "Our hope is that a free and fair replacement to the TPP will be implemented soon."
Musco Lighting CEO and President Joe Crookham, who oversees manufacturing plants in Muscatine and Shanghai, takes a dim view of the Trump administration's approach to trade.
"I'm disappointed by us establishing major public political policies that put the focus on the differences and set up rules that create unnecessary conflicts and difficulties for people in both countries," he said in an interview.
Mr. Crookham gave the example of a U.S.-manufactured component his company uses, which must be shipped overseas for a process only available in China.
"The whole value is tariffed, imposing an additional $5-10 million cost on a basically U.S.-built item," he said.
International sales account for 10-15 percent of Musco's total volume, and he expects the percentage to grow as e-commerce spreads.
"You can't build a wall tall enough the internet can't jump over it," Mr. Crookham said, adding that he considers pulling out of trade deals the wrong way to go. "I don't see how we can build a successful world if we start selectively getting out of working relationships with people."
Steve West agreed on the need for active discussions and leveling the playing field, saying "The conversation is well overdue."
West Music hasn't been significantly affected by tariffs so far, he said, but if the dispute isn't settled and if the U.S. follows through with tariffs on all Chinese imports, as Mr. Trump has suggested, there will be a bigger impact. School districts, for example, will not receive additional revenue to cover tariffs on instruments, so they will just buy less, he said.
2019 could be 'challenging'
Despite promises set forth in the Chinese zodiac, the Year of the Pig may or may not signify good fortune for the United States. Key issues may be resolved in coming months that will affect our relationship with nations around the world. These include a new trade deal with the United Kingdom or EU, depending on Brexit's fate; U.S.-China talks; USMCA ratification and negotiations with Japan absent the TPP.
Failure to reach agreements could have dire consequences: The U.S. could end up with an uncertain trade relationship with its most important Atlantic ally, continue missing out on sales to China, lose both NAFTA and the USMCA, and lose access to Japanese markets for U.S. ag products.
On the other hand, positive resolutions could bring more stability and access to world markets, giving the Year of the Pig a Floyd of Rosedale shine.
Mr. Vilsack, whose resume also includes two terms as Iowa governor and eight years as U.S. Secretary of Agriculture, sees both clouds and sunshine.
"If the world economy continues to grow there will be opportunities for more exports, but there is a great deal of uncertainty in the world today, so 2019 might be a challenging year," he said.