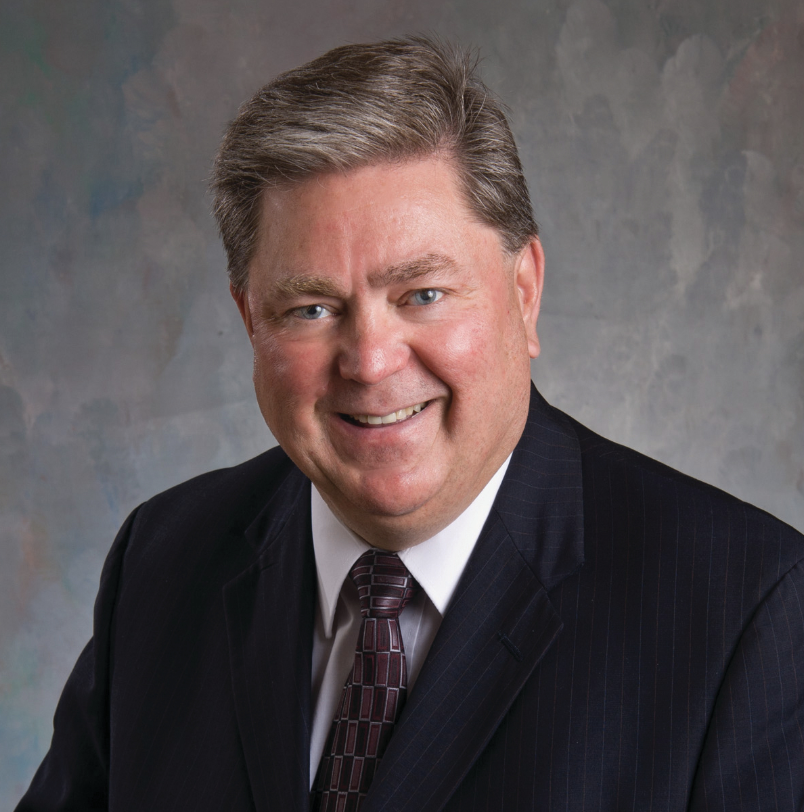 David Collins, Director of Washington County Economic Development Group
By Emery Styron
news@corridorbusiness.com
"You come into town and you can see the energy," said David Collins, describing his first impression of the com­munity as he takes the reins for Washing­ton County Economic Development Group (WEDG). "The town square impressed me … I feel it's a place I can be successful."
Mr. Collins is assuming the director's po­sition, which was vacated by Ed Raber last March after nearly 22 years on the job.
He's worked in bigger places – he man­aged the chamber in Pocatello, Idaho, a city of 35,000 from 1991-93 – but prefers small­er, more rural areas. He left Idaho to serve 12 years as executive director of the chamber, eco­nomic development corporation and North Central Iowa Growth Partnership in Clear Lake, where he grew the organizations "from caretaker status quo" to "dynamic, aggressive and proactive partners in the community," according to former Mayor Kirk Kraft, helping to land several major industries in the process.
He comes to Washington from Park Rapids, Minnesota, population 3,900, where one leader credits him "more than any other person" for the "dramatic economic growth and im­provement our community experienced from 2006 through 2018."
In a statement, WEDG Board President Ni­cole Slaubaugh said the board and other com­munity leaders who participated in the hiring process "were impressed by David's wealth of economic development knowledge and experience. He is a proven administrator who plac­es focus on bringing people together to grow communities for the future. We are excited to welcome him back to Iowa."
Husker born and bred
A native of Nebraska, Mr. Collins grew up in Overton in middle of the state, the son of an engineer who developed and marketed tone alert emergency radios and other products before dying in a plane crash when David was 10.
A self-described "hard-core Husker fan," Mr. Collins studied political science and business at the University of Nebraska. His interest in Republican politics landed him jobs as state capitol page, aide to a U.S. senator, legislative lobbyist and county clerk's assistant while still in college. An appointment as deputy clerk in Dawson County kept him from coming to Iowa in 1979 to work on George H.W. Bush's presidential campaign.
After stints as the state Republican Party political director, legislative research analyst and executive director of Associated Builders & Contractors, a statewide trade group, he moved out of Nebraska and into chamber work with a job in Fulton, Missouri. There, Mr. Collins managed industrial recruitment for city and county economic development organizations, in addition to tourism and retail promotion for the Kingdom of Callaway chamber, from 1988-91.
Mr. Collins polished his economic development skills at Pocatello, managing a staff of seven, and hit his stride in Clear Lake, a town of 7,800. Among the wins: landing a $400 million Alliant Energy gas-fired co-generating plant; recruitment of Serta Mattress to invest $4.5 million in a factory, creating 91 jobs; helping nail down $17 million in funding for lake restoration; boosting chamber membership from 147 to 400, nearly tripling its gross revenues; and "spending a lot of time on the Surf Ballroom and Buddy Holly Tribute," netting the chamber $31,000.
A move to Minnesota to get married "didn't work out," Mr. Collins laments, but he takes consolation in an impressive list of projects completed there. Retired HNI executive Thomas Miller called Mr. Collins a "team builder with a charismatic way of getting people to work with him."
As executive director of the Hubbard County Regional Economic Development Commission in Minnesota, Mr. Collins spearheaded a $6 mil­lion downtown revitalization project, recruited a grocery store and two apartment projects, wran­gled $2.5 million from the legislature to redevel­op a former armory into an arts center and pro­moted a trails project, among other initiatives.
If that sounds like a lot for a town of under 4,000, Mr. Collins notes that Hubbard Coun­ty is home to 550 lakes. Its population jumps five-fold during the summer.
Named district Rotarian of the Year in 2016-17, Mr. Collins also takes pride in accomplish­ments without millions involved. Those in­clude Rotary service projects and bringing the Pappajohn Entrepreneurial Center's Entrepre­neur for a Day program to local fifth graders.
"It's fun to see the light bulbs go on over their heads," he said.
Not everything works, Mr. Collins acknowl­edged. After spending a year chasing a lead on a company that wanted to build a warehouse in northern Iowa, "it felt like losing a member of the family" when the Target Distribution Center went to Cedar Falls. The lessons learned, however, helped him bring a McKesson distri­bution center to Clear Lake soon after.
Quality of life a priority
Mr. Collins' first order of business in Wash­ington will be a community visioning process. With countywide input, he expects to create a plan of work that will be "challenging and achievable."
You won't find him "chasing smokestacks," Mr. Collins said, adding "It's not the most cost-effective use of your time." His priorities will be retaining and growing existing busi­nesses while working on quality-of-life issues like affordable day care, housing and schools. "We need to be a place people want to move to for quality of life, not because there's a job."
Many early-stage startups want to be close to a university, he said. That's just one of many reasons he believes "Washington has a lot go­ing for it."