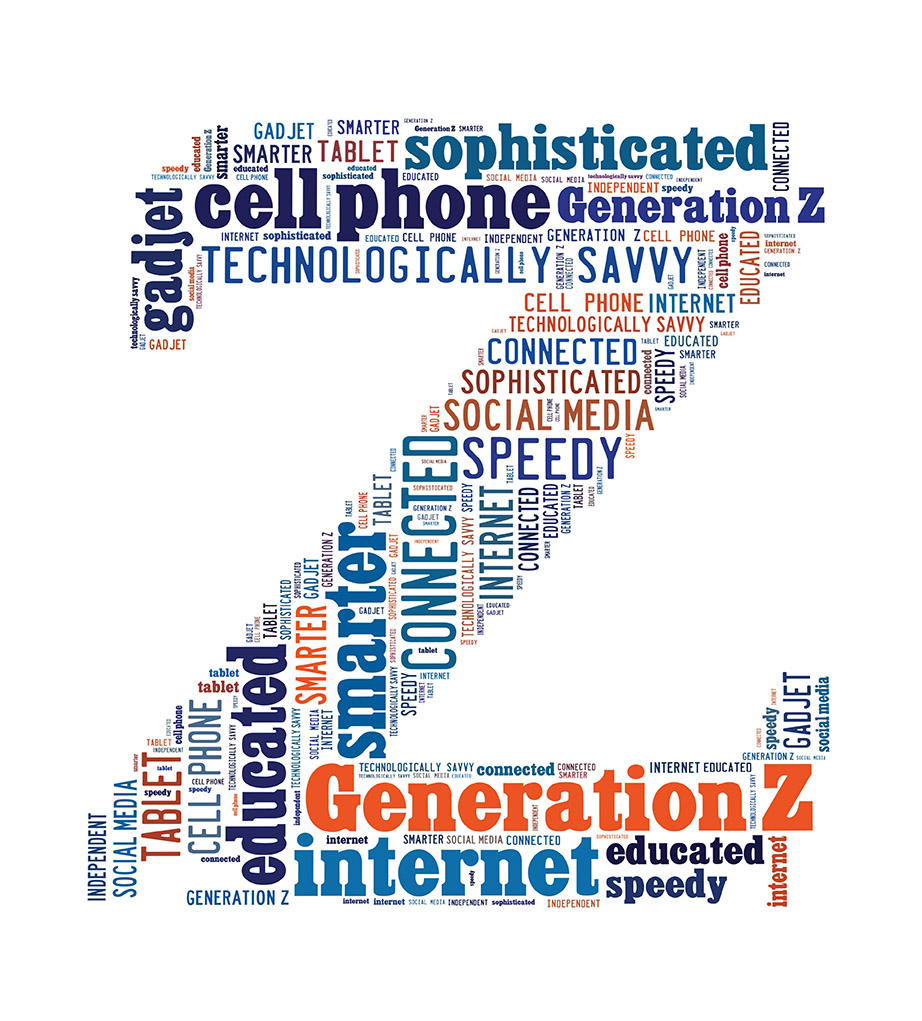 The Corridor's next generation of leaders take after the boomers and learned from the millennials. So who will they resemble more?
By Katharine Carlon
katharine@corridorbusiness.com
Cassandra Halls marvels at the way her teenage son manages to maintain top grades and get his homework done while having three or four devices on as he pores over an open textbook.
A few years ago, Adam McCoy's tween daughters started a small business selling rubber bands for the then-popular Rainbow Looms to their classmates; today they run Fit Dog, a dog walking service, after school.
And Patrick Loeffler's son, who realized early on that a four-year degree was not for him, recently made the Dean's List at Kirkwood Community College for welding and is becoming a successful fabricator.
Practical and goal-focused like Mr. Loeffler's son, Generation Z – also known as post-millennials or the iGeneration – was born in the late 1990s and beyond, and grew up in the wake of the nation's financial meltdown. They're money-minded entrepreneurs like Mr. McCoy's daughters – more focused on making a reliable income than the "follow your dreams" millennials – and adept multitaskers like Ms. Halls' son, who can't conceive of a world without the internet at arm's reach.
It's a huge, diverse generation, now 70 million strong and growing. And most of all, it's here, with its eldest members coming of age and making a mark, whether as activists like the Parkland, Florida students, leaders like 20-year-old Nobel Peace Prize-winning Malala Yousafzai or as innovators in the tech world.
In a word, Gen Z is lit.
"These kids are taking charge of things, grabbing hold and getting engaged," Mr. Loeffler said of the next generation of leaders, workers and consumers. As a father, he's observed the age cohort close-up, but it's in his role as president of the Cedar Rapids/Iowa City Building Trades Council, where he matches young people with apprenticeships, that he's become convinced this generation is different.
"I'm just in awe of what's going on, the way young people are engaging themselves," he said. "I'm so very encouraged by their work ethic, the way they know their own minds, the willingness to get involved."
MEMBERS ONLY: Meet more Corridor students doing innovative things in business in the CBJ's digital edition.
After years of headlines about millennials, Gen Z is the hot new demo recruiters, marketers and social scientists are trying to understand. Though the oldest Gen-Zers are just beginning to enter the workforce, they already wield considerable economic power. In addition to the $44 billion they spend on their own, according to research company Mintel, 93 percent of their parents agree they influence at least some family spending and purchases.
"All the media has been about the millennials for years, but this is slated to be an even bigger generation," said Mr. McCoy, director of recruiting and operations for Cedar Rapids-based Skywalk Group, who recently led a training session on what to expect from Gen Z in the workplace. "And they are very different."
Early differences
Perhaps the biggest trait differentiating Gen Z from the others is the fact that they are the nation's first true "digital natives," having never known a non-connected world.
"My daughters have never laid a hand on a rotary phone, let alone a cassette player or a VHS tape," Mr. McCoy said. "Their lives are attached to their devices, so waiting for any kind of information is something they're not used to and they won't tolerate it. They know two words: Google it. Everything has to move faster and be actionable sooner."
While this suggests they're more likely to be innovative changemakers, Mr. McCoy said that it could also lead to some degree of conflict as they bump up against traditional ways of doing things around the office.
"Don't be surprised when they laugh at all our antiquated technology and products," he said.
Gen Z is also expected to be more money-conscious than their millennial forebears – not surprising for a generation whose childhoods were shaped by the wreckage of the Great Recession. TD Ameritrade's second-annual Generation Z survey suggested 46 percent worry about piling up student debt, while a Cassandra Report study showed 60 percent of Gen Z believes "a lot of money" is evidence of success, versus just 44 percent of millennials.
"Generation Z is still really new, so I always caution people about putting perceptions out there too soon," said Ms. Halls, who often speaks on generational issues as president of Des Moines-based consulting firm 2 The Top. "But early on, they seem to have characteristics similar to the boomers. They're loyal and dedicated in the workplace. They're very hardworking. Where millennials are more entrepreneurial, it looks like Gen Z is going to be more traditional. They see all the college debt millennials are carrying so they're more risk averse, and many of them are turning back to technical schools and community colleges."
It's a trend Mr. Loeffler is keenly aware of as young people flood career fairs for jobs and apprenticeships in the trades. And why not, he said, when they can easily earn $16 an hour straight out of high school with another $16 an hour in benefits.
Looking at the shape of workforce, Mr. Loeffler said, "they're starting to realize they don't have to be in an office every day to earn a living. They don't need to take on that college debt."
Citing BLS statistics suggesting only 25 percent of available jobs require an advanced degree, Mr. Loeffler said many are concluding college is not worth the investment.
"Why fight for 25 percent of the job market? Baby boomers are retiring. The people with key industry knowledge are retiring – foremen, project managers – and the next level is going to be able to shift up quickly. There's going to be a lot of opportunity for growth and the next generation to step into those roles."
Though they are shaping up to be more financially conservative than millennials, they still have an entrepreneurial spark. One small-sample Harvard Business Review study showed 70 percent of teens were self-employed by selling goods or services, with just 12 percent holding traditional teen jobs like waiting tables and bagging groceries. Another study by Northeastern University indicated 42 percent of Gen Zers expect to work for themselves one day, even though only one in nine people do so today.
"You've heard of the gig economy. I think we're going to see a continuation of that kind of thing," Mr. McCoy said. "That means it could potentially become harder and harder for employers to compete for qualified talent. Employers could find some challenges filling 9 to 5 jobs."
Trace Pickering, executive director of Iowa BIG, which allows high school students from three local districts to work on community-based issues for class credit, said engaging this next generation will require being socially conscious, allowing for collaborative leadership and giving them a voice.
"This generation is very, very socially aware and what you're seeing in response to the Parkland shootings nationally is the same thing we're seeing, regardless of political bent," he said, adding that the students he works with are passionate on issues from eliminating food deserts to sustainable agriculture. "When it comes to leadership, they're really interested in the collaborative side of things – they'll step up and lead if they have the skill set in one area and sit down and follow if others have it in another area."
More than anything, Mr. Pickering said, Gen Z craves – and expects – to be listened to.
"They really want to be heard," he said. "They're not very interested in doing things people tell them they 'should do for the future.' They realize that's a shell game and they're willing to call shenanigans."
"This is the second generation willing to ask the question, 'why?'" Ms. Halls agreed. "Xers and boomers maintain focus differently than Gen Z and millennials, who are always asking, 'is there a better way?' They aren't afraid to share their opinions because they've been sharing them their whole lives."
Like most Gen Xers, Ms. Halls grew up with parents who did not consult her when they pondered large expenses or planned family vacations.
"My parents just told me, 'Get in the car,'" she laughed. "There weren't these family discussions we have now where everybody weighs in. These simple little things condition a generation to have an opinion they're willing to share."
Wired for connection
While millennials were shaped by the emergence of smart tech, Gen Z "hit the ground running" as the first generation with access to instant information and a presence on social media "from almost the moment they were born," Ms. Halls said. There is some scientific evidence that this societal change has rewired the way young people's brains work, she added, making them more capable of managing many information sources at once – like her son, who juggles headphones, a cell phone and a laptop while doing homework.
That change in wiring could account for another unique characteristic of Gen Zers: their short attention span. According to the U.S. National Center for Biotechnology Information, the average attention span for Gen Z is eight seconds, down from 12 seconds for their millennial counterparts. That means advertisers, marketers and recruiters had better make their pitches snappy and visually arresting.
"Millennials care about bargain pricing and will follow rabbit holes for a better deal, but Gen Z is not as into that," Ms. Halls said. "Brand is everything to both millennials and Gen Z, but if you're not marketing online, you're missing them completely because that's where they are. And when it comes to recruiting, you need to make your website amazing, you need to have YouTube videos. They need to see those things because that's how they're wired."
Gen Z may be the first digital natives, but they are far less likely than millennials to overshare personal details or embarrassing party photos on social media, having learned that information on the internet lives forever. They are also more interested, Ms. Halls said, in authentic one-on-one communication.
"One cool thing about Gen Z that's different from millennials is they're very to the point, but also much more open to person-to-person communications," she said. "I'm sure there will be parents out there thinking, 'What are you talking about? My 16-year-old doesn't speak to me,' but as they grow into the workforce, they will definitely have more of a preference for person-to-person communication."
On the flip side, Ms. Halls noted, Gen Z is likely to grow up conflict averse. In addition to growing up in a time of financial instability, they've also lived their entire lives in a world shaped by turmoil.
"The entire time they've been on the planet, America and the world has been at war. They've never known a time without conflict," she said, adding that the omnipresence of reality TV could leave a mark as well. While Gen X parents grew up with shows like "Growing Pains," "The Cosby Show" and "Family Ties," where problems were neatly resolved in a half-hour timespan, Gen Z has been fed a steady diet of ratcheted-up drama where there's never a satisfying conclusion, "characters" are encouraged to behave as outrageously as possible and "everything is always on the edge."
"That's one thing that will be an interesting challenge: how is this generation going to handle conflict?" she said. "They could stay silent because they're used to being passive observers or it could be a Henny Penny, sky is falling thing."
No matter what personality traits come to define Gen Z, one thing is certain: They will look different than any generation that has come before. A rise in multi-racial marriages over the past decade has led to a 50 percent increase in U.S. multi-racial youth, and by 2020, according to the U.S. Census Bureau, 50.2 percent of youth aged 18 and under will be non-white.
Mr. McCoy said that not only is Gen Z more diverse by the numbers, they also insist upon inclusiveness and tolerance of differences in race, gender and sexual orientation.
"That's the reality of who they are," he said. "It's automatically built into their generation's DNA. I'm not smart enough to know what that will mean, but it will mean something – in the workplace and outside the workplace."