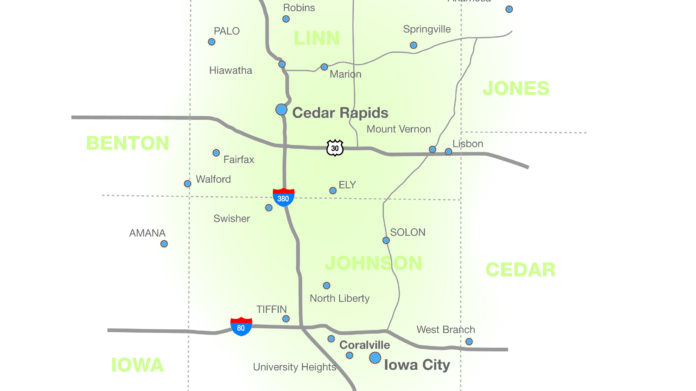 We have a great region in the Cedar Rapids/Iowa City Corridor. But, still, we could be much better if we actually work together on big, audacious regional projects.
It is being done in other regions.
Take, for example, our two closest regional markets and the extraordinary regional projects they have implemented or are currently working on.
The Quad Cities recently opened a $1 billion new Interstate 74 bridge that took decades to complete. However, it wouldn't have been possible without the various municipalities having a unified approach to federal priorities across the two states.
This bridge is a symbolic connection between that region and will spur economic development across the region.
Imagine this happening across two states with very different political and economic structures.
"The I-74 river bridge is a testament to what is possible when we work together to build a better Midwest. These improvements will support safer and shorter commutes, connect economies across the Mississippi, and spark opportunity across the Quad Cities," said Illinois Gov. J.B. Pritzker in a Quad Cities Regional Business Journal article. "I'm proud to celebrate our partnership with the Iowa Department of Transportation and thank them for their leadership." 
The city of Des Moines is now embarking on another ambitious project, a nearly $575 million new terminal for the Des Moines International Airport. Many regional communities are pitching in millions of dollars to help make that happen.
The Des Moines Register recently reported that the airport had requested funds from 17 cities and five counties. Ankeny is considering a $2 million grant. Waukee will consider contributing $722,670 and West Des Moines, $2 million. 
The Altoona City Council on Dec. 6 unanimously approved $576,000. Mayor Dean O'Connor said council members didn't hesitate to approve the funding — they recognize an efficient airport is essential to cities' business and population growth. 
We aren't going to debate how well the Des Moines Airport is run compared to the Eastern Iowa Airport, which has no debt and uses no taxpayer dollars. Still, the overall point is: What audacious regional goals are the Corridor working on? 
None that we know of.
Instead of working on big goals, we are mired in local squabbles like hosting the Iowa Girls State Volleyball Tournament. It recently moved from Cedar Rapids to Coralville.
Additionally, the region is working on several different regional visioning efforts instead of one unified effort.
Let's work together on an audacious goal and put aside our provincialism to make it happen. And if we hurry, we might be able to get some of the federal monies available for infrastructure projects.