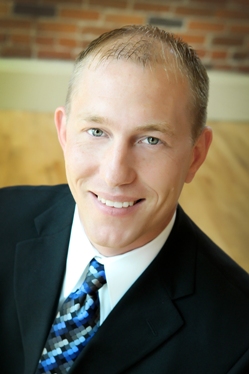 Wesley Hilleshiem
Trust Officer
BankIowa
Age: 36
Wesley Hilleshiem's mantra should be "just keep running."
The Marion resident and trust officer at BankIowa recently completed his 75th 5K race in the past two years. Each of these races has benefitted an Eastern Iowa charity.
Mr. Hilleshiem, a former college wrestler at Coe College, never ran competitively until a friend asked him to run a 5K race in 2011. Two years and 1,500 miles later, Mr. Hilleshiem is hooked on competitive racing and is making a name for himself in the winner's circle. He has managed to drop two minutes from his race time and is on a 10-race win streak in his age group.
Most importantly, says Mr. Hilleshiem, the running satisfies his competitive nature, benefits charity and has allowed him to meet and network "with some of the best people in Eastern Iowa."
Mr. Hilleshiem translates his competitive nature into his work and volunteer endeavors, too.
"There is no way I would have achieved what I have without being competitive," he said. "You have to be competitive to win or succeed, whether it's in the work world or in sports."
His colleagues have also recognized his competitive drive and its positive impact in the work environment.
"Being a leader is someone who influences others to achieve positive outcomes in a collective and cohesive manner," Greg Neumeyer, market president at BankIowa, stated in his nomination of Mr. Hilleshiem. "Wes has done this both professionally and in serving our community."
Mr. Hilleshiem is a 2012 recipient of the 40 and Under Society of Financial Services Professional Award and also recently graduated from the ABA Graduate Trust School with honors. He is president of the Financial Services Professionals of Eastern Iowa and past president and member of the board of directors of the Financial Planning Association's Eastern Iowa chapter.
"We have a civic responsibility to our community," said Mr. Hilleshiem of his dedication to service and volunteerism. "I'm proud of our community and there is so much need to go around."
-Molly Altorfer