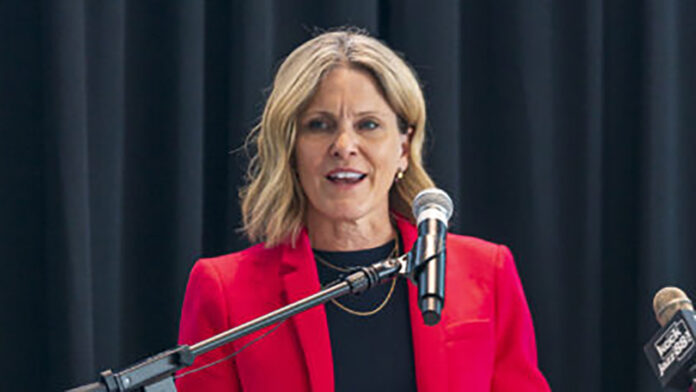 The last several presidents at Kirkwood Community College, including the current one, have been exceptional leaders. They have been able to champion economic development, education and regionalism — three fundamental components to the current and long-term success of the Cedar Rapids/Iowa City Corridor.
The newly announced president of Kirkwood Community College, Kristie Fisher, might have the best background yet to lead Kirkwood into a very uncertain future.
Ms. Fisher, who currently serves as president of Iowa Valley Community College District, will succeed retiring President Lori Sundberg on Oct. 30.
The position of president of Kirkwood is one of the most important leadership positions in the Cedar Rapids/Iowa City Corridor region.
Ms. Fisher returns to Kirkwood nearly 10 years after leaving her role as vice president of student services, a position she held for eight years. 
We especially appreciate Ms. Fisher's background in the private sector working as a senior director/assistant vice president at ACT, Inc. in Iowa City, where she stayed until being named president of Iowa Valley.
She told the CBJ that her time at ACT gave her an appreciation of research.
"Being able to dig deep into research helped me think differently about the student experience and how to support students," she explained. "I spent so much of my time when I was at ACT really traveling around the country and talking about ACT's research."
Before joining Kirkwood the first time, Ms. Fisher was director of community relations with the College Community School District in Cedar Rapids for four years, from 2000-2004.
She also studied at Kirkwood before getting a degree in communications studies, and eventually an MBA, from the University of Iowa. Ms. Fisher holds a Ph.D. in educational leadership and policy studies from Iowa State University.
"Even though my career has taken me to other wonderful places, my heart has never really left Kirkwood," she said.
Kirkwood embodies the Corridor region better than any other business or institution. Leading this important institution is not easy, but we feel that Ms. Fisher certainly has the passion and background to be successful.
Johnson County's misguided minimum wage
Iowa City has an interesting city ordinance boldly declaring a nuclear-weapon-free zone within city limits. This ordinance is absurdly symbolic. Heaven forbid if the United States ever had a nuclear war. It is unlikely the federal government or an enemy would adhere to this unenforceable ordinance.
Which brings us to an equally ridiculous Johnson County Board of Supervisors' minimum wage increase, approved recently to $12.25 effective July 1, 2023. Johnson County's minimum wage is also absurdly symbolic and unenforceable under state law, but that doesn't prevent supervisors from continuing to increase it and attempting to bully businesses within the county to adhere to it.
Let's keep the political grandstanding to presidential candidates rather than local elected officials who should know better.