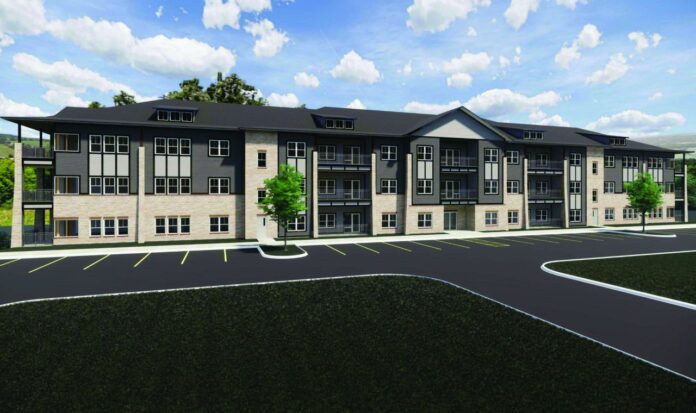 The front of the planned Brown Deer Co-op in Coralville, which will be built over enclosed parking. CREDIT FUSION ARCHITECTS
By Dave DeWitte
dave@corridorbusiness.com
Coralville's Brown Deer Golf Course will be the backdrop for the Watts Group's first foray into housing co-op development, with an ambitious project targeting the lifestyle needs of residents 55 and older.
Pending a final rezoning vote this month, work could begin in late spring on an initial 30-unit community building at Brown Deer Cooperative, located on a high point of land between the golf course driving range and the River Products quarry.
Watts Group acquired the site from the city of Coralville, and was excited about its potential because of the proximity to Brown Deer and the vistas it provides.
The structure was designed by Fusion Architects with a nod to the Prairie School architecture of the Brown Deer clubhouse, and features a 20-by-60-foot elevated deck off the community room on the golf course side. It's also within a short walk of the Brown Deer clubhouse.
Watts Group isn't just relying on the golf course connection to make the project a success, however. The buildings will offer a wider range of amenities than most senior co-ops.
Residents will have access to a workout facility, community room with a bar and fireplace, a dog park, underground parking and a studio apartment that can be reserved for short-term stays by visiting friends or relatives. Units will have a variety of floor plans and balconies.
The co-op housing market captured the attention of Watts Group CEO Gary Watts a few years ago. He noticed that co-ops had become a preferred senior housing choice in Minnesota, and were spreading quickly in Iowa through the work of companies like Vintage Cooperatives. He also learned that 30 million baby boomers will be entering the senior housing market in the next 20 years.
Cooperative living provides the financial benefits of ownership without the responsibilities of maintenance. Mr. Watts expects Brown Deer Co-op to have strong appeal to "snowbirds," who like to winter in Florida or Arizona without worrying about the maintenance of their single-family home back in Iowa.
"Some good friends bought into a co-op, and they loved it," Mr. Watts said.
For those worried about selling their home before making the commitment to a co-op share, Mr. Watts said the company will offer its Guarantee Sale plan. The plan guarantees that Watts Group will buy the home for an agreed-upon price if it is unable to sell it within six months.
While there's a definite social aspect to living in a co-op that includes being active in co-op governance and planning social activities, residents can also keep to themselves if they prefer, he noted.
Co-op residents each own a share of the housing development, based on the size and type of home they occupy. They also pay a monthly fee, which is used to cover the monthly operating costs and maintenance of the facilities. An experienced management company will oversee the property under the direction of a board of directors elected by members.
In previous requests to rezone the site from a park/green space designation to medium density housing, Watts Group submitted plans to the city for two 30-unit condo buildings, one facing the driving range and the other facing First Avenue and the quarry. The first co-op building is the only definite housing being marketed on the site at this time.
The rezoning was recommended by Coralville's Planning and Zoning Commission on a narrow 3-2 vote in October. At a Nov. 15 public hearing before the city council, opposition was relatively light, according to Jim Kessler, the city's planning and zoning official, with concerns expressed mainly about whether the density of the project was a fit for the neighborhood, and about the impact on traffic on Country Club Drive.
It's a new direction for Watts Group, which made its name developing housing for young professionals and college students in and around North Liberty and Coralville.
Mr. Watts sees the 55-plus co-op housing market as distinctly different from the assisted living market. He says many co-op residents are not yet retired, but want more freedom to enjoy their empty-nester years. Combining the active living amenities with easy access to golfing and nearby University of Iowa attractions is how Watts Group is approaching it.
"We're selling a lifestyle," Mr. Watts said. "That's the biggest part of it that I like."
 CBJ Reporter Katharine Carlon contributed to this report.