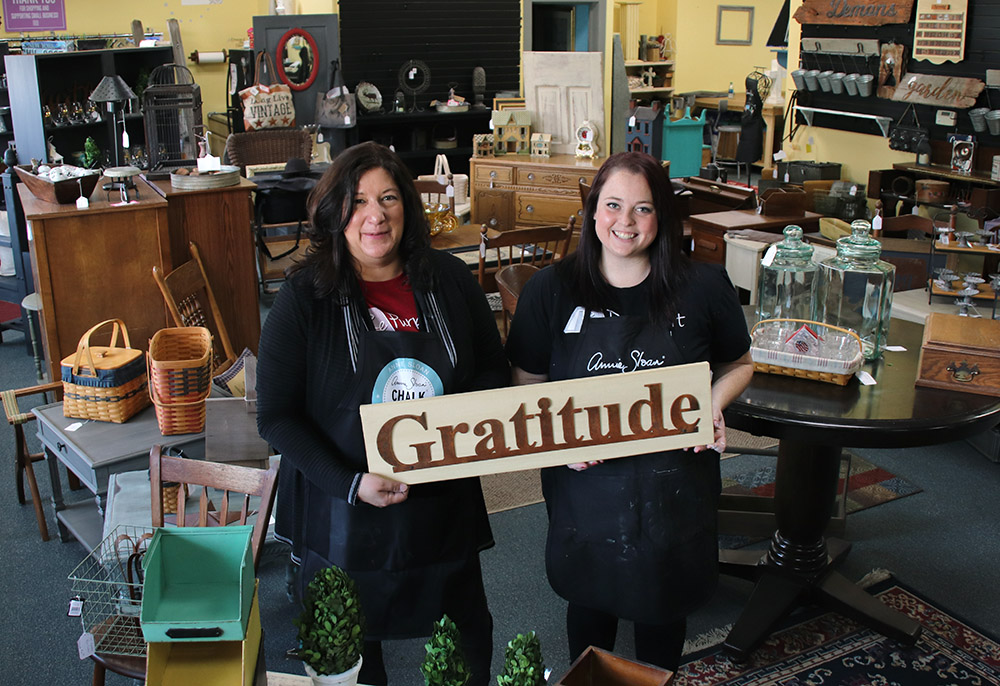 Leslie Allender and painter Jamie Fritz stand amidst RePurpose It's showroom of consigned furniture, refinishing projects and home décor. PHOTO EMERY STYRON
By Emery Styron
news@corridorbusiness.com
British home decorating guru Annie Sloan would have to look far and wide to find a better example of her shop local/have fun philosophy than RePurpose It in downtown Washington.
Run by Main Street Washington board member Leslie Allender, the hobby-turned-business is an add-on to Carson Plumbing & Heating, and one of the few shops in Eastern Iowa stocking Ms. Sloan's line of hot-selling chalk paints.
The paints, known for adding a velvety matte finish to craft and furniture refurbishment projects without surface prep, combines with the store's fast-changing inventory of "rustic, shabby chic and distressed" furniture and home décor to pull in locals and out-of-towners, who also enjoy Ms. Allender's friendly, learn-it-here approach.
Customers get hands-on training in using the products at painting parties, "bring your own piece" nights, weekly classes and team-building events held around the "working paint bar" at the rear of the store.
"The last thing I want to hear is that a customer bought a bunch of paint and never used it because they didn't know how," Ms. Allender said. "We want to make sure they are comfortable before they leave. If you offer the opportunity to have success, they're going to have fun with it."
Down time & space to fill
Ms. Allender, who grew up in nearby Brighton and attended Washington schools, was "excited to get out of the Midwest" and spent much of her adult life living in Portland and ranging over Canada and the West Coast as a wholesale account manager for a kitchen gadget company. But the pull of home eventually prevailed.
"I reconnected with an old high school love and we blended our families," she explained.
When Ms. Allender and her husband, Jim, bought Carson Plumbing from his parents in 2013, they found the business no longer needed a showroom. Deliveries arrived daily and other stores in the region stocked fixtures, so Carson was able to operate with much less inventory. And because "plumbing is mostly a service, I found a lot of down time," she said.
Needing something to do and having space to fill in a building that previously housed a Studebaker dealership, Fareway grocery and skating rink, Ms. Allender launched RePurpose It the next year. Her first try at a startup, she found her years of sales experience had prepared her well.
A long-time crafter and furniture refinisher, Ms. Allender was sold on Annie Sloan products.
"The minute I opened a can of her paint, I called and kept calling until I figured out how I could become a retailer," she said.
Twenty hours of training was one requirement, which gave her the opportunity to meet Ms. Sloan, considered one of Britain's most influential designers.
Ms. Sloan sells only through independent dealers. She is a "firm believer in experience" and "would like everyone to come into shops," said Ms. Allender, who encourages customers to bring in projects and questions. "We try to re-purpose. People come in and say, 'I've got 10 windows. Can you do something with them?' Sometimes, we're just experimenting."
Some of those experiments wind up on the sales floor. It's filled with a colorful mix of consignment furniture, home décor and painted pieces created by Ms. Allender, staff and customers. RePurpose It employs Jamie Fritz as a full-time painter and accepts painting projects from customers. A second employee, Ann Conklin, answers phones and waits on store and plumbing customers.
"We wondered how it would work with the plumbing business," Ms. Allender said. "Lots of men say 'I'll have to tell my wife about this.' Most stores have a niche. Our mix is so varied. We have something for everyone."
Helping the town flourish
"Leslie is an amazing and passionate advocate not only for her own business, but Washington businesses as a whole," said Main Street Washington Executive Director Sarah Grunewaldt. "She sees the success of other businesses as her success."
Ms. Allender agrees with Mr. Grunewaldt, saying "the town flourishes when the downtown corridor is thriving." The town's well-attended Sip & Shop wine-tasting event was the most recent evidence that Main Street's efforts are having an impact. "It was a wonderful night" that brought people into downtown stores to mingle and shop, she said.
Carson Plumbing "pays the overall bills," leaving profits from RePurpose It to provide "a little extra." That enables Ms. Allender to donate 5 percent of sales each month to local nonprofits. English River Outfitters, an organization that provides outdoor experiences for disabled veterans, the Paws & More animal shelter and 180 Teen Center are among the organizations the store has supported.
She also offers crafts as an avenue of community involvement. This past holiday season, customers who brought in canned goods for the local food bank could build a free ornament. The store hosted 4-H members, who made Christmas trees from wood trim scraps.
"The world needs more people like her," Ms. Grunewaldt said.
For Ms. Allender, the volunteer work and business all go together. She smiles as she flips through dozens of happy customers' project photos on her cellphone.
"We have a good time every day."