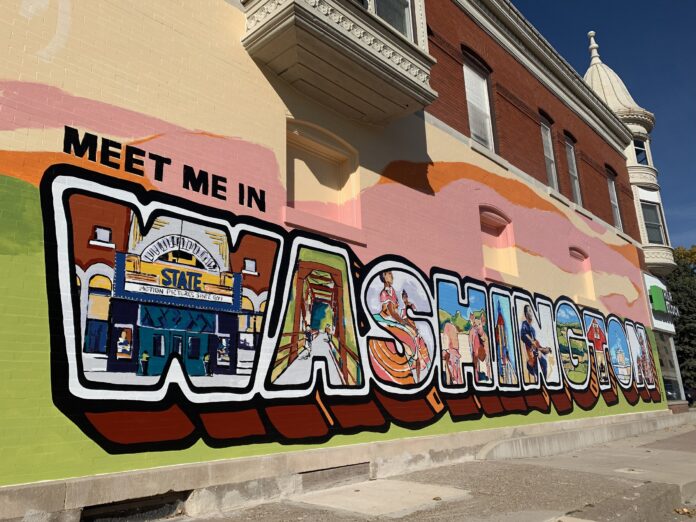 The Iowa Economic Development Authority (IEDA) and the Iowa Finance Authority (IFA) announced that the Washington Chamber of Commerce recently won a custom mural by Iowa artist Ben Schuh by taking first place in the statewide #IowansUnite contest, an initiative that highlights community pride and support of small businesses.
"The story of small businesses and their vast intangible impacts on communities can only truly be told by their residents," stated IEDA and IFA Executive Director Debi Durham in a press release. "I congratulate Washington for doing just that and it is my hope that all who pass by the mural will recognize the immense appreciation that exists for the small businesses who are a pillar of this thriving community."
"When I first learned about the mural contest, I immediately thought that my town deserves to win this," Washington resident Isabella Santoro said,
Ms. Santoro led the community's video submission efforts with the assistance of her uncle, Randy Williams, who volunteered to produce the video. After the community's video received enough votes to qualify for the final round of judging, Ms. Santoro let her passion and authenticity pour into an essay which was selected as the community's submission and ultimately won the statewide contest. 
"Our businesses and residents support each other in a way I have never experienced anywhere else in the world," Ms. Santoro wrote.
"Our community spirit showed up in a unique and creative way thanks to Isabella's leadership and the support of our local businesses and volunteers," Michelle Redlinger, executive director of the Washington Chamber of Commerce, stated in a news release. "We're thrilled to celebrate the addition of the mural to our community thanks to the partnership of IEDA, IFA and artist Ben Schuh."