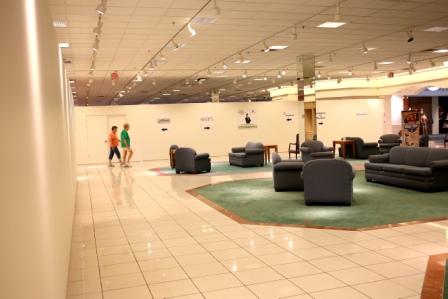 By Pat Shaver
CORALVILLE—A major retailer will open doors this month in Coralville, but close in Iowa City.
Von Maur is moving to its new location in Iowa River Landing and will hold a grand opening July 27. In the coming weeks, merchandise from the Sycamore Mall Von Maur will be hauled and stocked in the new store, said Jim von Maur, president of Von Maur.
The store will employ 85 individuals and fluctuate to 100 around holiday time. Mr. von Maur noted that management and staff from the Iowa City store will transfer to Coralville, allowing the company to avoid hiring new staff.
"We rarely redo a store or move it. We like to focus on opening new stores. When this opportunity arose, we were able to move down the street, continue to serve Iowa City and be part of a nice project," he said.
The new store in Coralville means the Sycamore Mall Von Maur will close this month.
"This is very unique for us to do something like this. In most cases, in a community that size we would just close the store," he said. "In today's environment we probably wouldn't have a store in Iowa City."
Mr. von Maur said all of the products from Iowa City will be packed onto a truck and taken to the Coralville store. The 80,000-square-foot Coralville store is about 25,000 square feet larger than the Iowa City location. The increase in space allows for additional products and features.
"We understand there's a lot of emotions with us leaving Sycamore, but it's great that we can stay (in the area) and we didn't have to close all together," Mr. von Maur said.
The new Von Maur store opening has been controversial since its announcement in September 2011. Von Maur was able to buy the land for $10 from Oliver McMillan, the consultant handling Iowa River Landing district land sales for the city. The overall package from the city to Von Maur is worth more than $16 million, including incentive grants, the land deal and a separate amount to help Von Maur relocate if the company decides to leave Sycamore Mall before its lease expired in 2014.
The deal called into question how cities expand tax-increment financing (TIF) districts, how city incentives are used to attract businesses and the practice of pirating existing businesses from neighboring communities. Gov. Terry Branstad signed into law new legislation a year ago that puts limits on the TIF deals cities can offer companies. The legislation was created in response to the Coralville/Von Maur deal.
When it opens, the new Coralville Von Maur store will include expanded departments, such as the juniors and shoe departments. There will be an interactive tree and play area for children, and an open atrium and seating area surrounding a piano.
"It's going to be a nicer, newer store with our latest look, with the newest furnishings and marble floors," Mr. von Maur said. "Overall, it will be an easier experience. It's going to be a lovely shopping environment."
One of the most appealing things about the Coralville store, Mr. von Maur said, is its location and accessibility.
"I can't get over how many people in the Quad Cities who have driven by the new store said they didn't even know we had a store in Iowa City," Mr. von Maur said.
Von Maur also has stores in Cedar Rapids, Cedar Falls, Davenport and West Des Moines. The company has opened several new stores in the past few years, including locations in Atlanta, Birmingham, Ala., New York City and Oklahoma City.
"The store at Sycamore Mall, unless you live there, it's hard to know it's there. It's not the most accessible shopping area," he said.
The Iowa River Landing District is a 180-acre area being developed at the southeast corner of Interstate 80 and First Avenue, where the Coralville Marriott is located. The $73-million University of Iowa Hospitals and Clinics' new outpatient facility officially opened last year. Scratch Cupcakery, Jos A. Bank and restaurant and bar 30hop are among the business that will open in IRL.
"The increased access on First Avenue and Interstate 80 is tremendous. We wanted to be part of a first-class project and Iowa River Landing is first class," Mr. von Maur said.
Iowa River Landing restaurants, including Backpocket Brewing, Vesta, Konomi, Charlotte's Deli and Edgewater Grille, among others, will distribute free samples from 10 a.m. to 2 p.m. during Von Maur's opening on July 27.
The von Maur family opened its first store in the late 1800s. The rented store was 20-by-50 feet, located in Davenport. Today, 27 Von Maur stores are scattered across 11 states: Georgia, Illinois, Indiana, Iowa, Kansas, Kentucky, Michigan, Minnesota, Missouri, Nebraska and Ohio; and still expanding. The corporate headquarters and E-commerce store are located in Davenport.
Coffee/wine bar announced for Iowa River Landing

Officials announced July 3 that Waterstreet Coffee Bar will open this fall in the retail space next to the future home of Scratch Cupcakery, adjacent to the Homewood Suites, in the Iowa River Landing district of Coralville.
Waterstreet Coffee Bar will serve coffee, wine, local small plate menu items, and savory pastry items in an intimate setting. After years of corporate life, Waterstreet owner Jennifer Henningsen wanted to pursue something that had become her passion as a result of her frequent business travel, good coffee. She wanted to bring the high quality coffee experiences from her travels back to the Coralville/Iowa City area.
Sustainable, fair-trade practices will be central to both the roasted coffee as well as the space itself.
"We are sourcing green materials for the bar, floor, ceiling and walls and will add touches of new and old throughout," Ms. Henningsen stated in a press release. "Ultimately, I want to create an open and inviting space that looks like it has been around for many years but, of course, is brand new."
Iowa River Landing is also gearing up for the opening of retail anchor Von Maur on July 27 at 10 a.m. Prior to the opening, the Iowa City Area Chamber of Commerce will host a ribbon cutting at 9:45 a.m., featuring local business representatives, city officials, and executives from Von Maur. The retailer has several in-store activities planned for their first day of business including live music, children's activities and a $1,000 shopping spree give away.
Taste of Iowa River Landing will also take place that day. All Iowa River Landing restaurants are offering a free tasting event will take place from 10 a.m.-2 p.m.in a tented area just south of Von Mar. Participating restaurants include Backpocket Brewing, Edgewater Grille, Vesta, Konomi, Charolotte's, Scratch Cupcakery and Waterstreet Coffee Bar.