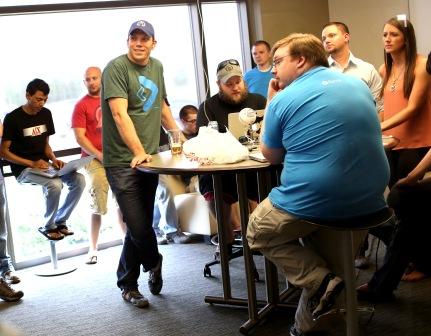 By Angela Holmes
CEDAR FALLS – As Banno's business broadens, its focus tightens.
What started out as a traditional ad agency and consulting service named T8 Webware, the company now known as Banno has strictly shifted its focus to providing data-enriched Web and transaction marketing services for banks and financial institutions.
"When I become CEO (in 2008), we made an effort in the banking industry," 34-year-old CEO Wade Arnold said. "We felt like we could create more value. I think the market has agreed with that."
Last year was a turning point in the company's eight-year history as it changed its strategy and its name. Banno is the name of an imaginary friend of Mr. Arnold's young son.
During the first quarter of 2013, Banno launched 15 responsive design websites. Overall, more than 80 banks and credit unions have renovated their sites with Banno's responsive design format since its launch in August 2012.
Responsive design offers a single URL that automatically adjusts to any type of device or browser and its screen size. Condensing online and mobile offerings simplifies updates, approvals and archives to ease compliance and general maintenance required for financial institutions' sites.
"Sometimes the market has to be ready for the projects we release. Last year was exciting for us as we grew from a technology company to an overall company," Mr. Arnold said.
Last December, Banno began working with Jack Henry & Associates Inc.'s division ProfitStars to offer iPay Solutions integrated bill pay and Remote Deposit Anywhere (RDA) mobile product through Grip, Banno's white-label financial aggregation app and decision support tool. Grip allows customers to view all their bank accounts in one place, including third-party credit cards and accounts from external institutions.
Institutions such as Florida-based CBC National Bank and Iowa-based The Citizens 1st National Bank are also using Banno's interface.
"Five years ago, we made websites and forms for smaller banks. Now, we do mobile apps for large banks," Mr. Arnold said. "The projects are much more strategic; the breadth of customers is larger. We are adding depth to current products."
The company has made a conscious decision to scale down its consulting services so it can focus on the banking industry. Availability to accessible transportation also factored in that decision.
"As a consulting company, it's hard to fly out from Iowa," Mr. Arnold said.
In January, Banno hired Charles Potts, of Atlanta, as its president. In Atlanta, Mr. Potts has access to one of the best airports in the country, therefore allowing him to easily meet with potential clients across the country, Mr. Arnold said.
Another strategic personnel move was the recent promotion of Ben Metz as Banno's chief technology officer. Mr. Metz leads the engineering team, which includes frontend, backend, mobile, operations and security teams. As a computer programmer, he wrote and successfully delivered Banno's data service infrastructure to the mobile channel with Grip.
A key component to Banno's success is Mr. Arnold's concentrated effort to surround himself with the right people.
"Hiring 101 is to hire people who are smarter than you and similarly passionate," Mr. Arnold said. "We have one of the smartest groups in the nation."
Banno now has 51 full-time employees and 40 part-time employees, providing paid internships, which amount to much more than just fetching coffee.
"We teach them how to be computer programmers," Mr. Arnold said. "We want them to be ready."
Often, interns are hired full-time upon graduate from college.
"A hungry new grad is a great person to invest into," Mr. Arnold said. "We try to balance it out between experienced programmers and interns. If you're passionate about something, you can do anything."
To attract and retain the best and brightest computer programmers, Banno opened a downtown Des Moines office last year.
"In Des Moines, we get much more reach within the state, with applicants from Ames and Mason City," Mr. Arnold said.
While the headquarters remains in Cedar Falls, employees are spread out over the state, and even the country with several employees based in Memphis, Tenn.
"People work from home and come to the office a couple times a week," Mr. Arnold said. "I could care less what island they're on. We're just looking for the right people."
Offsite staff members keep in the loop through Google hangouts with employees in the main office. However, Mr. Arnold acknowledges the value of face-to-face interaction.
"Most strategy happens at lunch or water-cooler discussions," he said.  "We bring the Des Moines employees here and fly people in from Memphis. We feel they need to be here to develop some level of personal relationship."
Mr. Arnold, who received a bachelor's degree in computer science from the University of Northern Iowa in 2001, has familiarized himself with business and banking by earning an MBA from the Tippie College of Business at the University of Iowa and a master's of banking from The Wharton School at the University of Pennsylvania.
"It's very fresh for me, since the recession crisis," he said of recent banking rules and regulations.
When developing new programs and improving the existing apps, Banno employees consider the needs of both the institutions and their customers.
In May, Banno released Kernel, a data-analytics marketing feature that targets advertising to a person based on the consumer's Internet interactions with a bank.
"The better we make the customer, the better we make the bank," Mr. Arnold said.
As his business grows, Mr. Arnold realizes he needs to keep ahead of the curve to survive.
"Either you're growing or you're dying. If you're in the middle, you're dying," he said. "Our goal is to build the best financial technology there is."