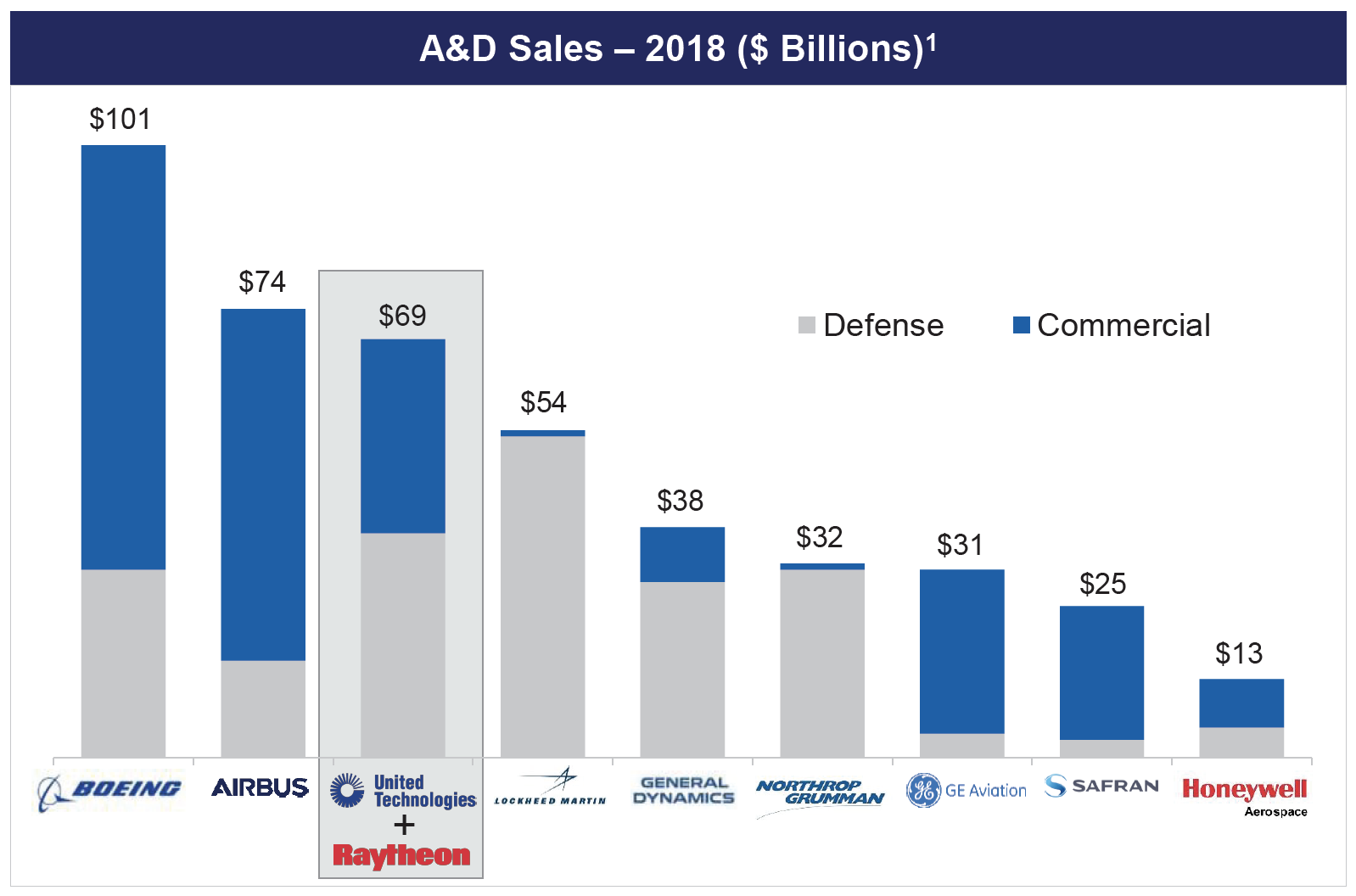 This chart from UTC and Raytheon shows how the merged company would stack up against other aerospace and defense companies, based on 2018 sales. Raytheon Technologies is actually projected to generate pro forma 2019 sales of $74 billion, ranking it even with Airbus and placing it just behind Boeing. It would also be one of the most balanced A&D companies in the sector. SOURCE: UTC, RAYTHEON
By Adam Moore
adam@corridorbusiness.com

Operating for less than a year under the umbrella of United Technologies Corp., the employees of Collins Aerospace could soon have a new corporate parent.
UTC and Raytheon Co. last week announced plans to combine in an all-stock "merger of equals" that will create the nation's second-largest aerospace and defense company by sales, after Boeing, with a combined worth of more than $100 billion.
Connecticut-based UTC supplies commercial aircraft engines through its Pratt & Whitney unit, and an array of electronics, interiors and aerostructures as part of its Collins Aerospace unit, which was formed in the wake of its acquisition of Rockwell Collins in 2018. Two of six Collins business units — avionics and mission systems — remain based in Cedar Rapids.
Raytheon Co. is a Massachusetts-based supplier of military aircraft, missile and space systems, with $27 billion in sales in 2018.
The combined company, to be called Raytheon Technologies, will have the size and scale to compete in the rapidly consolidating aerospace sector, which is anticipating a slowdown in U.S. defense spending and commercial plane orders in the years to come. It will also allow Raytheon Technologies to supercharge its R&D efforts with a combined research budget of $8 billion and more than 60,000 engineers, corporate leaders said.
"The combination of United Technologies and Raytheon will define the future of aerospace and defense," Greg Hayes, UTC's chairman and CEO — and the future CEO of Raytheon Technologies — said in a release announcing the deal. "Our two companies have iconic brands that share a long history of innovation, customer focus and proven execution. By joining forces, we will have unsurpassed technology and expanded R&D capabilities that will allow us to invest through business cycles and address our customers' highest priorities."
Commercial aviation and defense will each make up about half of Raytheon Technologies' revenue, with about 45 percent of sales coming from international customers, according to the companies. Corporate leaders say they expect the combination to save the companies $1 billion by year four and return $18-$20 billion of capital to shareholders in the first 36 months following the merger's close, expected in the first half of 2020.
Under the terms of the agreement, which was unanimously approved by the boards of both companies, Raytheon shareholders will receive 2.3348 shares in the combined company for each Raytheon share. Upon completion of the merger, UTC shareholders will own approximately 57 percent and Raytheon shareholders will own approximately 43 percent of the combined company on a fully diluted basis. Net debt for the combined company is expected to be about $26 billion, with UTC contributing $24 billion of that.
Raytheon plans to consolidate its four businesses into two, to be named Intelligence, Space & Airborne Systems and Integrated Defense & Missile Systems. Those units will join Collins Aerospace and Pratt & Whitney to form the four divisions of Raytheon Technologies. UTC's existing Otis elevator and Carrier HVAC businesses will be spun out into independent companies by next year.
The local impact
The resulting company will be headquartered in the greater Boston metro area, and "will retain a corporate presence in existing locations," according to the release — an important point for Corridor leaders and the roughly 9,300 Collins Aerospace employees currently based in Iowa.
In a joint conference call announcing the deal, UTC's Mr. Hayes and Raytheon Chairman and CEO Thomas Kennedy stressed that local operations would not be impacted by the merger, despite the projected $1 billion in cost synergies estimated from the deal. Those include $325 million from corporate and segment consolidation, $175 million from facilities consolidations and $150 million in IT and other selling, general and administrative (SG&A) expenses.
"This is a corporate office integration, so the synergies are primarily on the procurement side, some on the SG&A side," Mr. Hayes said. "There will be some facilities rationalization, but we're not looking to consolidate a bunch of factories, we're not taking out a lot of jobs. In fact, we're going to create a lot of jobs through this merger."
Cedar Rapids' municipal and economic development officials have been in contact with UTC representatives to discuss possible impacts or changes, although the situation remains fluid. U.S. Sen. Chuck Grassley also reportedly met with Mr. Hayes on June 11 to discuss his concerns about UTC employment in the state.
"You know, you're always somewhat skeptical when you are told these things because I've learned to be skeptical, [but] I don't question the sincerity of the people making the statements," Mr. Grassley said in a news report. "In fact, they tried to back it up a little bit that they didn't think there would be any change in employment, and then they emphasized there has been an increase under the present merger in Cedar Rapids."
In an emailed statement, Iowa First District Rep. Abby Finkenauer described UTC as an "important institution that provides good jobs to Iowans," adding that she has "asked UTC for information about what the impact of this will be and will be monitoring it closely, advocating every day for working families across Iowa."
But will it happen?
Perhaps the biggest question facing the deal between UTC and Raytheon is how sure a thing it is really is.
The combined company's size and reach drew immediate skepticism, if not outright opposition, from customers, investors and government officials including President Donald Trump himself, but corporate leaders made the case for a relatively straightforward regulatory review.
In a joint interview with CNBC, Mr. Hayes noted the fact that UTC and Raytheon have less than 1 percent overlap in sales, while Mr. Kennedy emphasized that the deal is "complementary, not competitive," adding "I don't remember the last time we competed against United Technologies."
Richard Aboulafia, vice president of analysis at the Teal Group, an aerospace and defense research firm, agreed, telling National Defense magazine, "If you come up with two names in the aerospace industry that have exactly nothing in common — aside from the fact that they're domiciled in New England — this is it."
That argument didn't seem to appease Mr. Trump, who suggested the merged company would be able to box out the competition more easily, leading to higher prices and less innovation.
"When I hear United [Technologies] and when I hear Raytheon are merging, does that take away more competition?" Mr. Trump said in an interview on CNBC's "Squawk Box." "It becomes one big fat, beautiful company. But I have to negotiate. Meaning the United States has to buy things, and does that make it less competitive? Because it's already not competitive."
The deal is also expected to draw intense scrutiny from planemakers Boeing and Airbus, both of which have been working for years to wring cost concessions from suppliers and move into services; Raytheon Technologies' size and greater diversification would make that harder to do.
Boeing spokesman Peter Pedraza said in a statement that the company would "review the proposed combination" and that Boeing's "interests are in adding value to our customers and in ensuring the long-term health and competitiveness of the aerospace industry and of our supply chain," Crain's Chicago Business reported.
Wall Street has so far been lukewarm on the tie-up, with UTC and Raytheon shares both falling about 8 percent by mid-week. Billionaire investor William Ackman of Pershing Square Capital Management also came out against the deal, expressing concern that it could "significantly lower the business quality of pro-forma United Technologies' aerospace business," Reuters reports.
On the plus side, Mr. Hayes said that the deal will not require the approval of Chinese regulators — a stumbling block that delayed UTC's acquisition of Rockwell Collins by several months, and could have turned into a leverage point for China as its trade conflict with the U.S. deepens. CBJ