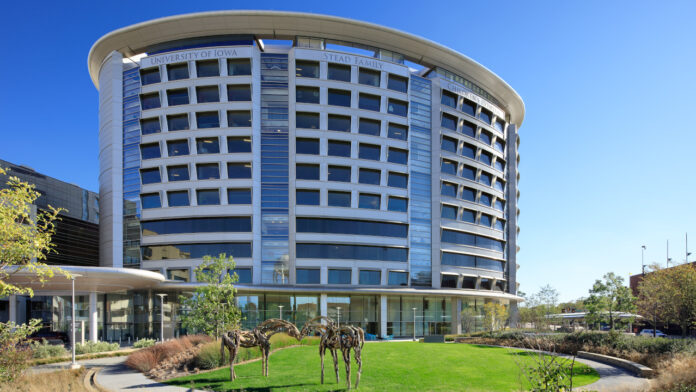 The University of Iowa is filing a lawsuit against a pair of contractors regarding defective windows installed in the UI's Stead Family Children's Hospital.
The lawsuit, filed in Johnson County District Court Friday, names a pair of contractors involved in installing the windows, Cupples Construction of Normal, Illinois and Knutson Construction of Iowa City.
It seeks to recover the cost of replacing several of the more than 900 windows in the Stead Family Children's Hospital, as well as in a bridge connecting the children's hospital to the main UIHC facility. It's not yet clear how many of the windows will need to be replaced.
Several windows in the building began exhibiting cracks and bubbling in 2019.
In a Zoom meeting with reporters Friday morning, University of Iowa Hospitals and Clinics chief nursing executive and interim CEO Kim Hunter said that while the issue hasn't impacted safety or patient care to this point, UIHC has already installed protective film and clips on several of the faulty windows to prevent further issues from arising.
The playground at the base of the children's hospital has also been closed since the window issue was discovered, a move taken out of "an abundance of caution," Ui Health Care spokesperson Laura Shoemaker said.
"The construction of the hospital was really an investment in our patients, families and citizens of the state, and we rely on people we contract with to deliver a high quality product and follow through on that," Ms. Hunter said. "(The contractors have not) at this point accepted responsibility to replace the defective windows. So we're really forced to file a lawsuit to recover the extensive cost of this window replacement. Our priority is to do what's right for our patients and our families, all the employees who work here and visitors who come here, and we'll continue to focus on that."
Ms. Hunter declined to specify a dollar amount the university is seeking in the children's hospital windows lawsuit, but hospital officials have already requested up to $15 million from the Board of Regents to address the window issue thus far.
Replacement of the faulty windows hasn't yet begun, and it's not clear if the original window contractors will be used to replace them.
Ms. Hunter said hospital officials are "disappointed" that the issue has progressed to legal action.
"We contracted with companies to provide windows and install them with an expectation that they would work appropriately and not have defects," she said. "And that didn't happen."
Knutson Construction provided a statement in response to the UI's lawsuit.
"The University of Iowa has been a long-time partner of Knutson Construction for the past 40 years, and we are collaboratively working with the University and our subcontractor to expeditiously resolve this issue," the statement read.
The children's hospital was completed and opened for patient care in February 2017, but design changes, materials delays and cost overruns have plagued the project almost from the start. Originally budgeted at $270 million, total construction costs have already exceeded $400 million, and the hospital's opening was delayed by nearly a year and a half from original projections.
The children's hospital, which includes a 12th floor observation deck overlooking Kinnick Stadium, has also gained national renown for a tradition known as "The Wave," in which football players, officials and fans wave to hospital patients en masse at the end of the first quarter of each home football game.