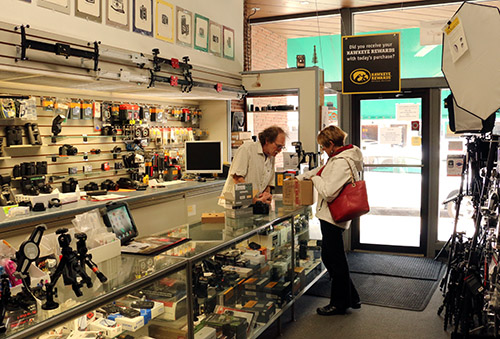 Sales associate Steve Moon helps a customer at University Camera at 4 S. Dubuque St. in Iowa City, where the store has been located since it opened in 1970.
By Chase Castle
chase@corridorbusiness.com
IOWA CITY—The weather is warming, which means shutterbugs in the Corridor are resurfacing after winter's hibernation. Although the cycle is familiar to University Camera owner Roger Christian, the ritual may be approaching extinction.
There are no immediate plans to shutter the store's doors, but the business that opened in downtown Iowa City in 1970 is now on a rolling six-month basis, where its fate is evaluated twice a year.
"In the last 15 years, give or take, the online stuff has come along and taken money out of our pockets," Mr. Christian said. "And it's true of any small business. But it's really hit photo hard."
Mr. Christian's parents were from northern Iowa, where he returned in the 1970s following radio, television and film studies at the University of Iowa and an assignment with the U.S. Army in Hawaii. Upon returning, he found work at University Camera through a former colleague, and worked as a manager at the store until 1980, when he accepted a job as a car salesman.
In 1984, he purchased University Camera and has served as owner since, currently overseeing a part- and full-time staff totaling six people. The store previously employed as many as 10 people.
As the size of the store's workforce has shrunk, so has one of the store's main adversaries: cell phones. As mobile technology has advanced over the last 20 years, features such as high-definition still cameras and now HD video have become standards. Just how much cell phones have hurt the standalone camera market is unclear, but their impact is hard to refute.
According to the Camera and Imaging Products Association, an industry association based in Japan, sales of digital still cameras have been steadily falling for close to a decade. After a large spike in digital camera sales in the late 2000s, sales have been on the decline.
Between 2008-2010, the number of digital still cameras shipped worldwide hovered around 120 million. Since 2010, however, that number has decreased annually, with about 63 million shipped in 2013 and just 35 million shipped last year.
To date, there are only about a half-dozen camera stores still in Iowa, Mr. Christian said. The others are in Des Moines, Davenport, Dubuque and Cedar Rapids, which is home to Photo Pro, next to Lindale Mall.
University Camera's revenues have largely reflected the international decline. It's been more than 15 years since the business was profitable, with all revenue going toward employee compensation or related costs, leaving behind little to no profit.
"It's been a little different path than the average person may think," Mr. Christian said of the industry's changes.
As the photography market has evolved, so have University Camera's primary customers. When Mr. Christian took over, he estimates that 70 percent of the customers were men. Now, the vast majority of photographers in the store are women. He said that as the boom in digital cameras spiked, a new generation of hobbyists were minted whose photo skills were likely first honed on an iPhone or an Android phone.
The growing number of photographers and aspiring shooters is a welcomed addition, but Mr. Christian said the proliferation of photographers could be costly in the end. Many amateur photographers in the social media age are accustomed to charging little or nothing for their photos. That could hurt professional photographers, who in turn will be less likely to upgrade their gear.
University Camera is not alone in witnessing the evolutionary shift in what the prototypical camera enthusiast looks like.
Chris Chute is research vice president with International Data Corporation (IDC), a research and data firm based in Massachusetts. In a recently issued five-year forecast on digital camera sales worldwide, Mr. Chute wrote that surviving retailers are bound to cater to more hobbyist photographers.
"Camera vendors will increasingly focus on prosumer and enthusiast users, as well as interchangeable lens cameras to drive the market," Mr. Chute said.
The digital shift has made film an anomaly, meanwhile, which has ironically worked to University Camera's benefit. Mr. Christian said his is the only store in the southern Corridor that sells film, giving them on a monopoly in the niche market of photographers seeking film for a subtle visual effect or educational purposes.
Some young photographers seek it out simply to experiment, as the limited number of shots on a roll of film forces developing photogs to show more restraint.
"Whereas people who shoot a wedding will shoot a wedding and have anywhere from 2,000-5,000 images to go through," Mr. Christian said. "It's just a different way of working. We always say that film teaches you patience."
Unfortunately for many retailers, shoppers are generally becoming more patient at the expense of local businesses, whose usual shoppers are content to wait for online orders instead of same-day, in-store purchases.
Although University Camera does sell some merchandise on its website, synchronizing the store's point-of-sale system with its online inventory and vice-versa is exceptionally hard, Mr. Christian said.
"Just trying to keep everything current and flowing is literally impossible," he said. "Theoretically, there are ways to do it that will reach into my inventory and grab what I have on-hand now and pop it up [online], but I haven't made that link yet."