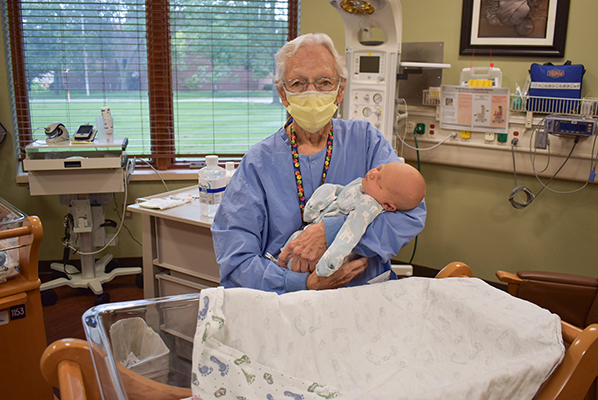 Corinnie Ketelsen, who turned 91 on Aug. 18, has celebrated more than 40 of her birthdays during her years of service to UnityPoint Health – St. Luke's Hospital, and over half her hours have been in St. Luke's Birth Care Center. Her last day of volunteering was the day after her birthday, Aug. 19, when she was honored with a going-away party.  
Through the years, she has received numerous volunteer awards, including the 2006 President's Lifetime Call to Service Award, 2012 Adult Spirit of St. Luke's Volunteer Award, 2019 United Way Lifetime of Volunteering Award and 2021 Iowa Governor's Volunteer Award. She hopes others will consider volunteering.
She graduated from St. Luke's School of Nursing in 1952 and was a pediatric nurse at St. Luke's before she worked as a school nurse while raising her children. She started volunteering at the hospital when her kids left for college and first helped in what was the Gift Shop and Flower Stall. Later, she staffed the gift shop in the Center for Women's and Children's Health when the facility opened in 2001.
"At that time, my daughter was a labor and delivery nurse in the Birth Care Center," she said. "I asked her if they needed help in the nursery. I wanted to do something besides sit, and I had experience working in OB from nurses training, plus my years of working with children as a peds and school nurse."
Within a few months, Corinnie transitioned to helping in the nursery.
She worked two days a week, 6:30-11 a.m., and sometimes longer, setting up the nursery for the day's events, preparing supplies for exams, prepping equipment for circumcisions, and stocking drawers, linen cupboards, and recovery and exam rooms. She also changed diapers, outfits and bedding, and calmed new parents' fears.
"Corinnie is indispensable," says Kathie Manderscheid, RN, MSN, RNC, Birth Care Center manager. "She makes our jobs easier. She is professional, confident, a great resource to parents and fantastic with the babies. Everyone knows how valuable she is, and we will miss her when she retires."
"The doctors and nurses on the whole unit are so appreciative and take time to tell you," says Corinnie. "That makes me feel good about being there. Whether it's a routine day or you were exceptionally busy, everyone stops to thank you. It's very gratifying."
Corinnie says her husband was instrumental in her continued support of St. Luke's. "He would take me to and from the hospital when it was snowing, cold or rainy," she recalls. "He didn't think I should be out alone early in the morning when the weather was bad. I couldn't have helped all these years without his assistance."
"I encourage anybody to help, no matter what the job is," Corinnie explains. "I can't stress enough how fulfilling it is to do something that someone professionally doesn't need to do. You don't have to be a professional to change diapers. It may not feel like an 'important' job, but it is important to that baby and that parent. As far as I'm concerned, when we do something that makes someone's day better, it's worth the time."
Individuals interested in volunteering at St. Luke's should visit bit.ly/UPHVolunteer.