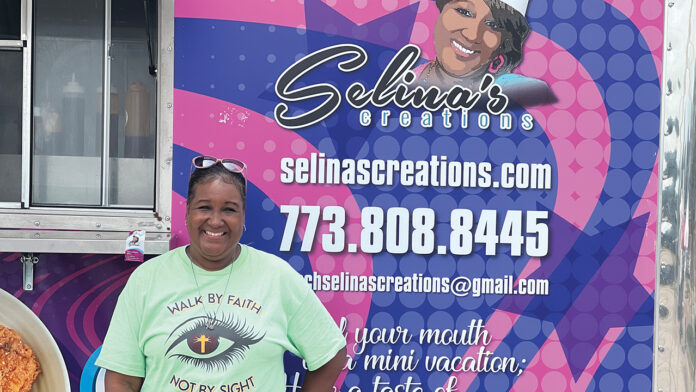 The South District's bustling Diversity Market in Iowa City — once hosting space for 30 vendors at the Kingdom Center before doubling in size at Pepperwood Plaza this summer — was inspired, in part, by a corkboard.
"When I initially opened my store, I had a business corner that allowed other small businesses owners in the area to come out and put their business cards there," said JD Beauty Supply Owner Tasha Lard, who opened her brick and mortar location in September 2020. "Angie Jordan's daughter made me a corkboard then, and it's still there right now."
Since then, Ms. Lard, Ms. Jordan and Marlén Mendoza have worked to promote local businesses on a much larger scale by drawing attention to an area thriving with creativity and entrepreneurial spirit but lacking a unifying force.
"We want people to understand it's fun and safe to come into the South District to shop with BIPOC [Black, Indigenous, and people of color] members and to come out and support everyone involved," Ms. Lard added.
Their idea has exploded in popularity, with some vendors now sitting on a waitlist to join in the future. Ms. Lard expects the Diversity Market could expand in size once again to more than 90 vendors next year – triple the size of the market's first summer. 
Construction is also already underway for a year-round, indoor market at Pepperwood Plaza, at the site of the former Slumberland furniture store, tentatively called The South District Market. The project, by real estate firm SouthGate Companies, calls for redeveloping the 39,000-square-foot building into a space for five vendors, a food court and an outdoor covered patio. The rest of the facility will hold rentable office space and self-storage units to make the project financially feasible, said Caleb Wilson, one of the project developers.
SSMID revitalizes South District
The Diversity Market is hosted by the South District Neighborhood Association, the organization responsible for advocating the passage of a SSMID, or a self-supporting municipal improvement district.
Approved in January by the Iowa City Council, the SSMID raises funds through a voluntary tax levy on commercial, industrial and multi-residential properties for an area including Pepperwood Plaza. It started collecting funds in July and it's anticipated more than $100,000 will be generated annually. Part of the money raised will go toward hiring an executive director for the SSMID.
"We wanted to elevate the business district in our community," said Ms. Lard. "There was a lot of informing and educating the community on how impactful it is."
At an awards ceremony celebrating the Diversity Market's year of success on Aug. 7, small business owners highlighted the importance of the market today.
"There's been a lot of ups and downs, but it's been great as something I can use to grow from," said Taisha Poole, the owner of Kandiland, which sells gyros, chicken and fish platters, burgers, cheesesteaks and more. She is evaluating the possibility of opening up her own physical location soon, whether that be in the new indoor market or at a different spot.
A handful of vendors originate from outside the city limits. Steve and Andrea Brown of East 2 West Steve Clothing heard about the Diversity Market on Facebook. Coming from Cedar Rapids, Andrea would operate their stand at the market at weekends while Steve would manage the storefront.
"This is a time to celebrate and recognize each other," said Ms. Jordan during her remarks in between handing out awards. "This is part of the history of Iowa City." 
Dream City Executive Director Frederick Newell said the market has allowed "nonprofits to come together to work for one cause" and that vendors have benefitted from collaboration around the city.
"Our community has to do a better job incorporating all," Mr. Newell said at the ceremony. "Oftentimes we talk about being a place of diversity and inclusion, but sometimes I don't feel that way. I believe this market has strengthened our families and has absolutely changed lives. And I believe it has brought back hope to a community that was in need of it."
Easy access to indoor market
Chris Villhauer is a project developer at SouthGate Companies, the same firm that manages the Pepperwood Plaza Association. He says SouthGate has helped the organizers as needed, and he has personally volunteered to help set up and tear down booths each weekend.
Once they were notified in October 2020 that Slumberland was leaving its lease, they decided using the Slumberland site as an indoor market was the ideal solution for the empty space due to changing retail environments around the country. SouthGate did not receive "any major leads" from retail chains to occupy the space.
Utilizing the relationship with the South District Neighborhood Association, the firm rezoned the building to mixed-use. This allows for self-storage rental space to exist in the back of the building with vendors in the front.
SouthGate determined self-storage would be valuable to Iowa City residents after looking at demand studies of comparably sized cities with similar income demographics. 
"This [development] will give people in the neighborhood some place to walk to for food or to go shopping right in the market versus going across the highway in Coralville," Mr. Villhauer said.
Construction started in July, and developers think it could be finished as soon as the end of the year.
Mr. Villhauer envisions the vendor spots will be reserved for new and growing businesses, and thinks the market will be a great place for businesses, like an incubator.
While the Diversity Market and South District Indoor Market are some of the biggest developments underway in the area, the openings of a Kwik Star gas station, Quick Shine Car Wash and a Popeyes restaurant means the area will see around $10-15 million in investment in the upcoming year.
For Ms. Lard, she will continue selling beauty supply products — targeted specifically for African-American women who can't find what they're looking for at big box stores like Walmart or Target or who do not want to travel all the way to Chicago — and helping grow the Diversity Market to new heights.
"[This is] a platform I did not have when I was looking for a brick-and-mortar store," she explained to the audience. "I did not want people who look like me to go through the same hardship that I went through when I was trying to start my business."