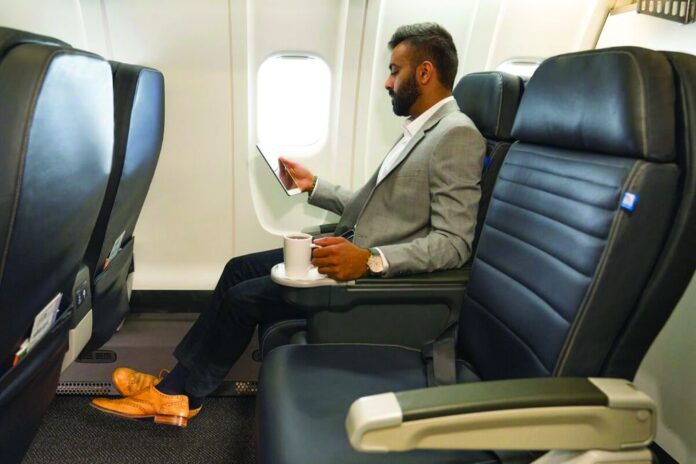 United's new two-cabin Bombardier CRJ-550 service between the Eastern Iowa Airport and Chicago offers what the company calls "a true first-class experience," complete with wide seats, lots of legroom, and a self-serve food and drinks station. CREDIT UNITED
By Katharine Carlon
katharine@corridorbusiness.com
While many air carriers are cutting legroom and adding seats, United Airlines is going the opposite way in hopes of making the friendly skies even friendlier for Midwestern business travelers.
In late October, the airline launched flights between Chicago O'Hare International Airport (ORD) and 15 cities – including the Eastern Iowa Airport (CID) – on the new Bombardier CRJ-550, which it bills as "the world's only two-cabin, 50-seat aircraft."
The planes offer customers on key regional routes added legroom, extra storage for roller bags and amenities ranging from a separate first-class cabin with a self-serve food and drinks kiosk to United Wi-Fi aboard the length of the flight.
"This is a game-changer," said United spokesman Jonathan Guerin of the new service. He added that instead of merely enduring a no-frills hop to Chicago, "in talking to our bigger corporate customers, they're telling us they now look forward to flying to and from O'Hare."
The Bombardier CRJ-550, the spacious redesign of its 70-seat CRJ-550 predecessor, began flying in and out of CID on Oct. 27, according to CID Director of Marketing and Communications Pam Hinman. She said the new United Express jets, operated by regional partner GoJet, now typically service about four out of five daily United flights to ORD, although schedules vary.
"We looked at where there was strong demand for business travel," said Mr. Guerin of how CID and Des Moines International airport ended up on the initial short list of airports experimenting with the new service. "Business travel made up a lot of flyers from Des Moines and Cedar Rapids … and these are customers wanting a seamless experience from take-off in Cedar Rapids to their final destination in Asia or Europe."
The ultra-roomy jets offer 20 Economy Plus seats, 20 Economy seats and 10 United First seats. At about 18 feet longer than United's other 50-passenger planes, the Bombardier CRJ-550 offers "true first-class seating" with wide seats, plenty of incline and 42 inches of pitch between seats, and movable armrests.
The Economy Plus seats are somewhat narrower and have less incline, but even there, passengers have 34-36 inches of pitch. Economy seats retain their previous 30 inches of pitch configuration but have been updated with new colors and coverings.
"In an era where many airlines are adding seats to their aircraft to crowd more passengers onto the plane, we're re-configuring more than 100 of our aircraft and doing exactly the opposite – for the benefit of our customers," said Andrew Nocella, United's executive vice president and chief commercial officer, in a press release.
First-class customers enjoy perks such as closets to hang clothing and grab-and-go food service, enabling them to choose food and drink at will without waiting for assistance from the flight attendant onboard. But all passengers have access to regular snack and beverage service, and no matter where they're seated, can stow their bags in one of four storage closets for carry-ons.
The planes were also designed with enough space for every flyer to bring a roller bag on board, eliminating the need for routine gate checking.
"That's huge," said Annette Reed, owner of Hawkeye World Travel of Iowa City, adding that while about 80 percent of her business is devoted to leisure travel, ample onboard bag storage is a top draw for all air travelers. "I wish more airlines would do that. It's an awesome option."
Mr. Guerin said not worrying about whether or not a bag will fit onboard was drawing raves from coach and upgraded passengers alike, and addressed one of airline travelers' most common complaints.
"[The redesigned jets] are not only about more cabin space, leg room and room to relax, it's no longer having to wait on a cold jet bridge just waiting for your bag," he said, adding the increased storage space was also improving boarding efficiency. "Now we don't have to spend extra time in the boarding process looking at each bag to decide if it needs a green tag, then taking it down into the belly of the plane."
United's Bombardier CRJ-550 service bucks an industrywide trend toward packing more seats and people aboard aircraft. While additional amenities are expected to be a major selling point in the competitive corporate travel market, flying more 50-seat planes also allows the airline to get around restrictions on the number of flights it can outsource to regional partners like GoJet.
Like American and Delta, United is limited by pilot union agreements on how many 70- to 76-seat planes regional airlines may operate. United Express is limited to flying 255 aircraft with 51-76 seats, but no such limit applies to 50-seat jets. One industry expert suggest that, in theory, the contract with pilots would allow up to 90% of flights now serviced by United's narrow body, or single-aisle, fleet to be flown by 50-seat regional jets.
Getting off the ground
In addition to CID, United is currently offering Bombadier CRJ-550 service between Chicago and Allentown, Pennsylvania; Bentonville, Arkansas; Cincinnati and Columbus, Ohio; Des Moines; Grand Rapids, Michigan; Greensboro, North Carolina, Harrisburg, Pennsylvania; Indianapolis, Indiana; Madsion, Wisconsin; Oklahoma City; Richmond, Virginia; St. Louis; and Tulsa, Oklahoma.
The airline plans to add service to nine additional regional airports between now and February 2020. United also plans to use the jets on its shuttle service between Newark and Washington's Regan National beginning sometime next spring.
"On these routes, we're able to offer true first class to our corporate customers from point A to point B to point C," Mr. Guerin said, using the example of a business traveler boarding in Tulsa and traveling through Chicago on his way to Frankfurt, Germany. "One of the most important points for those customers traveling on our aircraft is they're being offered similar amenities to what's offered on mainline flights. It's a premium experience the entire trip."
Ms. Reed said that while most of her leisure customers are more concerned about scheduling and price on the short flight to Chicago, she believed United's move was a solid one in the business and high-end market.
"I definitely know there are people over the moon about it," she said. "I think it's great United brought it in and, as time goes on, I think more people will try it."
Elaine Shalla of Iowa City's Meacham Travel Service said she did not expect to be booking many first-class seats for her business clients, who mostly work at the University of Iowa and are not typically flown in premium seats unless they use personal status upgrades.
"It is a nice perk to get first class out of Cedar Rapids, but usually it's my clients' smallest concern," she said. "In general, people I work with don't choose flights based on whether they're going first class, but on what's realistic for timing or weather."
Ms. Hinman said she was not aware of any other airlines currently seeking to answer United's more upscale flying experience between Cedar Rapids and Chicago.
But, she said, "Airlines are always competing." CBJ