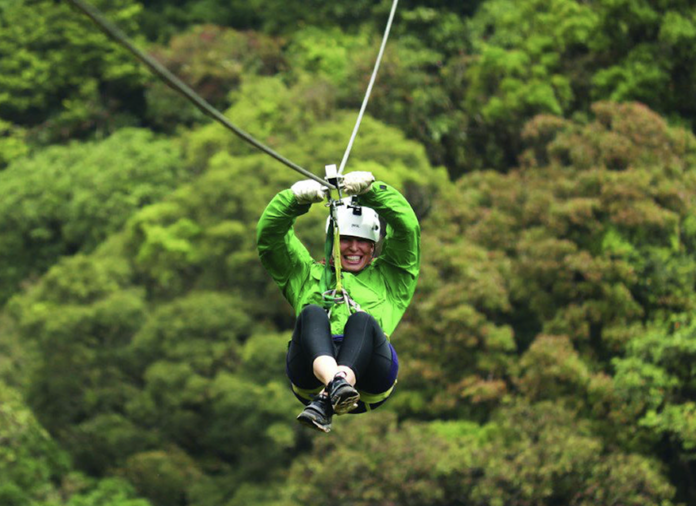 Aimee Langlas of Travel Leaders / Destinations Unlimited rides a zipline during a trip to Costa Rica. CREDIT DESTINATIONS UNLIMITED

By Dave DeWitte
dave@corridorbusiness.com
If the millennial generation reshapes the travel market, there's a good chance it will be to bring the growing wellness travel segment into the mainstream.
Wellness travel is the antithesis of the typical vacation tour of overnight stops, which can condense a lot of new experiences into a short period of time, but rarely offer opportunities to connect with the local culture, reflect on travel experiences and focus on well-being.
"Wellness travel is immersive and authentic," explains Aimee Langlas, Iowa's first certified Pravassa wellness travel advisor, and a wellness/adventure travel specialist at Travel Leaders / Destinations Unlimited in Coralville.
She says wellness travel can connect the traveler to the "soul" of a destination, which creates a strong connection to the traveler's own well-being.
Instead of hopping from place, wellness tours typically have one destination, sometimes with side-trips to experience different facets of the same culture.
The wellness travel market is growing at about 6.5% annually, double the rate of the overall travel market, according to the Global Wellness Institute's 2018 Global Wellness Tourism Economy report, released last November.
Ms. Langlas is booking her first small group wellness tours through Pravassa, an early leader in the wellness movement. That company has built an extensive global network of tour guides, luxurious host properties, restaurants and wellness specialists.
A typical day on a Pravassa tour would involve a group breakfast, followed by meditation or a light yoga class, Ms. Langlas said.
"At this point, people are studying their intentions for the day, and then they have some free time, maybe to think about what they're grateful for," she said. "Then there might be an excursion – say everybody grabs a bicycle, and we're going to ride out and talk to a farmer about how they grow cloves, and they're going to tell us what they do in their daily life."
Many host properties not only serve organic food, but put their sustainable business practices on display, Ms. Langlas said. All-natural body care products in the room are the norm, she noted, while some properties even demonstrate for their guests how to make their own natural shampoos and soaps so they can do it at home.
The idea is to unplug from the smartphone, internet and television for a while.
"The goal is really to learn – you're going to learn about yourself in these trips, you're going to learn about other cultures and we really want you to reflect," Ms. Langlas said. "How can you infuse these things you've learned into your life back home, and make life better for yourself and your family?"
Millennials are one of the largest markets for wellness travel, as well as adventure travel, according to Ms. Langlas, although she has also booked wellness tours for retired baby boomers. She said many of them now have time to focus on themselves, and want a transformative experience that will change their lives even after they return home.
The first small group Pravassa Tour from Iowa planned by Travel Leaders / Destinations Unlimited will go to Costa Rica next March.
"I spent some time in Costa Rica in May on an exploratory trip, with the purpose of meeting different people – doing some of what I've read about, but also going out there and exploring," Ms. Langlas said. "I met the kindest people. There's such a great serenity in Costa Rica, and nature is so important."
Pravassa's tours are considered a premium product in the travel industry, and consequently command a higher price. However, Pravassa offers individual packages at three different levels of service, allowing the traveler to choose between basic, luxury and mid-level accommodations to better fit their budget.
Travel Leaders / Destinations Unlimited also plans to market group tours for yoga studios "as a social thing for their members who've already bonded together," and would like to share a wellness travel experience, according to Annie Hills, marketing manager for the agency.
Beyond the immersive experiences of Pravassa travel, Ms. Langlas said Travel Leaders Destinations Unlimited has wellness travel options through G Adventures in a lower price segment.
"While their accommodations are basic, they still offer top-quality guides at a great value," she said. "Their tours are particularly popular with solo travelers, since they don't charge a single supplement fee."
G Travel began as an adventure travel company and has expanded into wellness travel largely because both are so popular with millennials, Ms. Langlas said. It's a strategy that she expects to see spread across the travel industry, blurring the lines between the two segments.
From ballerina to travel agent
Ms. Langlas is a relative newcomer to the travel agency world, joining Travel Leaders / Destinations Unlimited about two years ago, but the influences that shaped her decision to specialize in wellness travel have deep roots.
As a child growing up in Waterloo, Ms. Langlas remembers looking through African artifacts her parents, who were travel agents, brought back from their many trips. She also recalls gazing through the atlas in which they faithfully traced their travel routes in ink and highlighter, and browsing through their travel brochures.
After beginning her career as a ballerina, Ms. Langlas went on to operate a performing arts school, where she taught wellness classes in addition to dance. When she was no longer teaching, she became serious about yoga "and really started to see the benefits of that practice, not just physically but mentally."
As she planned her personal travels, Ms. Langlas said she has always tried to arrange things so she could slow down and connect with the local culture. She looks for places to go that are off the beaten path, and likes to venture out into small towns and villages.
"What I notice mostly when I travel is a difference in pace," Ms. Langlas said. "In America, we're go, go, go all the time – we're 100 percent about that. When you travel to these other countries, you make yourself take the time to slow down and notice and observe others. People in these cultures take time to appreciate the simple things in life."
The success story of Pravassa, a decade-old, woman-led company, was one of the factors that attracted Ms. Langlas to the wellness travel field.
"Last year I found out Pravassa was going to open their service to travel agents," Ms. Langlas said. "I contacted them and found out it was pretty complex process to become one of their advisors."
That included answering numerous written questions, writing two longer essays, a telephone call from President Linden Schaffer and an hour-long interview.
Ms. Langlas was eventually named the exclusive Pravassa travel advisor for Iowa, and felt a warm bond with Ms. Schaffer, who shared many common attitudes and experiences about travel. She also developed a strong respect for Ms. Schaffer's commitment.
"She just got back from an eight-week trip to Southeast Asia, making connections and evaluating the hotels and guides," she said. "She just believes in the product, and wants to make sure everything is right."
In addition to Costa Rica, top wellness travel destinations for Americans include India, Sri Lanka, Japan, Vietnam, Cambodia, Thailand and the Indonesian island/province of Bali. Travel Leaders / Destinations Unlimited is already planning a Pravassa tour for March 2021 to Bali.
The Global Wellness Institute projects that wellness tourism expenditures will top $919 billion in 2022, representing roughly 18% of the entire tourism market. CBJ