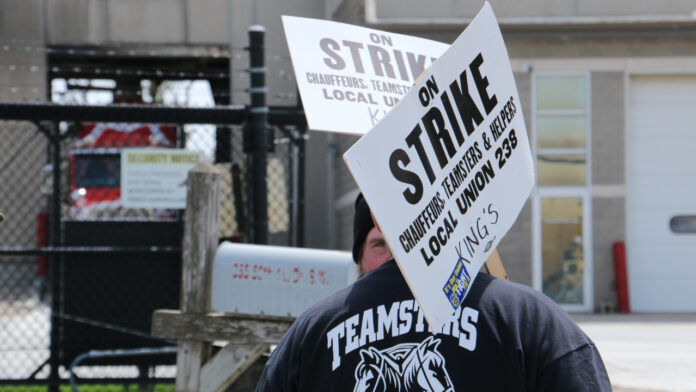 An officer with Teamsters Local 238 says the union is open to continued negotiations with King's Ready-Mix as a strike against the Cedar Rapids concrete supplier enters its fourth day.
Jesse Case, secretary-treasurer of Cedar Rapids-based Local 238, said the strike is focused on a wage dispute between concrete delivery drivers and the company, which operates a concrete plant in southwest Cedar Rapids.
"It's important to keep the lines of communication open," Mr. Case said. "We want a deal that's reasonable to both parties. We want to be successful, but we want to make sure that our members can afford to make a living and pay their bills. We're continuing to communicate with King's, and we're hopeful for resolution, but we're prepared to stay out as long as we have to."
Mr. Case said a total of 17 drivers are represented in the strike. Substitute drivers from other parts of King's operation are making some concrete deliveries, but Mr. Case said the union has also been picketing at some of the company's construction sites.
"You can count the number of trucks that are leaving this facility, and you know that their business is down," he said. "A strike is never good for either party. It's always a last resort. Our guys want to get back to work, so we're hopeful that there's a resolution."
The strike was launched Monday after the company's last wage offer was unanimously rejected by union membership. Concrete delivery workers from Local 238 are currently paid a base rate of $22.45 an hour, and union representatives said in a statement that anything less than $25.70 means they have lost earning power over the past decade.
"We are disappointed to have not reached an agreement," King's Ready-Mix president Charllie Rohde said in a statement. "We have always had a wage and fringe benefit package that is fair and equitable to our team, and our offers have reflected that. This labor dispute solely impacts our King's Ready-Mix division in Cedar Rapids, and has no impact on our masonry and landscape divisions. During this time, we will continue to serve all customers across the King's Material organization."