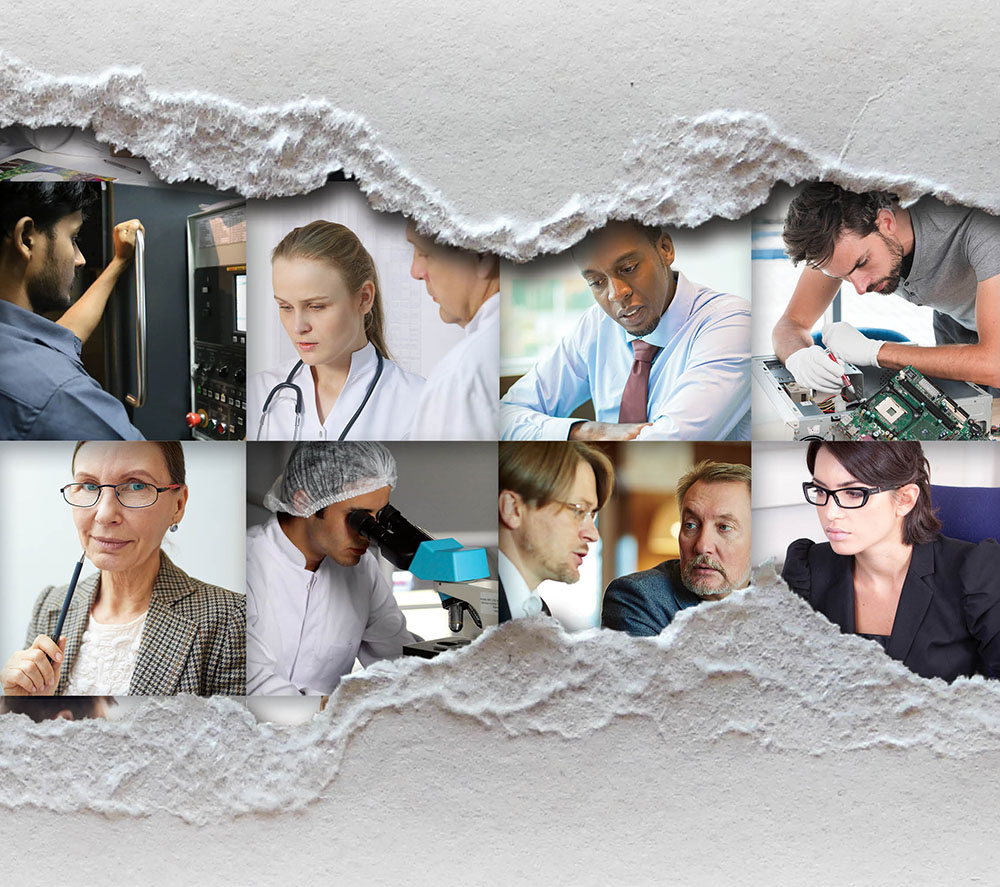 In this six-part, members-first series, the CBJ is exploring the causes and symptoms of Iowa's worker shortage, and whether it's likely to be a long-term, systemic issue or a transient one that will disappear during the next recession.
By Dave DeWitte
dave@corridorbusiness.com
Workforce shortages were something Iowans had heard about during North Dakota's oil boom, or as Hawaii struggled to staff its soaring tourism industry, but it never seemed to be an "Iowa problem."
Indeed, the state's steadily expanding economy has long been cushioned from the highs and lows of economic cycles by its sector diversity, including agriculture, manufacturing and services. Yet without anything resembling a boom, Iowa has ridden a nine-year stretch of economic growth straight into the tightest labor supply in 18 years and one of the tightest job markets in the country.
By last December, even with a chill hitting the ag economy, Iowa's unemployment rate of 2.4 percent was the nation's lowest. The percentage of the state's adult residents who are employed, at 68.4 percent that month, ranked in the top 10.
The Corridor's job market has been even tighter, with the November unemployment rate in the Iowa City metro ranking as the second lowest in the country, at 1.5 percent, and the Cedar Rapids metro unemployment rate of 2.2 percent tied for 23rd-lowest.
Rather than reflecting a North Dakota-style boom in one sector or a Hawaii-style imbalance of pay and living costs, state officials say Iowa is struggling with a convergence of education, population, migration and economic trends.
One of the largest is a misalignment between the changing skill needs of employers and the patterns of educational attainment in the state. It's something Iowa Workforce Development Director Beth Townsend doesn't see changing even if the next economic downturn reduces the pressure to find workers.
Currently, nearly 42 percent of Iowans lack post-secondary degrees or certifications, while 58 percent are "completers" who earned a degree or certification after high school.
"Almost three quarters of our jobs by 2025 will require some kind of post-secondary education," Ms. Townsend noted. "Even though there are fewer jobs when there is a recession, it doesn't mean those jobs will be low-skilled."
Couple the state's skill gap with tepid population growth and a slow pace of new workers moving into the state, and the labor force challenges begin to mount. Iowa's economic output lagged the nation last year as measured by Gross State Product, according to Nationwide Mutual Chief Economist David Berson.
"It's hard to find workers and it's hard to expand if you can't find workers," Mr. Berson said at the CBJ's recent Economic Forecast Luncheon. "Unless you can get more people here, it's going to be hard for the Iowa economy to expand as fast as the U.S. as a whole."
The unenviable situation has brought Iowa national attention — the kind that could easily give pause to large employers considering whether to open an operation in the state or expand here.
"Iowa's employment problem: Too many jobs, not enough people," shouted a Wall Street Journal headline last April. "Say Hello to Full Employment," read the headline of an Atlantic Monthly article about Iowa's low unemployment in July, with the enticing subhead: "If you want to know where the economy is headed, look at Des Moines."
Still, the shortage has been different here than in many labor shortage areas. An oil boom left North Dakota, a state where population growth had been anemic, with the highest-percentage population growth of any state in the nation between 2010-2016, at 12.7 percent. Conversely, Hawaii suffered a loss of 30,000 residents from 2010-2016, as people fled its high cost of living.
There's no exodus of workers leaving Iowa, but nor are there mobile parks springing up to house influxes of families or homeless workers sleeping in cars. While urban centers like Cedar Rapids and Iowa City have healthy growth rates, Iowa is a lot more like the low-unemployment state of New Hampshire. Workers are not flocking here, and the only outward signs of a labor shortage are the wealth of positions on internet job sites and an increased number of "help wanted" signs in windows.
Businesses, particularly smaller ones in the high-turnover service industry, are certainly feeling it though, with positions going unfilled week after week and little hope of the situation changing anytime soon in a lopsided buyers' market.
"It's not hard to get people to apply," said Brittany Hannah, the owner of Bistro 319 in Marion. "What is ridiculously difficult is getting people to show up for the interview — and even if they do show up for the interview, show up for the first day of work."
Ms. Hannah opened the latest incarnation of her restaurant in the summer of 2018 and has struggled to stay staffed since. "I had four interviews scheduled today and not a single one showed up."
She said that, on average, one interviewee out of every eight shows up for the appointment and only about half of hired employees show up for the first day on the job. A bartender job, as one example, has been filled four times, yet "not once have any of them ever showed up for the first day of work."
"It's like looking for little bits of gold in the dirt," agreed Valon Tika, of Chicago, who is staffing up the soon-to-open Edison's Eatery and Pub in Cedar Rapids in the former La Camelia building. "You have to do a lot of sifting."
High skilled, hard to catch
While the worker shortage at the lower end of the skill spectrum is explained by the region's combination of slow population growth and an overabundance of job opportunities, some of the most extreme shortages are being seen in the nursing, information technology, transportation and science fields.
The Corridor's largest private employer, Collins Aerospace Systems, has more than 300 open positions in the Corridor, primarily engineering roles, even though it recently gave an early-retirement offer to a large segment of its workforce. The company also has more than 170 positions for interns, co-op students and new graduates.
To reach its hiring goals, Collins Aerospace has been offering employees a substantial bonus for referring individuals who are hired, according to Steve Schulz, senior director of global talent acquisition. The company is also actively reaching out to job-seekers on social media and recruiting on college campuses.
Nationwide, the Bureau of Labor Statistics estimates more than 1.1 million new registered nurses will be needed by 2022 thanks to retirements and an aging population — a particular problem in Iowa, where the state's Board of Nursing reports more than 50 percent of RNs in the state are aged 55 or older, versus 47 percent nationally.
Carmen Kleinsmith, vice president and chief nurse executive at Unity Point Health — St. Luke's Hospital, said that after being shielded from the crisis for years thanks to so many quality candidates graduating from programs at Mount Mercy University, Coe College, Kirkwood Community College and the University of Iowa, the crunch is finally here.
"It took a while to hit compared to other regions, but now we are facing an ongoing challenge because there are so many opportunities for nurses," she said, adding that the impacts are felt most acutely in 24/7 environments like hospitals. "You're working weekends and overnights and it's more difficult to maintain a work-life balance. There are so many other opportunities out there where you're working Monday to Friday and 9 to 5, and the pay difference is not as great as in years past. It's just more appealing and that's where the challenge is going to continue to be."
An aging workforce with baby boomers on the cusp of retirement poses another hurdle in terms of staffing and the loss of wisdom and experience that implies.
"I don't know that I'd say it's going to get worse before it gets better, but it is going to be a challenge long-term to maintain what we've always achieved in our region in terms of staffing," Ms. Kleinsmith said.
Coralville-based Innovative Software Engineering has been striving to accelerate its already rapid growth since it was acquired by Trimble in June 2017. Iowa's workforce skills gap has been a drag, however, leading the company to open a second office in Cedar Rapids to tap into more local talent, and a third office in Plano, Texas, to access the huge workforce of the Dallas metro. The provider of transportation logistics software and services has also become more flexible about allowing remote work.
"We can have business, but if we can't staff for that business, we have a problem," said founder and CEO Hass Machlab. He said the company has honed its employee retention strategies, refined onboarding processes that help new hires adjust to the company and is offering referral bonuses to employees who help them land a new hire.
"When we put a job ad out, we put it out at all of the locations," Mr. Machlab said. "It doesn't matter where they hire in, because we have really good teams at all of these places."
One of the state's largest privately held companies, CRST International in Cedar Rapids, is battling a truck driver shortage that saw the annual driver turnover rate within its peer group of companies approach 100 percent last year. CRST has been offering $1,500 sign-on bonuses, and boosted pay by 15 percent in 2017 for new contract student drivers, among other strategies for keeping and recruiting drivers.
"In our industry, demand is still greater than supply because there's a very large shortage of truck drivers, which we're all working hard to fix," CRST President and CEO Hugh Ekberg said at the CBJ's Economic Forecast Luncheon.
Iowa coalescing around a strategy
State government has mobilized around the issue, passing its biggest current workforce initiative, the Future Ready Iowa Act, last spring with a goal of "upskilling" workers so that 70 percent of Iowa's workforce has postsecondary degrees, apprenticeships or educational credentials.
In a divisive and partisan political environment, it was one of the areas in which Iowa's leaders could agree. The bill passed both houses of the Iowa General Assembly with unanimous support.
"Today, just over half of our workforce has training or education beyond high school," Gov. Kim Reynolds said in her recent Condition of the State speech. "We're going to change that."
The initiative proposes a scholarship and grant program for Iowans seeking postsecondary training and education up to an associate's degree in approved programs at Iowa colleges and universities, but only in areas of study that will lead to high-demand jobs, as designated by the State Workforce Board.
Future Ready Iowa also includes a program to inspire adults to return to college or get a certificate in a high-demand skills area, and one aimed at expanding work-based learning experiences, primarily for high school students.
Iowa State University Professor Peter Orazem is a labor economist who has studied the state's workforce for decades. He is glad the state is acting, but says "it remains to be seen" whether it will work.
The nature of work skill has changed drastically in the last decade, he noted.
"All of the jobs that are in demand are those where you have to be able to think on your own, because if it's just doing the same thing over and over, a machine can replace you."
Repetitive manual work that once accounted for most of the state's manufacturing jobs has mostly been automated or moved to lower-wage countries, Mr. Orazem said. Jobs that pay middle-class wages are overwhelmingly in occupations that require analytical or creative skills, with post-high school education or certification.
Meanwhile, Mr. Orazem said, a high percentage of new graduates from Iowa's universities continue to leave the state, lured by higher average wages and urban lifestyles in the Midwest's large metro areas such as Chicago, Minneapolis and Kansas City.
"Migration rates are highest in the early 20s, and get lower as age increases," Mr. Orazem said. "If you lose people while they're young, you tend not to get them back, and you lose their kids as well."
Jobs that are abundantly available in-state often go begging, he said, because vocational training has been deemphasized in the state's high schools, in favor of four-year college degrees.
"The difference between the incomes of the top-paying college majors and the bottom-paying college majors is over 100 percent," he said. Computer engineering graduates make more than double somebody in parks and recreation.
Initiatives like Future Ready Iowa could help, Mr. Orazem said, however "upskilling" the workforce is a strategy that seems to work best for the young. The largest contingent of Iowans who need to earn post-secondary degrees or credentials to meet the goals of Future Ready Iowa — 127,700 of them — aren't recent high school or college graduates. They are adults between the ages of 25-65 without postsecondary education. Many are low-income, displaced or members of minority groups.
"The hardest thing is to get those skills when you're in your 30s or 40s," Mr. Orazem said, explaining that once married or at least settled into home ownership, financial obligations make it hard to take time out from work to "reskill."
"People in that age range who lost their jobs in the last recession had serious problems finding employment," he noted.
Ms. Townsend doesn't dispute the assessment. She says many of the workers the state hopes to get back into college or apprenticeships not only have family or financial obligations that make it harder to go back to school, but also had difficulty with high school, and think that college will be harder.
Convincing them, Ms. Townsend said, will require explaining that apprenticeships and community college programs are short-term commitments that will provide long-time rewards. In addition, she says they'll need to be persuaded that such programs really aren't like high school, but are more hands-on and experience-based, with more remedial help available.
Employers taking action
At the other end of the spectrum, Iowa employers are trying to engage students in work opportunities before they consider leaving the state. The Iowa Business Council, which represents 23 of the state's largest employers, has committed to hiring 30,000 interns, externs and apprentices by 2025 in a bid to engage more young Iowans early.
"What our members look at are innovative ways to create a pipeline into their companies for jobs that are in high demand, and at opportunities to train workers who are already there and creating tools that will enable them to move into high-demand jobs," said Georgia Van Gundy, the IBC's executive director.
Some of the employer initiatives include an apprenticeship program that Ruan Transportation launched in connection with Des Moines Public Schools' Central Campus to create a talent pipeline to IT jobs within the company, and a Fareway program that provides $100 per month to employees for student loan forgiveness. Two of Pella's largest manufacturers built an apprenticeship program in conjunction with Pella Career Academy that may be replicated throughout the state to fill a gap in welding talent.
On an individual company level, the lack of eligible job candidates has often shifted the emphasis to strategies for retaining good workers, which range from flexible work time arrangements to giving employees more free time to give back to their communities.
"Company cultures and all these things are increasingly important," said Tom Banta, director of workforce solutions for the Corridor's joint venture, ICR Iowa. "But some companies that have had a strong culture for a long time tell me they can't even identify a candidate pool. They say, 'we can't even find a candidate pool to start the conversation.'"
As someone facing the skills gap issue daily, Mr. Banta says "there's no silver bullet. … It's going to take a multi-pronged approach."
That, Mr. Banta says, means working with employers, Kirkwood Community College and a range of other stakeholders to find new solutions.
"We're trying to engage our employers often and regularly in a way that we can identify what all the challenges are," he said. The top-line service ICR Iowa provides is to remind employers of the many services and resources available in the region to help them find talent.
When more engagement is warranted, Mr. Banta said ICR Iowa can help employers with strategies to hire from untapped talent pools. He cited a recent program at the Nordstrom fulfillment center near the Eastern Iowa Airport to provide English language and cultural training for immigrant workers as the kind of projects that can be undertaken to enlist hidden talent.
But the challenges are much broader, Mr. Banta noted. Housing affordability is a barrier to recruiting workers, particularly in some higher cost areas. Transportation and childcare remain obstacles for many.
Iowa is far from alone in its workforce challenges, Mr. Orazem observed, although it has some extra hurdles, including a food processing industry heavily reliant on immigrant workers at a time when immigration policy is being tightened.
For all the problems the workforce skills gap is creating for employers, Mr. Orazem reminds Iowans that it's a good kind of problem.
"I don't remember anybody during the Great Recession talking about how great it was to have too many unemployed people and not enough jobs," Mr. Orazem said. "I would much rather have the headache that employers are having to chase workers."
CBJ Reporter Katharine Carlon contributed to this report.
Coming up next: In the March 11 edition, (un)Hired Help will look at the hiring criteria of today's employers, which can make the search for workers even more challenging, including cultural fit, diversity, specialized skills and experience. Available first to CBJ members.