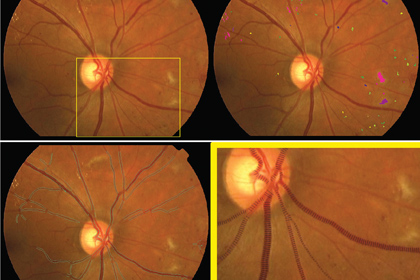 By Gigi Wood
UNIVERSITY OF IOWA – A University of Iowa researcher has started a company designed to increase prevention of diabetic retinopathy, one of the most common causes of blindness.
Eighty percent of people with diabetes develop the eye disease, which has no symptoms and is detected only through specialized eye exams. Ninety five percent of cases are preventable, but they are often caught too late.
"The way to prevent it is to diagnose it early, before they have symptoms," said Michael Abramoff, an ophthalmology associate professor at the UI and a UIHC researcher.
A skilled ophthalmologist is required to perform the eye test and read images taken of the eye to detect the early stages of diabetic retinopathy. For those living in the Corridor, finding a doctor to do so is an easy task. Those living in rural areas of the state are not as lucky.
A patient living in rural western Iowa, for example, would need to drive five hours to Iowa City to receive the test at University of Iowa Hospitals and Clinics.
"They drive six hours, most of the time just to hear, 'There's no change, come back in a year,'" he said. "That's not very exciting. You just spent half a day there, half a day driving and it's very expensive. After a few times they don't do it anymore. But then, when they do finally come, they say, 'I'm not seeing so well.' And essentially, it's too late."
Mr. Abramoff and five others, a mix of vision experts and engineers, have started a company aimed at reversing that trend.
"We want to have cameras all over the state that can be read by their primary care physicians," he said.
For Mr. Abramoff, the goal for the past two decades has been to combine his expertise and training in ophthalmology, engineering and computer science to find ways to prevent vision loss, which affected his brother at an early age. He has spent years developing the computer algorithms for the software that reads the vision scans.
The company, IDx, is developing software and retinal cameras to prevent vision loss due to diabetic retinopathy.
Through a number of grants from the National Institutes of Health, U.S. Department of Agriculture, Wellmark and others, Mr. Abramoff has worked to provide retinal cameras and accompanying software to doctors in rural areas so they can perform the tests. The images taken by the rural doctors, in turn, were used to help Mr. Abramoff create the software for the camera his company is developing.
"It's good for the research, but it's also good for patient care," he said.
Initially, the cameras were too expensive and it was a liability to allow doctors to read the scans using the software. To examine the actual scan requires a skilled technician, which are in short supply in rural areas. Therefore, the software analyzes the scan for the primary care physician.
Another goal of the company is to make the test accessible, not only by eliminating the long drive to a major medical center, but also to reduce the cost associated with the advanced technology. Eventually, he hopes to make his products available to developing countries.
"We want to bend the cost curve in health care and make eye care more accessible," he said.
Over time, he has moved toward creating a handheld retinal scanner that, with a push of a button, will tell the physician the test results. No interpretation of scans or tests would be necessary.
"It's like a blood test; the doctor doesn't want to look at the blood, he wants to know your glucose level or if your potassium is low. He wants a number. And that's what he gets with this," Mr. Abramoff said. "The hardware is not very different (from what is typically used now) but the software is."
The company was started as a nonprofit effort two years ago, but the group was unable to find funding and had difficulty navigating the federal regulatory red tape as a nonprofit. In December, the company was launched as a for-profit.
"That part (of the business) was a surprise to me," he said. "I thought if you did the science well, it would sell itself. But of course, it doesn't."
In order to sell a finished medical product, the company will need approval from the U.S. Food and Drug Administration. The process is expensive and time-consuming, so as IDx begins talks with the government, it seeks investors and distributors and is improving the design and computer algorithms associated with its product. Mr. Abramoff continues to visit patients and teach classes in engineering and ophthalmology when he is not working on IDx.
In April, IDx received the American Telemedicine Association's President's Award for the Advancement of Telemedicine: Innovation Award. In November, the company came in first place at the UI John Pappajohn Entrepreneurial Center Elevator Pitch Competition.