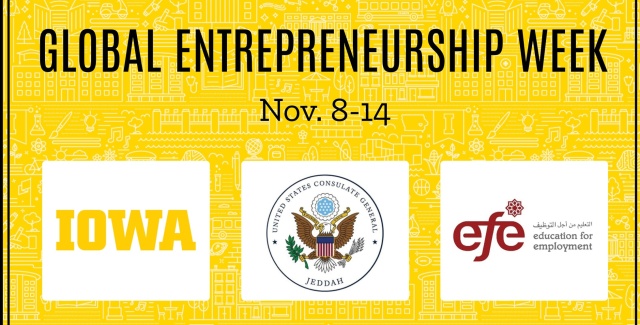 Saudi Arabian women will learn how to become entrepreneurs with the help of an educational program from the University of Iowa that will also connect them with mentors throughout the state.
The university's Institute for International Business (IIB) has received a $123,000 State Department grant through the U.S. Consulate in Jeddah, Saudi Arabia, to provide entrepreneurial education to 50 women in the western part of Saudi Arabia.
The Western Saudi Arabia Venture School for Women program is designed to "put new entrepreneurial tools into the hands of Saudi women," said Dimy Doresca, director of the IIB, a partnership between the Iowa John Pappajohn Entrepreneurial Center (Iowa JPEC) and the Tippie College of Business.
"With the guidance of Iowa professionals, we will train aspiring innovators of business and social enterprise, through the start-up process using methods that reduce risk and encourage ongoing innovation," said Doresca. "We will nurture and empower women in Saudi Arabia to become examples of social and economic success in their communities."
The women will participate in Venture School International, an entrepreneurial education program that guides students through the startup process by teaching them how to identify a market need and build a business to meet it. The university is partnering with the nonprofit Education for Employment (EFE) to teach the Venture School International training, which will be complemented by contacts with local financing organizations, government officials, and business support services.
At the same time, Doresca says the grant will help develop entrepreneurial training capacity and build a local entrepreneurial ecosystem needed to play an active role in guiding new innovators to build and manage new businesses.
Doresca says Iowa women entrepreneurs will also work with the Saudi women as mentors, providing support and encouragement while serving as role models. He says they will be recruited from the institute's existing networks of women entrepreneurs in Iowa.
The program has begun, and university faculty and Iowa entrepreneurs will travel to Saudi Arabia to provide training and help develop mentor relationships.
You can find more information about the program at https://www.iowajpec.org/news/university-iowa-efe-will-train-saudi-women-entrepreneurship.