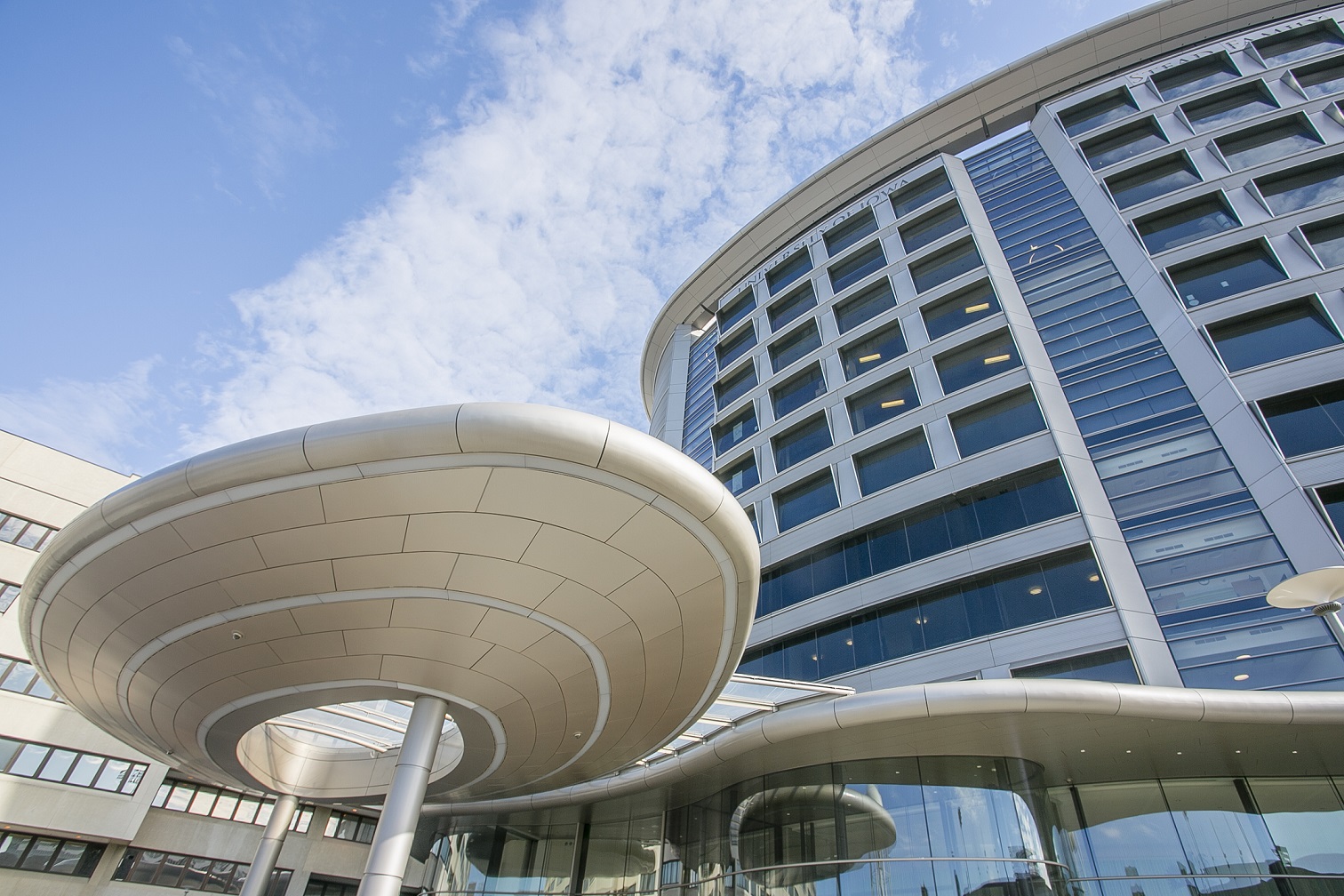 By Cindy Hadish
From its oversized windows with panoramic views of the outdoors to its meditation room and open-air gardens, the new University of Iowa Stead Family Children's Hospital was designed to promote a healing environment.
"That access to the natural environment is so important," said Scott Turner, executive director of Stead Family Children's Hospital, a 14-story, $360 million facility, which opened to patients in February.
Mr. Turner cited studies that show views of trees, gardens and other natural features can provide health benefits.
An article in Scientific American, for example, notes that just three to five minutes spent looking at views dominated by trees, flowers or water can begin to reduce anger and anxiety and induce relaxation.
Experts also point to evidence that interacting with nature can reduce levels of pain and stress and boost immune systems to allow patients to heal.
Those types of studies were among the basis for the new hospital's design features, which include a healing garden on the hospital's 12th floor, Mr. Turner said.
The garden features natural stone with blooming plants and natural breezes coming from above in an open-air environment. Patients, family members, visitors and, just as importantly, staff can stroll through the healing garden to decompress and relax without leaving the hospital.
At ground level, a plaza and walkway outside the front entrance offer the same opportunity on a larger scale, thick with plantings of flowers and native grasses.
Panoramic views
Mr. Turner noted that large windows in the new hospital allow abundant natural light into each of the 130 patient rooms, while providing stunning views of Iowa City's trees, church steeples and buildings, as well as the University of Iowa campus.
Those windows – reinforced to withstand an EF3 tornado with speeds of 249 mph – provided a unique experience for patient Lilly Timmerman, 9, and her mother, Maria. Severe storms this spring led some Iowa City residents to retreat to their basements, but the two and others in the hospital watched the lightning and downpour through the hospital windows.
"The girls were just glued to the glass," Ms. Timmerman said of the experience.
Ms. Timmerman said the abundant light that comes into the rooms can be cut off completely, if needed, by using window shades with blackout capabilities.
Peace and quiet
The rooms are incredibly quiet, she added; so much so that she and her daughter, who is undergoing treatment for leukemia, have more difficulty sleeping at home than they do at the hospital.
That quiet environment also was intentionally designed, said Jason Miller, director of project management for the Children's Hospital, pointing to features such as sound-absorptive flooring and soundproofing between rooms.
Mr. Miller noted that noise decibel levels were monitored before the hospital opened during an outdoor concert playing just across the street at Kinnick Stadium. Decibels of regular sound in the main hospital were comparable to those in the new hospital during the concert, he said, "so it's very quiet in those rooms."
That will be important this fall, when tens of thousands of Hawkeye fans stream into the stadium during game days. On those days, the 12th floor of the new hospital will play a diversionary role for patients and their families.
Best seat in the house
A "press box" on that floor overlooks Kinnick Stadium, with seating for 81 patients and family members, who will have some of the best views of  Hawkeye football games.
The same floor also features a meditation room with seating for religious services or other events, offering another spot for a quiet retreat within the hospital.
On a more lively end of the spectrum, an interactive theater on the hospital's first floor takes patients and visitors into another world via a giant screen that allows them to "steer" birds with their arms and otherwise interact in the playful space.
Chartreuse, violet and a rainbow of colors provide accents on walls, furniture and other features throughout the building's 507,000 square feet of space, with color-coded themes and corresponding symbols of farmland, woodlands, wetlands and prairie.
"We wanted the building to be reflective of the state of Iowa," Mr. Turner said. "It creates a great sense of identity."
Efficient design
Even the building's curved shape was designed to promote healing, not only by offering those panoramic views, but by facilitating patient care. Mr. Miller said having the location of equipment and support functions the same on each floor increases efficiency.
Planners visited eight different hospitals across the country to find design elements that would best work for the new hospital, with input from more than 600 staff, patients and parents, among others.
The building, with Heery International of Iowa City serving as architect of record; Foster + Partners of London as exterior designer; ZGF Architects as interior designer and Gustafson Guthrie Nichol as landscape architects, is expected to achieve a LEED Silver rating under the common green building certification program.
"This entire project was driven by participation," Mr. Turner said, adding that he has heard positive comments from visitors and staff. "They're excited about the environment – how warm and inviting and quiet it is and how much thought went into it. You only deliver this type of building when you listen to the number of people that we did."