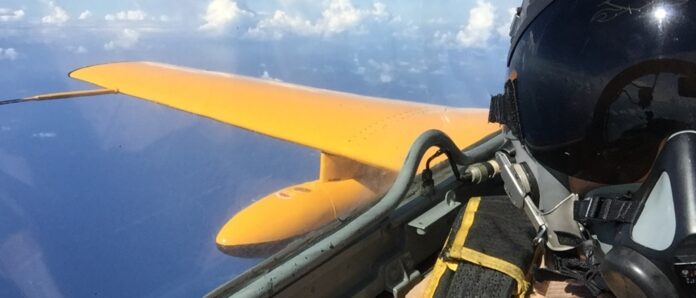 Operator Performance Laboratory (OPL) director and University of Iowa industrial engineering professor Tom "Mach" Schnell briefed national security leaders on a project seeking to improve artificial intelligence in aerial combat.
The project is called Air Combat Evolution (ACE) and is in collaboration with the Defense Advanced Research Projects Agency (DARPA), a research and development agency of the United States Department of Defense.
The project's goal is to understand if pilots are trusting AI or "conversely taking over controls from the AI when appropriate," according to a news report.
Mr. Schnell spoke with Lt. Col. Patrick "Dice" Highland — a recent UI PhD and Commander of the Air Force Life Cycle Management Center Detachment 3 in San Diego, California — during a DARPA presentation at a conference held at the Georgia Institute of Technology.
"The goal of ACE is to introduce AI-powered combat autonomy into fighter jets to increase the lethalty and effectiveness of fighter pilots," said Mr. Schnell during his presentation.
"When ACE combat autonomy is turned on and a fight begins, the human pilot is actually putting his or her life in the hands of an AI algorithm," said Mr. Highland. "The pilot's role shifts from being a hands-on fighter to becoming a fighter manager, ideally freeing up the pilot to perform other human-oriented tasks."
OPL hosted the first quarterly integration meeting for ACE to advance AI dogfighting capabilities in Iowa City in Sept. 2021. DARPA conducted test flights using AV L-29 jets in March 2021 for the program which kicked off in 2020.
In August, OPL aided DARPA's Pheme project and hosted officials from Collins Aerospace, Raytheon, the U.S. Army and more.