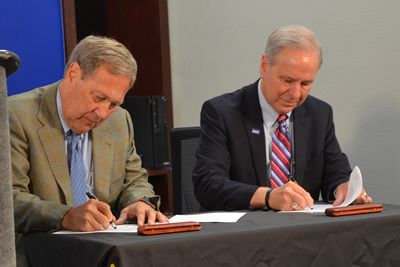 Des Moines Area Community College (DMACC) and the University of Iowa have entered into a new agreement to allow DMACC nursing graduates to transfer to finish their Bachelors of Nursing Science (BSN) degree from the UI in one year. The agreement is called "RN to BSN 3+1."
Nursing students can stay at DMACC for three years and then complete their BSN degree in only one year through the University of Iowa's online program. DMACC nursing graduates who are working can also come back to DMACC, take an additional year and then transfer to the University of Iowa for their final year to complete their BSN.
University of Iowa President Bruce Harreld and DMACC President Rob Denson signed the agreement Oct. 3 at the Iowa Higher Education Center, located on Fleur Drive in Des Moines.
"At the University of Iowa, our highest priority is to provide an affordable and accessible education for the citizens of our state," Mr. Harreld said. "This articulation agreement between the UI College of Nursing and DMACC is a model for the ways in which public higher education institutions in our state can work together to provide the best opportunities possible for Iowans."
DMACC nursing students who have at least a 3.0 grade point average, have successfully completed their DMACC nursing requirements and are on the BSN nursing track will automatically be accepted into the University of Iowa's BSN program, where they can complete their final year of studies. Others can be admitted based on their application.
Because the UI classwork is online, the agreement allows DMACC graduates to work in central Iowa while studying for their University of Iowa degree.
Currently, 21 percent of DMACC Nursing graduates plan to continue their studies in Iowa's RN to BSN 3+1 program, and it's anticipated this percent will continue to grow.
For more information, visit https://nursing.uiowa.edu.