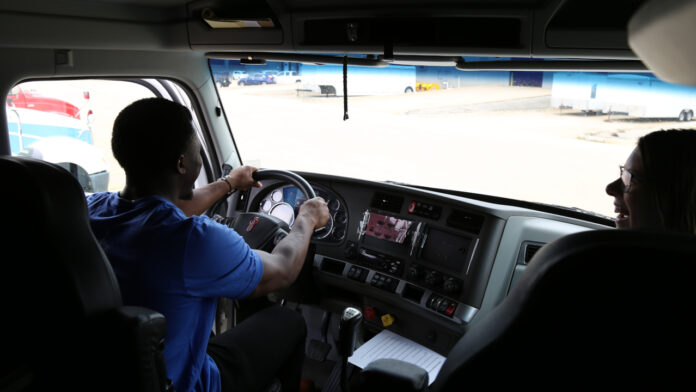 TrueNorth Companies and Kirkwood Community College will present the Day in the Life of a Driver event on Wednesday, May 17 at Kirkwood Continuing Education Training Center near the college's main campus in Cedar Rapids.
According to the American Trucking Associations, more than 80% of U.S. communities depend solely on trucking for delivery of their goods and commodities. The Day in the Life of a Driver event gives employees in TrueNorth's Transportation division the opportunity to broaden their knowledge and understanding of one of America's most important professions. The hands-on approach aims to foster innovative thinking to better serve clients in the fast-paced, heavily-regulated sector.
"TrueNorth works with more than 200 transportation companies across the country, including one-third of the largest motor carriers in the nation. This represents 130,000-plus professional drivers, including independent contractors and employee drivers," said Chris Gulker, senior vice president – transportation for TrueNorth. "This is an invaluable way for us to gain perspective by getting behind the wheel, so we can continue to create value for our transportation clients and help them protect and maximize their business."
Kirkwood's Corporate Training division has partnered with area employers to provide educational programs for many years. Depending on client needs, Kirkwood can design the right training program to achieve the desired outcome for any organization.
According to Kirkwood Continuing Education and Training Services Executive Director Amy Lasack, the Day in the Life of a Driver program shows what Kirkwood can do to meet the needs of its partners.
"This program demonstrates what Kirkwood can provide to help our clients achieve their goals," Ms. Lasack said. "We have always prided ourselves on getting different types of organizations exactly what they need to meet their goals. It helps their employees to succeed in their jobs. When that happens, the employer succeeds as well. The TrueNorth staff who complete this training will have a better understanding of what it takes to be a part of the transportation industry. By doing so, TrueNorth will be able to serve their clients better. When that happens, it means we've done our job well – and we take pride in doing so."