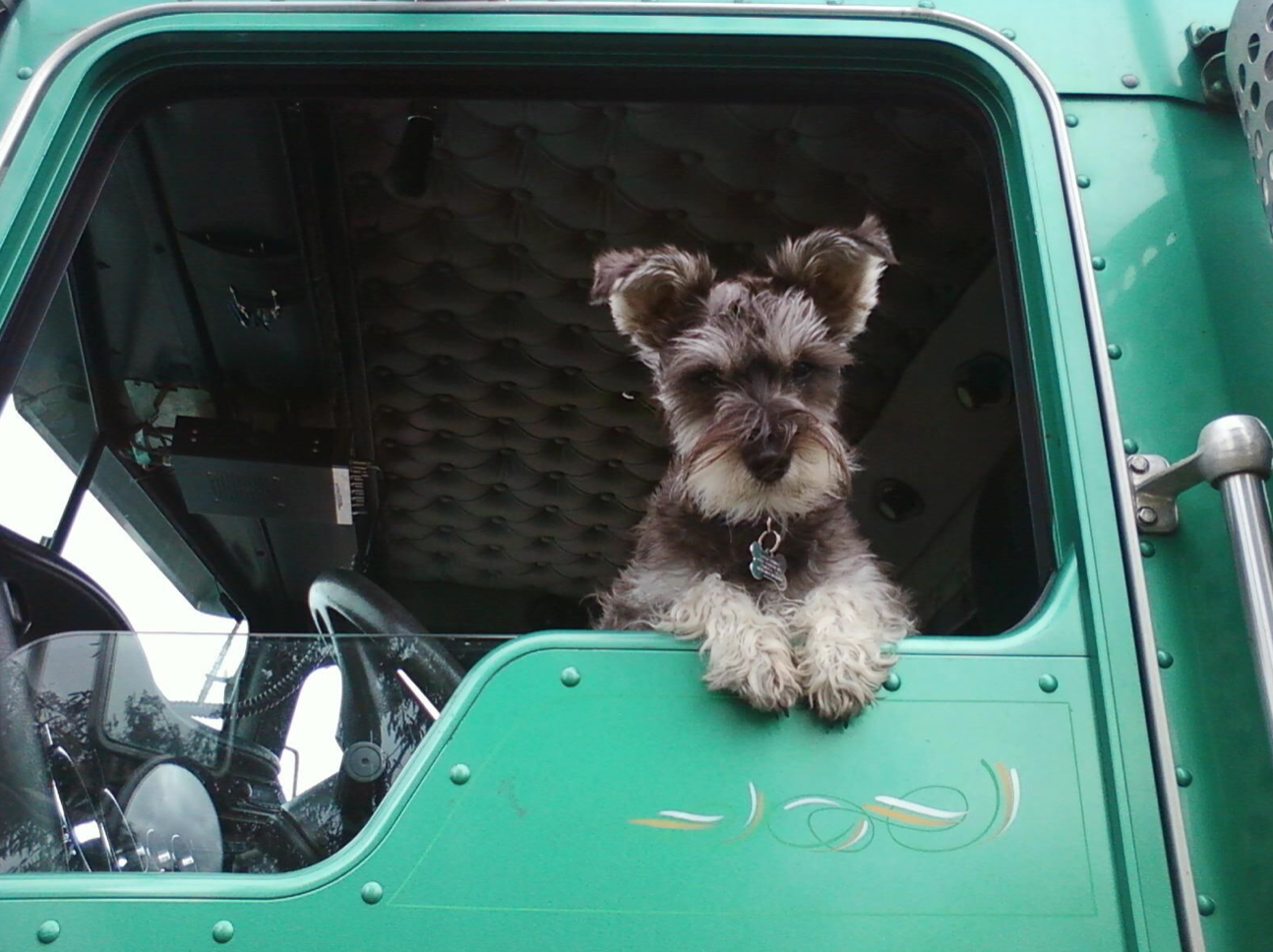 By Katharine Carlon
katharine@corridorbusiness.com
Candace Marley, a driver with Don Hummer Trucking Corp. for more than four years, says she was "thrilled" when the Oxford-based carrier rolled out a policy in late summer allowing dogs to ride along with their drivers.
"She makes me feel safer," said Ms. Marley, whose dog, Cinnamon, was the first to be approved as a canine co-pilot under the new policy. "No one can get near my truck. It forces me to get out and walk. And I enjoy the cuddles at bedtime."
In an industry plagued with what the American Trucking Associations estimate as a 50,000 and growing driver shortage and a whopping 95 percent annual churn rate among major carriers, trucking companies are doing whatever they can to recruit and retain workforce.
That includes out-of-the-box ideas, like generous pet policies, to set themselves apart in the competitive world of long-distance freight.
"We work really hard on being more personal, being on a first-name basis, knowing [drivers] and knowing their families," said Sue Smith, director of driver services at West Side Transport of Cedar Rapids, which, among other perks, allows not just one, but two-pets to ride in the cab.
"I think in this business, it's not just having great, grandiose ideas – it comes down to culture," she said. "It's doing the little things that add up to something big."
According to truckingtruth.com, which compiles a list of animal-friendly trucking companies, at least 60 carriers nationwide allow at least one dog to ride shotgun on long-haul runs, with some allowing cats and even wilder species like iguanas and snakes.
Brenda Neville, president of the Iowa Motor Truck Association, said allowing pets onboard is not necessarily new, but it is a growing phenomenon, reflecting the need to enhance driver experience, reduce stress levels and boost loyalty.
"Carriers are realizing it's a very competitive market out there and that this is a tough, challenging job," Ms. Neville said. "It's not enough to get [drivers] in the door, you need things that will keep them, and it isn't all about money."
Kelly Kaestner, human resources manager for Hummer, said that not only do routine-loving dogs help their owners stay on a more consistent schedule, they promote regular exercise, encouraging drivers to get out of their trucks to move around, stretch and take in some fresh air. Pets also make them feel uplifted and loved, cutting feelings of loneliness and isolation.
"Our drivers asked about it for a long time and we wanted to add another benefit for them," Ms. Kaestner said of the newly-adopted policy. "Some of our drivers are on the road for long periods of time – a week, two weeks – and just like you and me, it's great to have a stress reliever, a way to share the experience with a best friend."
There are more practical considerations as well. Ms. Smith said that pets also give drivers added protection and safety on the road.
"Dogs are usually gentle creatures, but when somebody comes near, they go into protect mode," she said. "Say a driver is sleeping at night and somebody is prowling around, they're hypersensitive and will alert the driver that something might be off. For our drivers, the truck is their home away from home, so safety is a big reason."
West Side Transport reinstated its pet policy after a hiatus in 2016, Ms. Smith said, concluding that allowing dogs is a differentiator in a tough labor market, signaling to drivers that "this is a place where family is welcome."
"A lot of our drivers came here just for that reason," she said, "and a lot of our current drivers went and got pets when we changed the policy."
Heather DeBaillie, marketing manager for the Iowa 80 Group, Inc., which runs what is billed as "the World's Largest Truckstop" off Interstate 80 in Walcott, said canine companions are becoming more common, particularly during the warm summer months. The Iowa 80 truck stop offers a full pet section with food, leashes, toys and other items; grassy expanses for dogs and owners to run, toss a frisbee or take a stroll; and a 24-hour Dogomat Pet Wash, which Ms. DeBaillie said was the first of its kind at a U.S. truck stop.
Clawbacks
Trucking insiders acknowledged having a pet policy comes with a few headaches. Accidents and damage from clawing and hair accumulation are risks, and allowing drivers to travel with pets can cause inconveniences. Pets are not allowed on every site and add an element of unpredictability to an already unpredictable job. Ms. Smith recalled one instance in which a driver fell ill in a faraway state and she had to quickly figure out how to handle the suddenly ownerless pet.
"It doesn't come without challenges, make no mistake, and you have to weigh those in making these policies," she said.
To mitigate some issues, West Side charges a mostly refundable $1,750 deposit, of which $500 must be paid up front and the remainder paid over time via payroll deduction. Though it allows two dogs, they must weigh no more than 50 pounds combined, and certain breeds, including pit bulls, Rottweilers, German shepherds and Dobermans are not allowed. At Hummer, ride-along dogs are required to weigh 40 pounds or less and be a non-aggressive breed. The company also charges a non-refundable $500 deposit and cleaning fee.
Ms. Neville said there is plenty of discussion in the industry about whether to allow other types of pets to ride onboard, including cats, parrots and lizards.
"There's a greater attentiveness to what will enhance the experience of the drivers, but at the center of everything is safety," she said. "There are conversations happening about what is a pet, but no one is going to do anything to compromise safety."
There is no doubt, however, that allowing pets can be a piece of the retention puzzle.
"It is a competitive edge," Ms. Smith said. "It's a big thing when people can bring their family members along, and we've had drivers that we lost when we didn't have this policy. It was killing them not to have them [their pets] along."
Other perks
Ms. Smith, who has been at West Side for 19 years and is one of only a handful of people in the industry solely tasked with dealing with the driver experience, said there are other pieces to the retention puzzle, as well. The company offers a "We are Family" program – a sort of a personal concierge service to buy flowers and gifts for anniversaries, birthdays, funerals and other events, with the costs automatically deducted from drivers' paychecks.
Other not-so-common perks include use of the Midwest Athletic Club, a Drivers Council to improve workplace conditions, driver appreciation events, special monthly food days for drivers at the terminal, and an annual weekend gala in March for all drivers, spouses and office staff.
"A lot of our drivers don't get date nights or time away," she said of the event which includes an awards banquet, entertainment, a free hotel stay and mani-pedis for the ladies. "They never get a chance to socialize with each other or dress up … These drivers miss birthdays, anniversaries, their children's first steps, all the things we take for granted, so we owe them a debt of gratitude."
Ms. Kaestner said Hummer also offers a range of unique perks from food trucks serving tacos, burgers and other treats at the company's three terminals to weekly shout-outs for birthdays and anniversaries "because sometimes they don't get that moment being far from home."
The company has also instituted a "Hometime on Your Time" policy to allow drivers, whose homes are sometimes as far away as Mexico or Jamaica, to get time off with their loved ones when it matters.
Hummer is currently working on a companywide support group for female drivers, who are sorely underrepresented in the trucking industry.
Asked whether "small things," like Hummer's pet-friendly policy will keep her on the road in an industry notorious for rampant job-hopping, Ms. Marley was succinct: "It certainly helps."