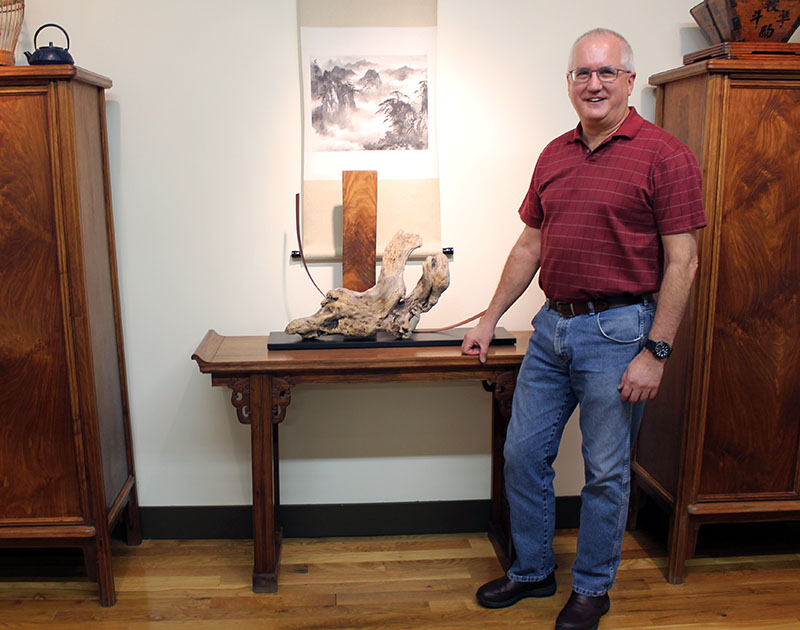 David Chadima stands in his family's office in the Cherry Building Cedar Rapids, which is furnished with authentic Chinese furniture and art that he and wife Lijun Chadima collected during 16 years living in China and Taiwan. PHOTO DAVE DEWITTE
By Dave DeWitte
dave@corridorbusiness.com
When David Chadima of Cedar Rapids went to Chi­na in 1982 as a college student, it was one of those destinations reserved for intrepid travelers willing to overcome steep language and cultural barriers.
The United States and China had just normalized relations, and Mr. Chadima, who'd just completed a bachelor's degree in Asian Studies at the University of Iowa with an emphasis on Chinese language and literature, was drawn to it. Not only was one of the world's oldest civilizations and the most populous nation, it still bore the deep imprint of the Cultural Revolution under Chairman Mao Zedong.
"I felt I needed to go there and live, and have some experiences because it was so much different than the West," Mr. Chad­ima recalled.
He became one of the first UI students to travel into the People's Republic of Chi­na to study, doing so on an independent basis rather than as an exchange student.
Today, China is a regular destination for Corridor business travelers. And while it remains different than the west, it's also not the same China Mr. Chadima first vis­ited 36 years ago.
Deere & Company, Rockwell Collins and several other large companies in the Corridor have joint ventures in China. Former Iowa Gov. Terry Branstad is the U.S. ambassador in Beijing, and the Uni­versity of Iowa has linkage agreements with 24 Chinese universities and institu­tions. Mostly, China has become a mod­ern country, catching up quickly with the world's most industrialized nations.
"Worldwide, it's unprecedented, this economic transformation that's hap­pened in China in such a short period," Mr. Chadima said. "When I was living in China as a student, all the travel was by bicycles, trucks and buses. Now they have bullet trains and it's the biggest car market in the world."
Frequent visitors like Mr. Chadima, international sales manager for Dex­ter Laundry in Fairfield, and Downing Thomas, the University of Iowa's dean of international programs, say it's an eye-opening experience.
Mr. Chadima and his wife, Lijun, lived in China for 16 years while he worked in advertising joint ventures representing American brands in the country. They en­joyed the open-air night markets, where there were always surprising and inexpen­sive things to eat and buy. Mr. Thomas has also become a huge fan of authentic Chi­nese cuisine.
"People who haven't been to China have no idea how good it can be," Mr. Thomas said. "I can see why it is spoken off in the same context as French cuisine."
Although the traces of China's early civilizations have faded, Mr. Chadima said there are plenty of cultural attrac­tions worth visiting for those on group tours or business visitors who have some extra time to travel. Just don't ex­pect a relaxing experience, as the top-ranked attractions like the Great Wall or the Forbidden City – both in the Beijing area – tend to be packed with visitors all the time.
"You want to go out into the villages and see how the regular people live on a tour," recommends Jane Schuyler, vice president of the vacation travel division at Destinations Unlimited in Cedar Rap­ids. She said Yangtze River cruises are a popular option for touring China's inte­rior in comfort.
Business visitors to China also of­ten visit one of the many trade fairs in the biggest cities, Mr. Chadima said. The trade fairs are like American merchandise marts, where business people can source Chinese goods.
Although China is one of the safer Asian countries for international travel­ers, Ms. Schuyler and Mr. Chadima rec­ommend traveling with a tour group or a guide, partly because getting around on mass transportation can be a challenge, and visitors can't count on finding an En­glish-speaker to direct them.
Ms. Schuyler offered some other caveats.
"It's a Communist country and there's a lot of spying going on, but for common people like us, people are not going to be following us around," she said. "Are they spying on your phone call? Maybe, but who am I going to call?"
Certain websites are blocked, Ms. Schuyler added, so it's a good idea to download navigation information from Google Maps or the Skype app before leaving the United States. China's cel­lular networks are not compatible with many western cellphones, so it's also recommend that you check to see if your phone operates on the 900 Mhz frequen­cy and your cellular carrier offers cover­age in China.
Spring and fall are the best travel sea­sons in the country because the summer humidity can be intense, Ms. Schuyler said. Air pollution is a health threat in large cit­ies, she added, but can be managed by fol­lowing precautions.
Compared to more popular European destinations, China travel is a reasonably good value, Ms. Schuyler said. Typical round-trip airfare between August 27 and Oct. 3 is around $1,500, and promotional rates can be significantly lower at certain times of the year. Hotel prices in China's large urban centers such as Guangzhou, Shanghai and Beijing are about what a visi­tor might pay in one of the largest U.S. cities.
Doing business in China
Business travelers are advised by Mr. Thomas to learn a few key phrases in Mandarin, but more importantly to take time to cultivate some connections in Chi­na before arriving.
"There is no such thing as Iowa-nice in China," Mr. Thomas said. "If you pass somebody on the street, don't expect them to say 'hello.'"
Business protocols are different in Chi­na, Mr. Chadima said, but aren't a big hurdle. Being respectful, polite, punctual and a careful observer of local practices will take you a long way. Understanding the Chinese way of thinking may be just as important, and a little harder to grasp, he said.
If a business person approaches a ne­gotiation with their Chinese counterpart with a straightforward approach, "they will run circles around you," Mr. Chadima cautioned, because Chinese business peo­ple are strategic thinkers.
"'The Art of War' by Lao Tzu – every­body doing business in China has read that," he said. "From a very young age, they eat, breath and sleep strategy and how to win. 'The Romance of the Three Kingdoms,' about the Three Kingdoms of the Han Dynasty and how they vied for advantage, is full of strategies everybody has studied."
Joint ventures are often essential for getting into the Chinese market because of government regulations, Mr. Chadima said, and most American companies at the very least form key distribution part­nerships. The size and regional differenc­es in China make it more like 30 different markets than one, he noted, so it's a good idea to start small in one region.
Some common business etiquette Mr. Chadima practices is to bring a small gift upon first meeting, and to plan on gather­ing at a nice restaurant for a social dinner with the prospective client, which invari­able includes drinking toasts. Raising your glass slightly lower than your Chinese host is a sign of respect, he noted.
A good place to prepare for a trip to China is the University of Iowa. Mr. Thomas said the Confucius Institute at the University of Iowa offers language and cultural instruction, including inexpen­sive courses in basic Mandarin that can help business travelers. The Institute for International Business in the UI's Tippie College of Business can also provide help in export-readiness and evaluating oppor­tunities in the Chinese market.
There are about 2,300 Chinese stu­dents studying at the University of Iowa, and the growing contingent of UI gradu­ates in China can be a valuable resource when entering the market, Mr. Thomas said. Chinese graduates often credit their experiences at the UI for helping meet their career goals and are great ambassa­dors for the state, he added.
Although today's travelers to China might come back talking about the num­ber of surveillance cameras at busy in­tersections or the websites they couldn't access, Mr. Chadima has a different per­spective. He's seen China open up to the west, and feels fortunate to have experi­enced it more than three decades ago.
"It was a real traditional Communist environment – controlled and backward," he said.
Mr. Chadima met his wife during his student days when she was working at an arts promotion company in her native Tai­wan. He says travelers who want to see the more traditional side of Chinese culture may want to consider a side-trip or a sepa­rate trip to Taiwan, where more tradition­al and conservative Chinese customs still govern daily life.
China travel tips from the pros:
• If you hold a U.S. passport, you won't need a visa to enter Hong Kong if your trip is under 30 days, but you will need one for mainland China. You may need a multiple-entry visa depending on your travel plans.
• Take a business card from your hotel's front desk upon arrival. It will have the hotel's address in both English and Chinese, which can help with cab rides.
• Cellphones in China use a 900 MHz frequency, different than the United States, so check your phone's specifications. Some are capable of operating both in the United States and China. If your phone is China-compatible, check with your carrier to see how (and if) you can make and receive calls while in country.
• Learn to use chopsticks correctly. When setting them down, do not put them parallel on top of the bowl or inside the bowl. Placing them in the bowl is considered insensitive as they resemble joss sticks (incense), which are used in religious ceremonies.
• Punctuality is extremely important. Being late in Chinese business culture is an insult.
• Remove your shoes when entering private homes and temples.
• Show appreciation if handed a gift, but save opening it for later to show good taste. When giving gifts, avoid clocks and books. "To give a clock" in Mandarin sounds like "attend a funeral" while to "give a book" sounds like "delivering defeat."
SOURCE: DESTINATIONS UNLIMITED