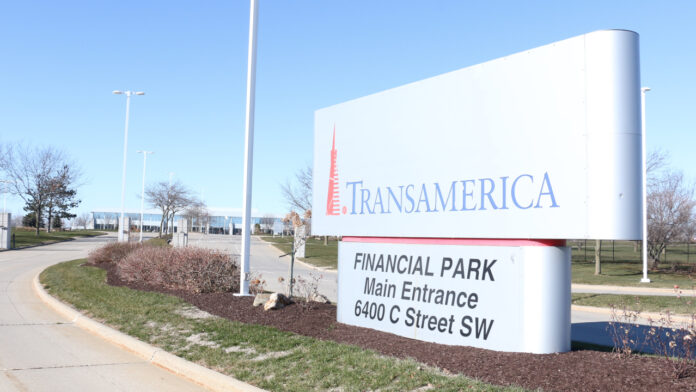 Transamerica is laying off another 42 employees from its Cedar Rapids operations, according to a notice filed through the Iowa Workforce and Retraining Notification (WARN) Act Feb. 17.
A Transamerica spokesperson confirmed the layoffs, noting that "the employees whose positions are being eliminated received at least 60 days' notice, with the earliest termination date being March 21, 2023."
Transamerica's Cedar Rapids office employs about 1,600 people, the spokesperson said.
"Positions are being eliminated across business lines and functions to adapt to changes in customer needs and demands," the spokesperson said. "We recognize that this is difficult news, and we are keenly aware of the impact these actions have on our employees and their families. We have met with affected colleagues to offer support and resources as they prepare to transition to other opportunities inside or outside of the company."
As of February 22, Transamerica has 66 open positions in Cedar Rapids and 95 open U.S. work-from-home positions, the spokesperson said.
"This announcement does not impact the delivery of Transamerica's current products and services," the spokesperson said. "While the company continues to execute its growth strategy and drive strong commercial momentum, like any business in our industry, Transamerica is impacted by market factors. We regularly evaluate business needs and look for ways to deliver products and services to customers most efficiently. To grow in our chosen markets, we are committed to ongoing, disciplined expense management and proper alignment of resources."
The layoff is the latest in a series of recent workforce reductions in Cedar Rapids and across the state by Baltimore-based Transamerica and parent company Aegon.
The company eliminated 40 positions in June 2022, including two in Cedar Rapids and 38 employees working remotely in Iowa. In August, Aegon announced it was cutting 59 jobs in Cedar Rapids, 55 from Aegon and another four from Transamerica. The Transamerica figure was subsequently amended to 15 job cuts. In December, Transamerica's affiliate, Aegon Global Services, eliminated 55 positions.
And in November 2020, the company eliminated 53 positions in Cedar Rapids.
Transamerica and Aegon formerly operated from offices at the intersection of 42nd Street and Edgewood Road NE before moving to former Hibu facilities on C Street SW in Cedar Rapids, a move that was substantially completed in 2018. The former Transamerica site was sold in an online auction in June, and the buyer is now seeking to redevelop the site and its office buildings.
"Together, Transamerica and its parent company, Aegon, employ close to 2,400 people in Iowa, and we remain strongly committed to the Cedar Rapids community," the spokesperson added.