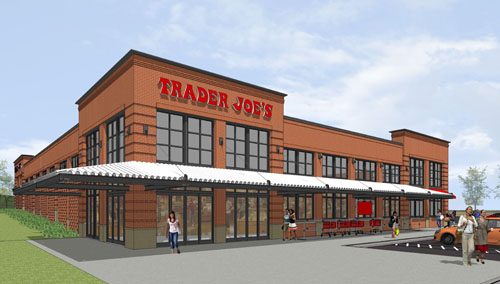 A preliminary rendering of the Trader Joe's location in Coralville's Iowa River Landing. CREDIT TRADER JOE'S
By Chase Castle
chase@corridorbusiness.com
Trader Joe's plans to open a location at the Iowa River Landing in Coralville next year, the California-based boutique grocery chain announced last week.
The 13,000-square-foot store at 950 Ponseti Way will be on the southeast corner of First Avenue and Interstate 80, and will play an important role stoking interest in the Iowa River Landing. With two hotels in place and two more en route, the district is undergoing a $190 million, multi-year development, the centerpiece of which is the Iowa Arena, a 6,216-seat arena that city leaders hope to complete with private investment.
The addition of Trader Joe's will put the company's signature Hawaiian shirt-clad employees in Eastern Iowa for the first time when it opens late next year; the chain's first Iowa store opened in West Des Moines in 2010.
Trader Joe's is known for stocking healthy foods, organic produce and natural supplements. Those items are typically sold at reduced prices, which the company achieves by avoiding service departments and containing the stores' physical size, according to Hoover's Inc. The chain's locations are normally about 12,000 square feet, according to David Livingston, an industry research analyst with DJL Research in Wisconsin; Whole Foods, a top national competitor, normally has stores about 39,000 square feet.
The chain will be in competition with multiple other newcomers to the Corridor's specialty foods scene when it opens next year. Colorado-based Natural Grocers opened a store Nov. 23 on Blairs Ferry Road in Cedar Rapids, and is set to open another in Iowa City, located near the corner of Gilbert Street and Highway 6. Also in Iowa City, Lucky's Market of Boulder, Colorado, opened in July 2015 at the Iowa City Marketplace, formerly known as the Sycamore Mall.
Deanna Trumbull is an independent consultant based in Iowa City who handles leasing at the Iowa River Landing, a public-private partnership between the city of Coralville and OliverMcMillan, a San Diego-based developer.
She said that for close to six years, city representatives have been in communication with Trader Joe's, which has been consistently sought by residents, she said.
"It was probably the most requested store for us since we started [the] Iowa River Landing," Ms. Trumbull said.
Shortly after starting communications with the grocer, the company opened its first location in the state. Ms. Trumbull said the addition of a Coralville store fulfills a short-term plan the company has to maintain two locations in Iowa.
"In their minds, it was really a two-store market state," she said. "They really kind of knew that it made sense to have one on the west side, and one on the east side. So from there, it was really just a matter of time and syncing their open-to-buy calendar with our project."
OliverMcMillan, developer of the IRL building to be leased by Trader Joe's, reached a lease-buyback agreement for the city property in the fall.
Delays in concluding a lease were one of the reasons OliverMcMillan recently was granted a contract extension for $434,000 in state brownfield/grayfield tax credits by the Iowa Economic Development Authority (IEDA). The IEDA board in September approved the extension until Nov. 30, 2017.
The sale-leaseback agreement is similar to others the city has executed to finance projects such as Backpocket Brewing in the IRL, and will result in OliverMcMillan and its tenant paying the city under a triple-net lease, City Attorney Kevin Olson said. The terms allow the contract to be renegotiated after five years, Mr. Olson said, with Trader Joe's potentially purchasing the building down the road.
Alison Mochizuki, a spokesperson with Trader Joe's, declined to say how many employees will be based at the Coralville store. She did, however, suggest it will launch with a combination of local hires and existing employees who could transfer from other locations.
Mr. Livingston estimated the store will employ about 75 people. However, like many supermarkets, the store is likely to overstaff ahead of increased demand around the grand opening. When Lucky's Market opened in summer 2015, for example, the business had approximately 170 employees. Store management was directed that fall to reduce labor costs, which resulted in scaling back hours and reducing some full-time positions to part-time, according to a former store manager.
In the case of Trader Joe's, Mr. Livingston estimated that the store will open with about 90 employees, which shouldn't be hard to reach considering the company's positive reputation, he said.
"Trader Joe's is a very good employer," he said. "They pay much better than most grocery retailers."
According to Glassdoor.com, 'crew members' at Trader Joe's earn an average hourly wage of $13.79.
"Then again, they're not hiring the same kind of people who work at Walmart," Mr. Livingston said, noting that the company also has a higher percentage of employees who hold post-graduate degrees than comparable employers elsewhere. "They're not hiring $10 an hour people and paying them $20. They're probably hiring $25 an hour people and paying them $20."
Mr. Livingston estimated that within three years of opening, the Coralville location will generate more than $500,000 in sales per week, or close to $30 million annually.
"That's typically what we see," he said. "And generally, after a couple of years, it doesn't take much to get those stores to that point."
Dave DeWitte contributed to this report.