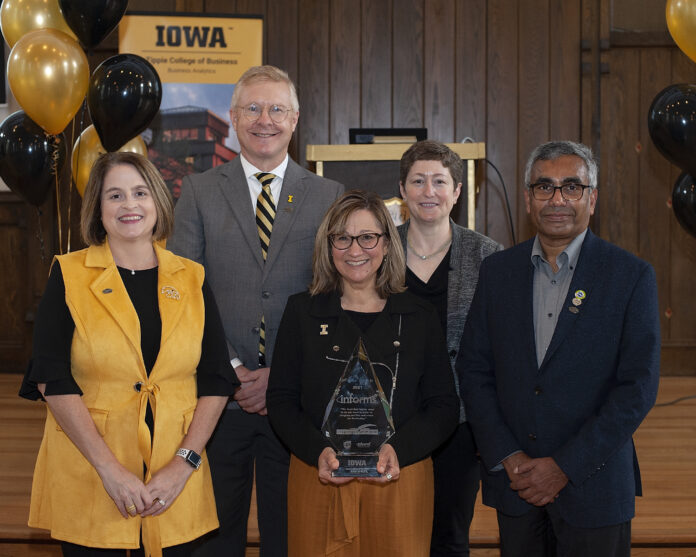 The Tippie College of Business was honored during ceremonies on Friday as a top college nationwide for preparing students for careers in the business analytics field. The college's department of business analytics earned the UPS George D. Smith Prize for its expertise in analytics and operations research.
"We are honored to receive the UPS George D. Smith Prize," said Ann Campbell, executive officer of the department of business analytics and a Henry B. Tippie Research Fellow. "It's a tribute to our mission of developing storytellers with data. This award is also a strong recognition of our faculty research and exceptional industry partnerships."
Ms. Campbell said American businesses are continually increasing their analytics operations as they seek new and innovative ways to use data to improve efficiency. As they hire more and more graduates with analytics degrees, Tippie is attempting to fill the need by adding new programs and expanding existing offerings for students. The Business Analytics and Information Systems (BAIS) undergraduate major was reorganized and expanded; new certificate and master's-level programs in business analytics were added for full- and part-time students, and the analytics doctoral program was strengthened.
Enrollment in the undergraduate program has increased dramatically due to these changes, with 358 students currently in the program compared to just 100 students in 2013. The master's and certificate programs have seen similar enrollment trends.
Ranganath Nuggehalli, the principal scientist of operations research at UPS, headlined the speakers at Friday's event, as he talked about the UPS Orion navigating system that has saved the company $400 million a year while reducing carbon output by 100,000 tons annually.
Named in honor of the late UPS chief executive officer – a champion of operations researchers – the UPS George D. Smith Prize was created to strengthen ties between industry and the schools of higher education that graduate young practitioners of operations research. The prize is awarded to an academic department or program for effective and innovative preparation of students to be good practitioners of operations research or analytics.
The prize is awarded by the Institute for Operations Research and the Management Sciences (INFORMS), the largest international association of analytics and operations research professionals.