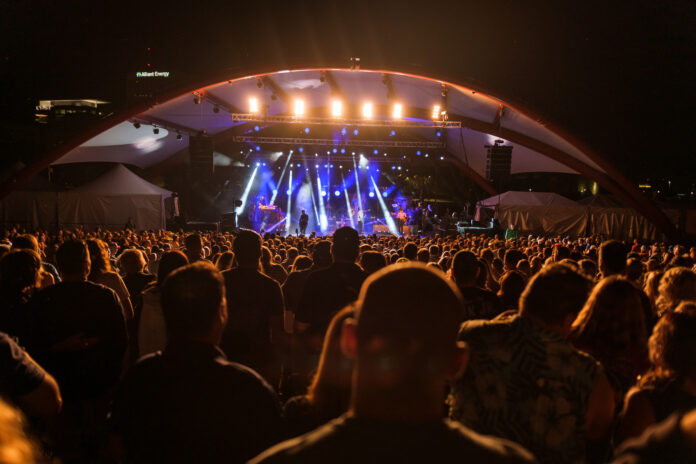 McGrath Amphitheatre and Paramount Theatre are among the best-selling venues in the world, according to a report from Pollstar, a leading data provider for the live entertainment industry that measured the number of third quarter ticket sales.
In the top 50 amphitheater venues category, McGrath ranked No. 31 with $786,967 earned in gross revenue and 15,270 ticket sold. Paramount Theatre placed No. 41 in the top 100 theatres category by selling 5,806 tickets to earn $215,719 in gross revenue.
"For the last year and a half, the live entertainment industry was decimated by the COVID-19 pandemic," said Michael Silva, executive director of VenuWorks of Cedar Rapids. "We are grateful to the City of Cedar Rapids for their ongoing support of these important venues that provide so much entertainment and quality of life for our residents during these challenging times. Every event produced at these city-owned facilities also has a significant, positive impact on the Cedar Rapids economy. We are thrilled to be recognized on a global scale, alongside some very prestigious venues throughout the world."
The McGrath Amphitheatre opened in 2014 and hosts community events and national-touring concerts, generating an average of $3.6 million in consumer spending annually within Cedar Rapids. The historic Paramount Theatre opened in 1928 and hosts community events, national-touring concerts, Broadway musicals and more. On average, the venue generates $5.8 million in consumer spending annually within Cedar Rapids, according to a press release.
All data is from shows that played between Nov. 19, 2020, to Aug. 18, 2021.
VenuWorks, based out of Ames, provides customized management solutions for arenas, stadiums, theatres and convention centers throughout the country with services that include operations, catering, concessions, along with the booking and marketing of sports and entertainment events. VenuWorks of Cedar Rapids manages McGrath Amphitheatre and Paramount Theatre.