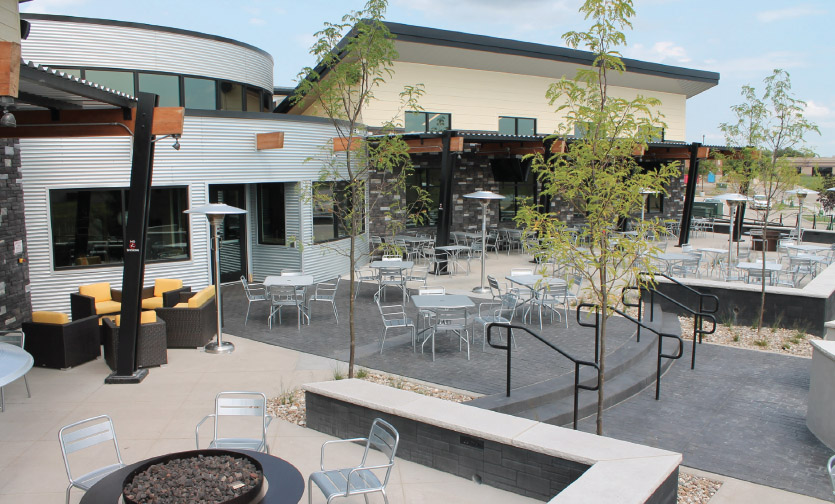 Outdoor dining on the elevated patio is a big part of the attraction at Tin Roost, with amenities that include three fire pits, radiant heaters, outdoor TVs and a scenic view of a pond. PHOTOS DAVE DEWITTE
By Dave DeWitte
dave@corridorbusiness.com
NORTH LIBERTY—The restaurateurs behind Blackstone in Iowa City and 30hop in Coralville are aiming even bigger with Tin Roost, a distinctive restaurant that opened this month on one of North Liberty's busiest roads.
"What we really want to do is connect with the community," said Managing Partner Joe Selix.
He wants the restaurant at 840 W. Penn St. to be a prime perch for Iowa Hawkeye fans to watch football, a place for cyclists to wet their beaks, a pad for families to gather the flock and a spot for business groups to count their chickens.
There's enough room in the huge restaurant for that, and more.
"We can seat about 400 if the patio is open," Mr. Selix said.
The patio seats about 200 in an area overlooking a pond, and should be open until late fall, thanks to three fire pits and a network of radiant heaters. It will cater to sports fans with an assortment of indoor-outdoor flat-screen TVs.
The interior features a circular bar, a private "board room" with a huge handcrafted table seating 20, a 50-seat private room dubbed "the coop," and a large open dining space with booths and tables. The coop can be opened into the main dining area to expand the space, which Mr. Selix expects to happen mostly in the winter when the patio is closed.
The menu is "American food with a southern twist," Mr. Selix said, offering such comfort foods as chicken and dumplings, shrimp and grits, corn-crusted catfish, macaroni and cheese, chicken and waffles, and homestyle biscuits. Barbecue sandwiches join the restaurant's more standard burger offerings, and even the appetizer menu has a southern accent, with dishes like fried green tomatoes, fried bread and butter pickles, cornbread and boiled peanut hummus.
Executive Chef Jeffrey Sills, who worked in several landmark Chicago restaurants, wanted to emphasize fresh local ingredients, Mr. Selix said. Tin Roost took off down that path by sourcing whole chickens, fruit, kombucha and some produce locally. He's even interested in using extra land on site to grow seasonal produce for the restaurant.
Because of the restaurant's enormous seating capacity, Mr. Selix described a number of features to make customer traffic and serving flow faster. It begins when customers arrive at a circle drive that makes it easy for diners to drop off passengers at the front door.
Servers will cut down on trips by bringing large bottles of water to each table on their first stop, and will use iPads and the restaurant's WiFi to take and send orders. An oversized kitchen with lots of walk-in coolers ensures plenty of cooking, prep and storage capacity.
The restaurant's design combines a modern industrial look with an agricultural theme, using corrugated tin finishes, chicken wire accents, exposed ductwork, and stained and polished concrete floors. The restaurant was originally named Tin Rooster, but was changed to avoid a conflict with an East Coast business.
Tin Roost works just as well, Mr. Selix said.
"A roost is a gathering spot, a place to hang out," he noted, adding that the restaurant's design makes that easy with large six-person booths and smaller four-person booths. The circular bar has 36 taps, which will feature mainly Iowa craft beers.
Running the roost
In addition to Mr. Selix, the restaurant's partners are Erik Shewmaker and Brian Flynn, who were among the partners in the craft beer-themed 30hop in Coralville and Blackstone in Iowa City, and Brandon Pratt, who owns Pizza Ranch franchises in the area.
Mr. Selix worked for six years as bar manager and front-of-the-house manager at Blackstone before leaving the area to become a pharmaceutical rep in Denver. He was contacted by his former employers to see if he would come back to run the North Liberty restaurant they were already planning.
"I wouldn't have considered it for anyone else but them," said Mr. Selix, who believes strongly in his partners' abilities and vision.
Since a soft opening began the week of Aug. 10, Mr. Selix and the restaurant's staff of 100 have focused on taking it slow and getting it right.
"The project started two years ago," he said. "To see the whole thing come to fruition and unlock the doors has been amazing."
In 2018, Mr. Selix said Tin Roost may begin bringing some live music acts to its patio, and possibly host some events. But for now, it's just about making customers happy.
"We've got plenty of time," Mr. Selix said. "We want to be here 20 years, not 20 months."