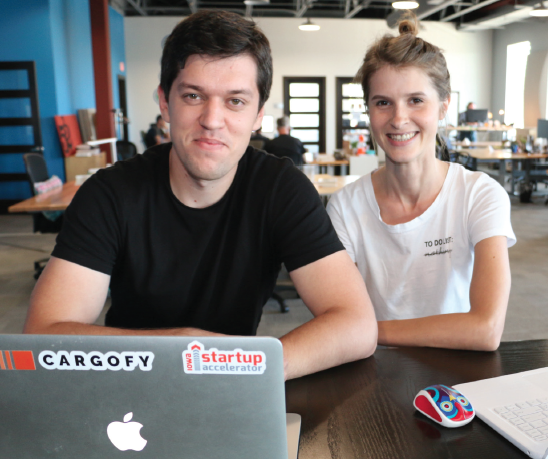 Cargofy founder Stakh Vozniak and COO Nataliia Vozniak, shown in the ISA's workspace on a recent morning. PHOTO DAVE DEWITTE
By Dave DeWitte
dave@corridorbusiness.com
The life of a owner-operator in the trucking industry can be rough, with long weeks away from home, breakdowns, traffic backups and – not least of all – the challenge of booking loads to keep busy.
The latter challenge is the one a 26-year-old logistics savant at the Iowa Startup Accelerator sees as a $378 million business opportunity for his app-based startup.
Cargofy aims to reduce the process of booking a load, which can take about two hours if the owner-operator does it themselves or cost about $200 if done through a broker, to a 10-minute process they can complete on their smartphone, paying a commission of roughly $75.
The app can automatically scan private load boards for available loads within a 50-mile radius of the trucker's location, and screen them for those that meet their preferences.
Load boards are a kind of Craigslist for goods needing shipment from a point of origin to a destination. When a load is offered through Cargofy, the trucker has five minutes to accept or decline it. If the trucker accepts, the app generates the documents for the load order and acceptance, and charges the trucker's credit card for the commission.
The founder of Cargofy is Stakh Vozniak, an entrepreneur from a tiny town in central Ukraine who became interested in western business by reading books about the likes of Bill Gates, Donald Trump and Richard Branson.
Having traveled in 33 countries already, he came to Cedar Rapids in June with his wife, Nataliia, after being accepted into the Iowa Startup Accelerator (ISA).
"Owner-operators want to make money without being the dispatcher," Mr. Vozniak said. He explained that time spent securing loads is often downtime for owner operators, who only make money when they are moving. He sees Cargofy as a tool that can save them money and time, and even has a plan to enlist them as investors in later stages of the company.
Mr. Vozniak had an interest in tech-based entrepreneurship from an early age, it seems.
"Stakh was always very technical," said Ms. Vozniak, the company's chief operating officer. "He would build computer games when he was in school." That included one game with enough commercial appeal to be acquired by a video game distributor.
For the last eight years, Mr. Vozniak has been involved with the trucking industry. He learned that a friend of his father who had a juice factory couldn't get enough trucks to transport the apples he needed during the busy time of year. The solution Mr. Vozniak offered used a text message-based system to offer loads to truck drivers, and it worked. His experience inspired Wozward, a traditional freight brokerage business that he grew to 30 employees, and is still in operation.
Mr. Vozniak took a run at a more technological approach he described as "the Uber of trucks" with a company called TONA. That venture closed down after the recent civil conflicts in the Ukraine made it hard for the business to prosper. Among other things, the closure spurred Mr. Vozniak to look at pursuing markets beyond Ukraine and at better technological solutions to address them.
Cargofy still has a team of experienced developers in Ukraine's capitol of Kiev under Chief Technology Officer Alex Kovalchuck, all of whom are building the technological backbone of the enterprise.
The system is not an auction platform, Mr. Vozniak said, but rather helps truckers find loads that fit their schedules and preferences. For instance, some owner-operators prefer to be home every week, or avoid specific shipping corridors or certain kinds of loads.
"The neural network takes the data and analyzes it like a real person," Mr. Vozniak said.
A system of live operators will be created to confirm orders by phone when they are booked. Cargofy studied using interactive voice response technology, Mr. Vozniak said, but its research indicated customers wanted the assurances of talking to a knowledgeable live operator.
The app will also provide documentation such as proof of insurance and driver's license that shippers require before doing business with owner-operators.
The ISA has been a great place from which to launch Cargofy in the United States, Mr. and Ms. Vozniak said, with the program providing mentors, contacts and instructional sessions. They also like the fact that the Corridor is home to several large trucking companies and generates a lot of freight, and would like to open their first U.S. office here when they begin operations.
Cargofy is seeking $900,000 in seed funding, and already has a $250,000 commitment, Mr. Vozniak said. The company is trying to bring in two more investors for the remaining gap.
The trucking market is highly competitive, but the opportunity is enormous if Cargofy is successful, Mr. Vozniak said. The company sees its potential share of the market in 2022 as 10 percent of the total annual market of freight carried by owner-operators, or 5.04 million trips. At a $75 average fee, that would be $378 million in revenue.
Cargofy sees the market opportunity extending far beyond the United States, however, and believes it could launch in a fair number of countries without having an operational team within their boundaries. The company also sees many ways in which the Cargofy platform could be used to generate revenue from meeting other needs of owner-operators beyond finding loads.
Some friends and business associates in the Ukraine actually discouraged the Vozniaks from moving to the United States, even after they were accepted into the ISA.
"In the U.S., it's very competitive – you'll never have success in the U.S., and don't go there," Mr. Vozniak shrugged, recalling the conversations.
But once they reached Cedar Rapids, began working in the accelerator, bought bicycles for transportation and got a membership in a gym near their apartment, they felt the decision wasn't such a bad one.
"When you're young, you have to do some crazy things," Mr. Vozniak said.
There's a lot of work ahead, and Mr. Vozniak has been fitting in a few weekly classes to improve his English grammar. The couple are the first Ukrainians in the accelerator.
"The first but probably not the last," said David Tominsky, the ISA's managing director. He said the ISA has received "a fair number of applications" from the country, and they seem tuned in to opportunities in tech entrepreneurship.
"People are motivated, they've been paying attention and they have good ideas," he said.