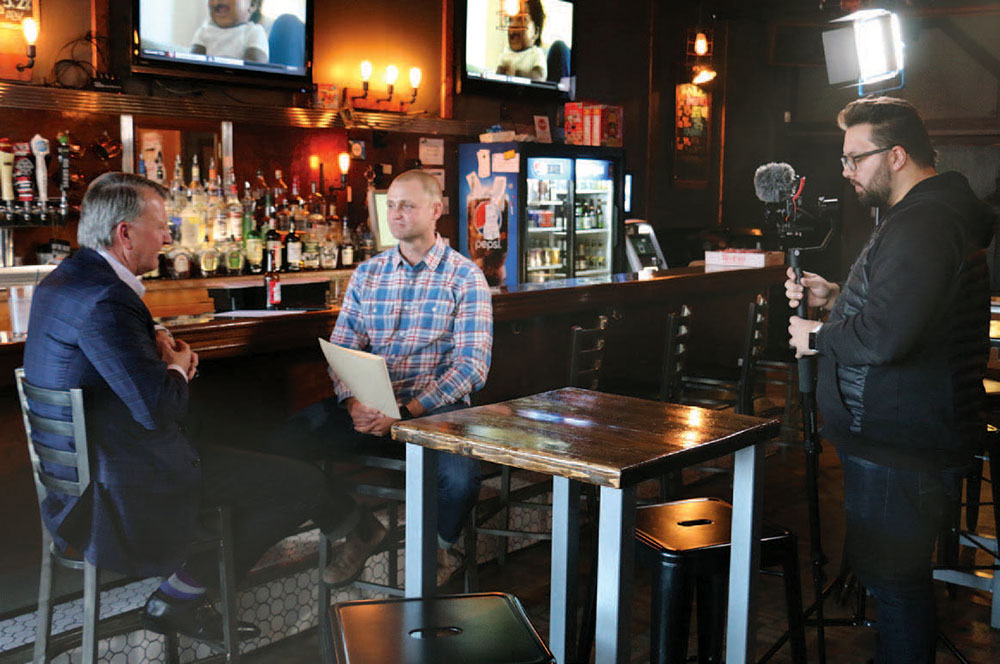 Randy Ramlo, president and CEO of UFG Insurance, sitting with Nate Kaeding for filming of "Real Success," produced in partnership with Flow Media. PHOTO ADAM MOORE
By Nate Kaeding
When I retired from the NFL in 2013, after a nine-year career as a professional athlete, I set out to discover a new purpose in my professional life.
I knew I needed to retool if I was going to be successful in ​the next chapter of my professional story. As part of this process, I ​set out ​to "interview" two successful people per week for six months. I called it my "Real Success​"​ project. I had no clue what I wanted to do next and I wanted to ​learn from a diverse group of successful professionals about their journey.
Why did they choose to be a doctor, carpenter, professor or real estate agent? How did they get to where they are today? What were their lucky breaks? Big mistakes? What do they love (and hate) most about their jobs? How do they define success in their lives? I reached out to Corridor-area leaders and doers, people with whom I admired from afar but wanted to learn more about.
I would buy the coffee or pint of beer and they would share stories and dispense priceless wisdom. Needless to say, I learned a lot. The collective advice I gathered has​ helped me immensely.
Most importantly, I learned that there is nuance and layers and a whole heck of a lot of variety to how people define success in their lives. There's more to it than salaries and stock options, or a position in the C-Suite. Success and purpose take different forms and meanings for different people and it was fascinating to hear the stories.
"Real Success," produced in partnership with the Corridor Business Journal and Flow Media, is a collection of conversations with local doers about success, purpose and what makes them tick. Our hope is that you'll learn something new about these notable leaders and that the conversations will perhaps play some small part in helping you further define what real success means to you.