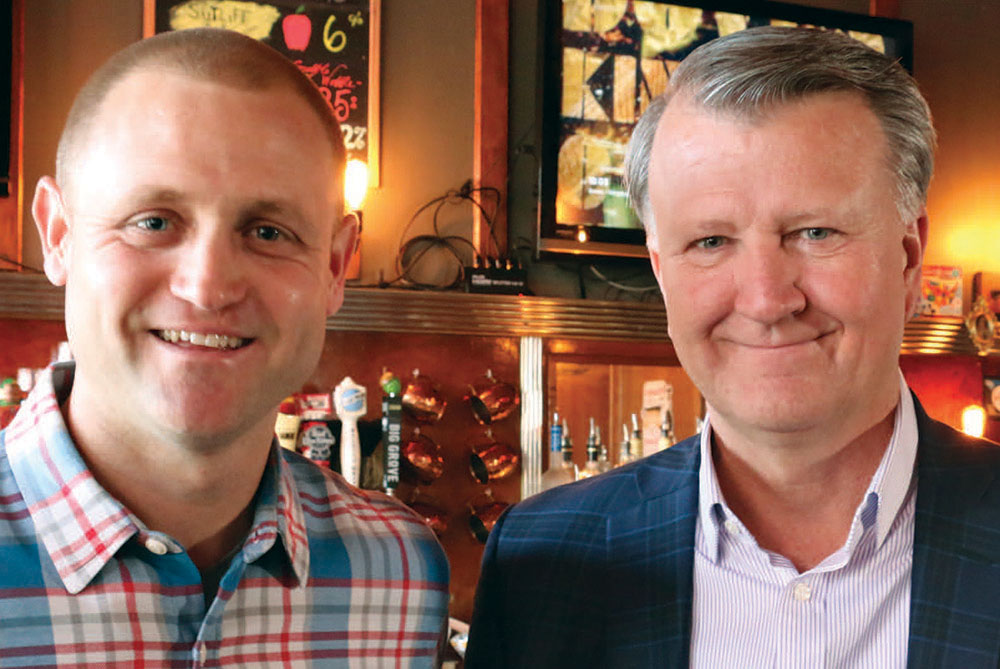 Nate Kaeding (left) with Randy Ramlo, president and CEO of UFG Insurance. PHOTO ADAM MOORE
By Nate Kaeding
news@corridorbusiness.com
Ed. note: This is the launch of a new monthly Q&A feature with Nate Kaeding and notable Iowa business and cultural leaders, available first to CBJ members. Read more about the idea for the series here, and watch the Flow Media-produced video interview below or at the CBJ's YouTube channel.

When I think of iconic moments that epitomize success, ringing the Nasdaq opening bell is right up there with hoisting the Lombardi Tro­phy or slipping on a Green Jacket. But, according to Randy Ramlo, president and CEO of UFG Insurance, who rang the bell in April 2016, it was less like winning a Super Bowl and more akin to "win­ning a slow marathon."
It's a fitting metaphor for the Corridor business leader who has spent his entire professional career working up the corporate ladder at UFG. His story isn't one of easy, quick or immediate achievement. Instead, he's an example of how loyal­ty, coupled with tenacity and that good old-fashioned Iowa work ethic, can pay off with a spot in the C suite.
Randy and I met up at one of my favorite Cedar Rapids neighborhood bars, Dick's Tap & Shake Room, to talk about his career path and what it takes to win in the long-run.
NK: You grew up in Decorah and went on to play baseball at the University of Northern Iowa. What role did sports have in your upbringing?
RR: Growing up, everybody played sports – we ice skated, did some form of skiing if we could … there was actually a ski run in Decorah when I was a kid, which is hard to believe. Sledding, which I still think might be the most dangerous sport in the planet – we had the hills. Being an insurance guy, I probably think about risk too much, but we survived.
I think that's been kind of my life balance with work. I have a lot of hobbies, I enjoy a lot of different things, and it was kind of the same thing when I was in college. I loved baseball, but I still played intramural basketball when no one would catch me doing it. I always liked riding my bike, and my roommate played tennis, so I played tennis with him whenever I could. I probably would have been better at things if I had just had one focus, but I like trying a lot of things.
Were financial services always the professional path you wanted to pursue?
What appealed to me was the investment world. I kind of fell into insurance a little bit by mistake. I took a class my senior year in college on insurance, really to be an insurance buyer – I thought, someday I'm going to need a homeowners and an auto policy. And [the course book] had a chapter on underwriting, and it was kind of fascinating, so when I got out of college, I started looking for commercial underwriting jobs. I sent my resume to UFG, and I'm kind of rare – I've actually worked here at UFG since right out of college. They said they didn't have any jobs open, but that they'd keep my resume on file … lo and behold, six months later, they called me and had me come in for an interview. I really was just going to stay for a little while and go back to get my MBA, but I liked it and didn't save much money, so I just stayed there.
Early on in your career, how did you create wins for yourself? Did you structure your goals or design a reward system as you tried to climb that ladder?
It sounds goofy, but it can get you out of bed in the morning if you just think, "here's my quick to do list of what I want to accomplish today." … I've taken a fair amount of classes and we encourage education, so there are some victories in getting degrees or certifications down the line. But in terms of immediate gratification versus long-term gratification, you really need to find someone that is pretty good at seeing that prize that might be a year or two off and thinks, "everything I do today is going to get me to that prize." That's very important.
But once you've reached milestones or achieved certain goals, that's when complacency can start to set in. How do you combat complacency, now, as the leader at UFG?
Maybe we're somewhat lucky in that we've never had the success where you could just sit back and say, "let's just keep doing this." It's an involved enough business where it's easy at all levels to say "we can do this better," whether it's the use of automation or selling a new product. We've always kind of been a small, Midwestern, regional company, so we see lots of spots where we can improve. But if I was State Farm or someone at the top, it'd be pretty easy just to sit back and say, "let's keep doing this for the next 30 years." Well, people [at UFG] aren't going to let you do that.
Coaches and mentors can be really helpful when it comes to identifying goals. From your perspective as an executive, what are some characteristics of a really good mentor?
I think honesty. We all like to be told we're doing a great job, but if you're really going to advance and improve, you need someone who's going to be honest with you. Someone with a high bar for victory, for satisfaction – no matter how good you are, you can always be better. I kind of know people, if it's someone where I can kind of get in their face or someone I maybe have to more lightly suggest how to improve. I think to be a good mentor, you have to have a bit of read on the person you're trying to mentor and see what their personality is like. I also think credibility and consistency. People will know very quickly if you're acting one way to someone and a different way to someone else – you need to have a lot of credibility, consistency, honesty and integrity. Those are all important things.
As a placekicker in the NFL, you learn pretty quickly the importance of "stop thinking about the result and start thinking about the process." I presume the same is true for a CEO. I'm interested to hear what tactics you have for blocking out the external "noise"?
We spend – and I'm guilty of this, too, being with a publicly traded company – you spend too much time on what analysts think of you, their predictions and their opinions of you. Sometimes I'm not even sure shareholders pay that much attention to that stuff, but you find yourself reading it all the time.
You're absolutely right – you've got to have faith in your process. I don't know what it is about me, but not a lot of people can be CEOs just because of that. Learning is important in this job, but ignoring can be just as important sometimes. A lot of our analysts are between the ages of 28- 32 … but they already think they know how to run our business. A lot of their perceptions, if not wrong, are much too short-term. We try to think much more long-term.
RAPIDfire questions
What profession other than your own would you like to attempt?
I have an interest in the investment world, so I think picking stocks would be fantastic.
Favorite business leader:
Warren Buffet.
Favorite podcast or radio program:
Bloomberg Radio.
One motivational quote for your office:
I don't know who said this, but "10 percent of life is what happens to you and 90 percent is how you react to it." I think we all make our own destiny way more than we know.
If you had 30 minutes extra each day, what would you do?
I never have enough time to read stuff I want to read, so I'd just do that.
One task you'd eliminate from your routine:
I've been CEO for 10 years, and if you've been CEO that long, you should have gotten rid of all of the things you don't want to do by now, and I think I have.
Favorite book:
"World According to Garp," by John Irving.
Define success:
Happiness and challenge. If I am happy and challenged, that's really all that matters.