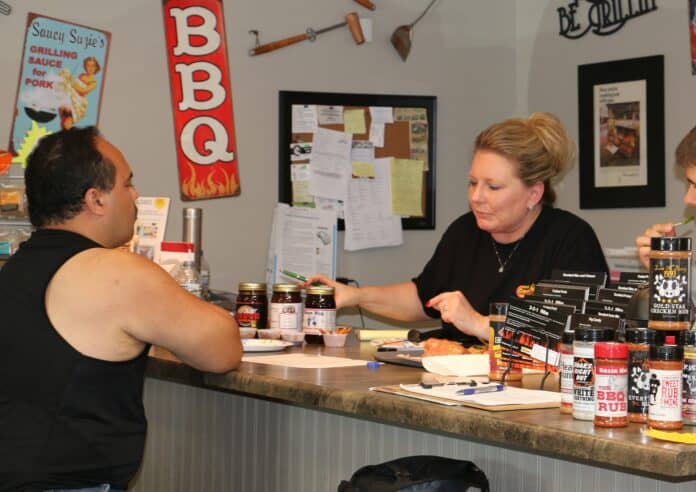 The Grill Works, located in Uptown Marion, has been selected as a finalist in the state Open 4 Business competition through the Iowa Economic Development Authority (IEDA). Finalists are awarded an $8,000 grant with a chance to win an additional $20,000 at the final pitch competition Aug. 2 at the Iowa Downtown Conference in Iowa City. 
The Grill Works will be up against four Main Street Community businesses in the final round: Avoca Flower Shop (Avoca), Midwest Girl (Dubuque), Bauman's Clothing (Mount Vernon), and The Stitchin' Tree (Woodbine).
The Grill Works opened 11 years ago in the Uptown District 11 with the primary goal to sell grills and replacement parts. Over the years their business has grown exponentially to serve the Marion community and surrounding areas, in all things grilling and smoking. The shop features more than 300 sauces and rubs to sample along with cooking classes.    
"The team at The Grill Works is excited and grateful that Uptown Marion, Main Street Iowa, and the Iowa Economic Development Authority chose our ever-growing business as a finalist in the Open 4 Business State Competition," stated Lisa Gilliatt, owner of The Grill Works. "We are looking forward to using these funds to expand our offerings on an online platform and grow our classes with an outdoor demonstration kitchen." 
The Open 4 Business contest is open to businesses located in the 52 Main Street Iowa districts across the state and aims to develop economic vitality. The grants are administered through IEDA's Iowa Downtown Resource Center and Main Street Iowa programs with funding to assist business expansion projects.
The Open 4 Business grant program is part of the Challenge Grant program that is funded through an appropriation from the Iowa Legislature. Since the first appropriation in 2002, approximately $6 million in state and federal funds have leveraged more than $37 million in private reinvestment. This represents 115 projects in 43 Main Street Iowa commercial districts across the state.