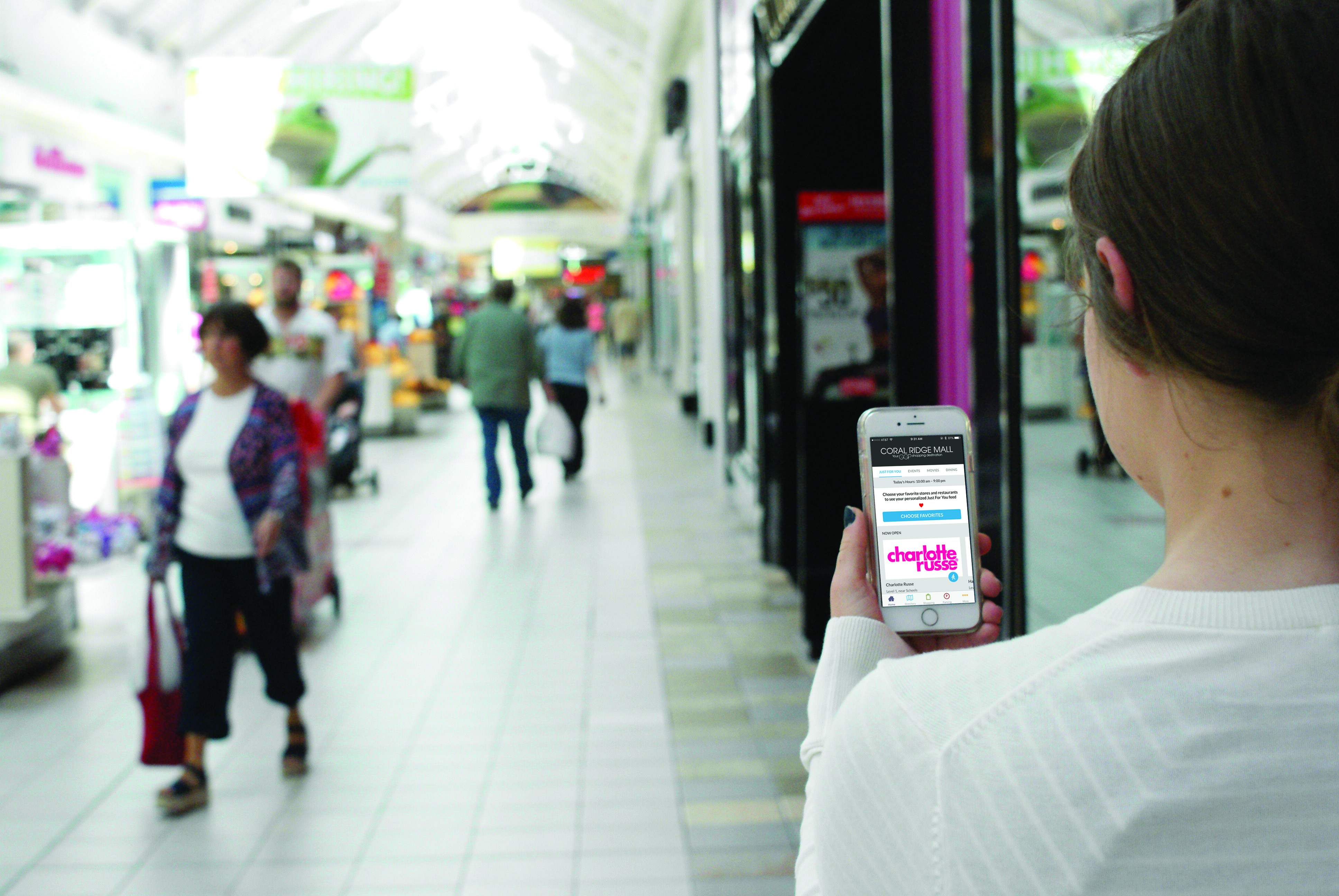 A shopper navigates with GGP's app during a recent visit to Coral Ridge Mall in Coralville. PHOTO EMILY BETTRIDGE
By Dave DeWitte
dave@corridorbusiness.com
Ed. note: This is the last part in the CBJ's series on the Future of Retail. Find our past installments at http://bit.ly/CBJFutureofRetail.
The smartphone is increasingly the tie that binds consumers to their favorite retailers.
Companies are leveraging mobile devices and apps in increasingly creative ways to keep customers engaged by pushing out information about new products or services, making shopping easier and tempting them with deals.
It's a strategy driven by necessity, as consumers get out less and use the internet for more purchases.
"Three years ago, we started to invest in all things mobile," Starbucks CEO Howard Schultz said during the company's Investor Day presentation on Dec. 7. Foot traffic in malls and storefront shopping areas where Starbucks cafés are located has been declining, Mr. Schultz said, noting that, in a retail first, more consumers shopped on the internet and their phones than in stores during 2016's Thanksgiving shopping weekend.
"Every company, regardless of the business, is going to have to establish a leadership position on the web," he said. "They can no longer rely on intersection traffic. They're going to have to become a destination."
Providing mobile tools for shoppers is a trend that has so far played out mainly with large regional and national retailers who have the resources to invest in technology. For those who can, it's a way to differentiate and highlight their offerings.
"Mobile is the future, and we're embracing it," Coral Ridge Mall General Manager Monica Nadeau said.
The mall, owned by Chicago-based GGP, introduced an app for shoppers more than a year ago. The GGP app can provide shoppers with directions to any store from their current location and show them available parking in the mall lot. It can even help users find their vehicle's location when they're done shopping.
The app includes links to the websites of Coral Ridge Mall retailers, and allows users to filter the store directory to search for specific brands, categories of merchandise or products.
Ms. Nadeau said Coral Ridge is now working to improve the app with a feature that will let shoppers type in a description of the particular item they are looking for, and find out which stores at the mall have that item and size in stock. It's taking a little longer than originally thought, she acknowledged, because of the large number of retailers in the mall and the differences in their technology.
Despite those kinds of development headaches, retailers see much more upside to the mobile shopping trend, from the loyalty it engenders to the data it can provide about users. That explains the near-constant invitations and nudges consumers receive to download retailers' apps; Coral Ridge Mall offers an entry to a $1,000 sweepstakes to every customer who downloads its app.
"Mobile is a huge opportunity," said Peggy Stover, president of Annex Analytics, a Cedar Rapids-based marketing consultancy specializing in data analytics.
Some of the key enabling technologies in mobile shopping, according to Ms. Stover, are proximity services that use networks of in-store beacons.
"You're looking at this thing that resembles a rock stuck to a wall," she said. "It sends signals to your cell phone that will send you an ad or offer to get you to come into their store and buy a product."
Syniverse, a Florida company led by Cedar Rapids entrepreneur Steve Gray, has been one of the leaders in providing cellular technologies for mobile retailing. The company's Syniverse Mobile Engagement with Beacons service enables retailers to identify on-site customers, collect real-time data on their location in the store and deliver "personalized mobile services," according to the company's website.
The technology can help retailers deal with a related trend that has become the bane of brick-and-mortar retailing. Termed showrooming, it's a practice in which customers go to the store to touch, see, feel and even try on merchandise, then shop for the item online in search of a better price.
With proximity marketing, retailers can send a message or deal to a customer while they are in the store based on their past browsing history, their in-store activity or other triggers.
The applications of proximity marketing for retailers are "endless," according to Ms. Stover, who cited industry estimates that it will become a $53 billion industry within the next five years.
Fifty-eight percent of retailers plan to use such "geolocation" services within two years, according to the consultancy Boston Retail Partners, and 68 percent will offer real-time promotions via mobile devices based on contextual cues within five years. A contextual cue might be snowy weather, which could prompt the retailer to send the consumer a special offer for snow tires or a new snowboard, depending on their past shopping behavior.
Faster foods, fashion
Mobile apps have become a central component in the retail strategy known as "omnichannel," in which retailers enable shoppers to choose how they want to engage and shop.
"What we're hearing is, the retailer who embraces the online shopping in combination with the brick-and-mortar store is the most successful," Coral Ridge's Monica Nadeau said. "[Retailers] are able to ship it to your home if they don't have it in the store, or ship it to the store for you to pick up."
Omnichannel retailing can also make such hybrid retailers easier to do business with than pure online retailers by offering services such as accepting online order returns in store.
Some of the more adept omnichannel players, such as Nordstrom, have used mobile to vastly improve the customer experience. One such feature the company offers is "shop and reserve," which allows customers who find items they'd like to try on while shopping online to reserve them in the store. Within two hours or less, they receive a text indicating their items are ready in a reserved dressing room for them to try on.
The discount chain Target "is focused on enhancing digital capabilities that make guests' lives easier," spokeswoman Megan Boyd said. "With the Target app, we want guests to be able to build shopping lists easily, find the items they're looking for and help guests maximize their savings."
Target has committed to invest more than $7 billion in digital technologies over the next three years. It is now testing Bluetooth beacon technology in select stores that allow guests to see their location on an interactive store map and find items on their shopping lists as they go, Ms. Boyd said.
Ms. Nadeau said one of her preferred customer experiences involving mobile apps is ordering from restaurants.
"I'm getting to the point where I love to order my lunch online," she said. "Instead of standing in line at Panera or Zombie Burger, I just order on their app and it's right there when I pick it up."
Ms. Nadeau's experience may be better than that of many diners since her office is right at the mall, but Coral Ridge is working to change that. She said plans are being made to create a pickup lane outside the mall for Chick-fil-A and The Mellow Mushroom, where customers will be able to order and pay online, then have their order delivered to their car when they arrive.
Curbside pickup is one of the hottest features in mobile apps, especially in larger metro markets. CVS, one of the nation's largest drugstore chains, last year began rolling out a new curbside pickup option branded as CVS Express. It allows customers to use the mobile to app to select items for curbside pickup from close to 10,000 inventory items.
The road to mobile ordering nirvana can be a bumpy one for retailers and their customers, however.
"Saddled with legacy [computer] systems that are not designed to accommodate today's retail environment, retailers have scrambled to cobble things together in attempts to deliver the omnichannel capabilities customers expect," Boston Retail Partners said in its report.
Mobile ordering glitches have embarrassed some of the early adopters , including Starbucks and Panera. At Starbucks, retail analysts said long waits in the cashier line simply shifted to long waits in the pickup line as mobile orders piled up. At Panera, the early thrust into mobile ordering generated customer complaints of delays, order mix-ups and quality problems. Both of the big chains have largely resolved those issues, however.
Not everyone's convinced that mobile shopping apps will be the answer to retail's challenges. Lisa Rowe is general manager at Westdale, the growing Cedar Rapids lifestyle center which has brought in big retailers like Burlington Stores and PetSmart.
"I definitely think there's something to be said about pushing things to customers – letting them know where the deals are, or where something's at," Ms. Rowe said. Yet the retail veteran limits her use of retail apps primarily to "scouting" to make sure a product she wants will be in stock before she goes to a store. She said she always goes to the store to see, touch and try on clothing or footwear. When she's there, she likes having store associates helping her.
"In my mind, nothing beats customer service," she said. "If you have to know through an app that somebody's looking at your products, you're not providing that good customer service."