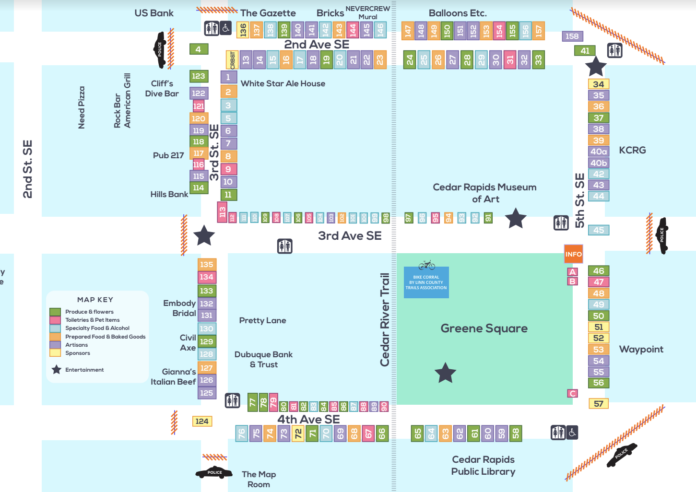 The Cedar Rapids Downtown Farmers Market will have a new route beginning Saturday, June 18 due to the flood wall protection project happening in downtown Cedar Rapids.
According to a news release, this route will continue through the end of the market season with the last market Sept. 17. The venue is from Second to Fourth avenues SE and Third to Fifth streets SE.
Similar to last season's layout, the updated venue creates a loop.
"Last season we received great feedback from our vendors and market goers on the loop," Maddix Stovie, event planner at the Economic Alliance, said in the release. "We are looking forward to continuing this route for the remainder of the season, unless notified otherwise."
While the route may have changed, many aspects of the farmers market remain the same for the rest of the season.
"Now that there's so much activity at Greene Square, and throughout the market, all the different entertainment adds a unique environment to each market," stated Ms. Stovie in the release. "Our market goers enjoy the face painting, live music, dance performances, and street performers. It's been a fantastic year so far seeing all the buzz around the venue."
The Cedar Rapids Downtown Farmers Market is produced by the Cedar Rapids Metro Economic Alliance and presented by Cedar Rapids Bank & Trust. All markets run from 7:30 a.m. to noon.
The remaining schedule for the year includes June 18, July 2, July 16, Aug. 6 and 20, and Sept. 17. Market After Dark is scheduled for Aug. 27.