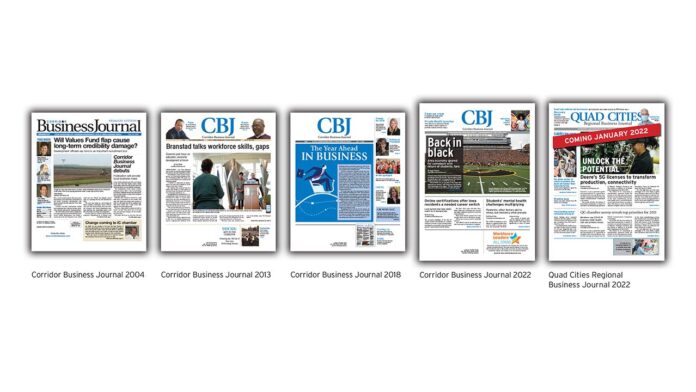 There are several changes coming to the CBJ. The new, glossy paper format that you may be reading with this special issue (unless you are reading this online) is one such change.
We wanted to give you an example with this special issue on what to expect with the new, glossy paper format coming in January 2022. The old newsprint style and format will return next week until the end of the year.
During the pandemic, we strategized about how can we do things differently.
Most of our readers are well informed regarding the changes happening in the media industry and daily newspapers.
A small, family-owned media company like ours can either evolve or perish.
We have always relished the diversified revenue streams of a business journal. Events, podcasts, display and online advertising, daily e-newsletters and even our CBJ Leadership Academy have positioned us well, but more needs to be done.
We launched a dynamic new website earlier this summer that is helping us become a more digitally focused media company. If you haven't visited the new website at www.corridorbusiness.com I would encourage you to take a look. New and fresh content is published there many times each day. But note that much of the content is only accessible to paid subscribers. Giving away news for free is not a strong business strategy.
Since we have created a much-improved website with more continuous content, and most readers get our wildly popular daily e-newsletters, we didn't feel the need to continue to publish a print version every week. Beginning in January 2022, we will start printing the CBJ every other week (26 times each year), or bi-weekly, rather than each week.
I can assure you that there won't be any less content generated or published, it will simply be published differently.
By switching to a bi-weekly print publication schedule in 2022, we are able to invest more in upgraded paper quality that you are now experiencing. Again, we will revert back to the older, newsprint format next week until the new glossy, bi-weekly change takes effect permanently in January 2022.
The other huge change is that we will be launching a new Quad Cities Regional Business Journal, also in January 2022. We were approached by community leaders in the Quad Cities many years ago to launch a publication similar to the CBJ. It wasn't the right time then. Now is the right time.
We are in the process of hiring a full staff of news and sales professionals to help us with the new endeavor that will be published on alternating weeks from the CBJ and will include events, podcasts and daily e-newsletters.
Most of the news content generated will be exclusive to each respective publication, but there will be articles written that will have relevance to both markets such as Deere, University of Iowa, workforce challenges and overall economic development successes and challenges. Perhaps these two publications will be a catalyst for more cooperation between the two regional markets.
I am more excited now with these new changes than I have been since our founding of the Corridor Business Journal 17 years ago from our basement in North Liberty. We have never been better positioned for continued success. I appreciate your continued support and readership. Please don't hesitate to contact me at johnl@corridorbusiness.com with any questions or concerns.
John F. Lohman
Publisher