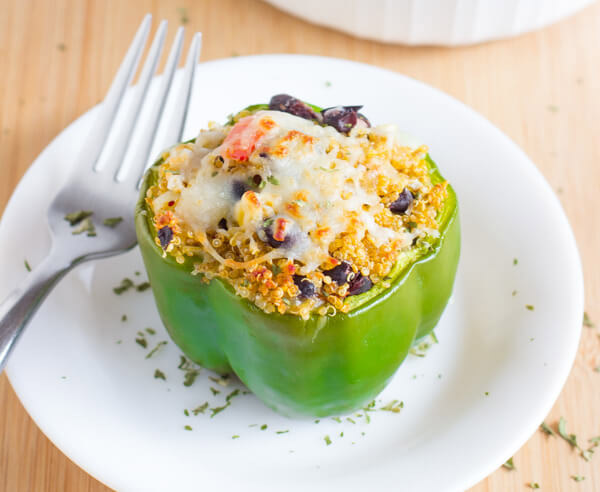 These hearty stuffed peppers come together quickly, but will keep you full for hours.
INGREDIENTS
3 cups cooked quinoa
1 cup corn kernels
1 ½ cups black beans
½ onion, diced
1 cup diced tomatoes
½ teaspoon chili powder
¼ teaspoon oregano
1 teaspoon cumin
½ teaspoon salt
½ teaspoon ground black pepper
6-10 bell peppers (the size of your bell peppers will determine how much filling you use. You can refrigerate any excess)
2 cups mozzarella cheese
PREPARATION
If using an oven, preheat to 350 degrees. If using a grill, ensure it's on.
Slice the tops off of the bell peppers, and score the insides, removing all the seeds and insides. Set aside.
Mix the quinoa with the corn, beans, onion and tomatoes until thoroughly mixed. Add all of the seasonings and stir until mixed. Add in the cheese into the mixture.
Stuff each of the peppers with the mixture, packing them tightly.
Place in a greased casserole (in oven) or onto the grill.
If in oven, bake for 40 minutes at 350 degrees. If on the grill, cook on high with the lid closed for 10 minutes.
Feel free to add extra cheese on top.