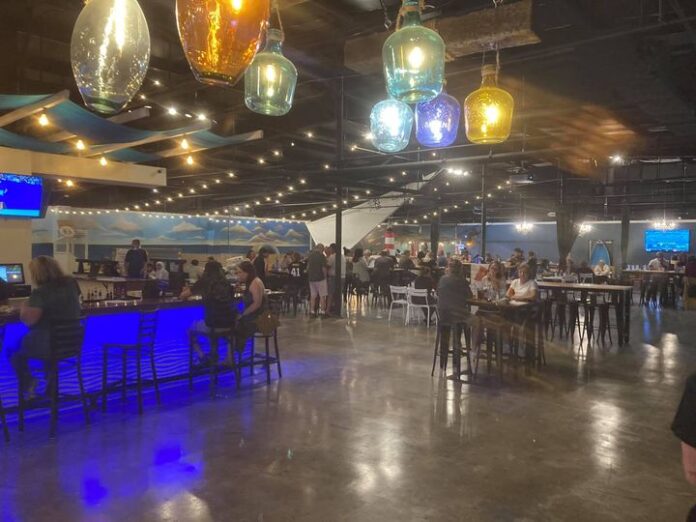 Tavern Blue, a new beach-themed restaurant at 805 Second St. along the Coralville strip, is planning a grand opening from 5-8 p.m. Sunday, Sept. 26.
The establishment, which is approximately 15,000 square feet, seats approximately 350 guests and features a nine-hole mini golf course dotted with jet skis, boats and other authentic beach items, a large 75-person bar, a Tiki bar, an outdoor patio dubbed "the Dock", a full commercial kitchen, a private event space and a game area. Parking is available in front, back of the restaurant, and in the indoor parking area. 
"We are very excited to open our new restaurant in our local community," Karim Abdel-Malek, co-owner and major investor, stated in a news release "We live here and wanted to bring a little of the beach to Iowa as a new concept and as a new local hangout for people of all ages." 
Tavern Blue's menu includes signature beach snacks such as coconut shrimp, calamari and pretzel bites with Fat Tire cheese; Napolitano brick oven pizza including the Tavern Meatza, the Spanish Chorizo, and the Bianca; a number of sandwiches including the Tavern, a locally sourced Iowa pork tenderloin served on two buns, and the Tavern burger. 
"We are so proud to offer a full menu designed by our own creative Chef Octavio Cruz," stated General Manager Josh  Burkholder. "We hope to become the destination for anyone that wants a relaxing, enjoyable and fun environment with positive beach vibes."
Normal hours of operation are from 11 a.m.-10 p.m. Friday and Saturday; 11 a.m. -9 p.m. Monday, Tuesday and Wednesday; and 11 a.m.- 8 p.m. Sunday.
The grand opening Sept. 26 includes:
Food and drink specials starting at 1 p.m. 

5-8 p.m. -Live band Pandelirium 

5-6:30 p.m. – Champagne and tasting event 

6 p.m. – Grand opening ceremony with Coralville City Manager Kelly Hayworth

7-9 p.m. – Free autograph session with Iowa Hawkeyes men's basketball forward Patrick McCaffrey