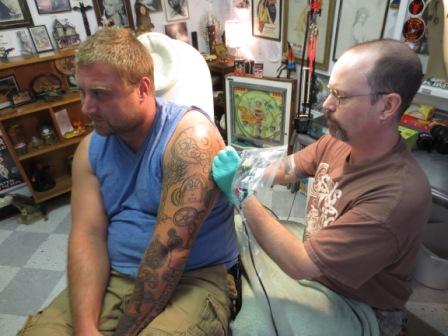 By Pat Shaver
CORRIDOR — When Joshua Coburn walks into a room, he stands out.
As the promotions specialist for Brownells Inc., a major firearms and accessory company in Montezuma, Mr. Coburn often meets with top executives in the industry promoting Brownells products.
Most of his body is covered in tattoos and he has giant gauges in his ears. He has clearly visible tattoos on his face, arms and hands.
"It was never a dream of mine to work in corporate America. The 18-year-old me would call the mid-30s me a sell out," he said. "It's more fulfilling for me now than I ever thought it could be. I've had to work harder for the choices I made when I was younger."
He started in a part-time job on the loading dock at Brownells 12 years ago, worked into a customer service position and was eventually offered a job in promotions.
"That came specifically because not only did I appear different, but my ideas were different because I come from an entirely different industry," he said.
Before entering the corporate world, Mr. Coburn, who grew up east of Grinnell, in Brooklyn, worked at tattoo shops in the state.
"In business, since I stand out so much, they never forget me. I might be that guy with big ear lobes or that guy with tattoos, but that's ok because they remember," he said. "If somebody is shooting me a bad look or giving me that eye, I usually make a b-line for that person, stick my hand out there and introduce myself. I use that to bridge the gap and hopefully change that perception or stereotype they have."
Mr. Coburn has written several books, including "Inspiration on Demand" and "Through the EYES of an Abstract Mind," and travels across the country speaking to junior high and high schools, youth and church groups, college classes and other groups on body modification, tattoo culture, career planning, self confidence, peer pressure and self-actualization.
"No matter who you are, what you look like, what you've been through, treat one another well. That's going to get you farther than anything else. I have never run into a road block because I treat people well," he said.
Though he is a more extreme example, Mr. Coburn said he's seen a growing acceptance of tattoos in the workplace.
"The employers are starting to see that their customers really don't care as much as they used to," he said. "Obviously, some industries are going to be quite a bit behind other industries."
If a potential employee is interviewing for a job and they have obvious tattoos, it's not unusual for them to be overlooked, he said.
"I think the tide will change," Mr. Coburn said. "An employer is interviewing, but so is that potential employee. The question for me, why as a forward-thinking, progressive individual would I want to step backwards into a company where they're not thinking about progression and changes in society?"
Workplace policies
In 2006, nearly 25 percent of Americans had one or more tattoos, compared to only 1 percent 30 years ago, according to data published in the Journal of the American Academy of Dermatology.
In Cedar Rapids, most of the major employers, such as Rockwell Collins (more than 9,000 employees), Cedar Rapids School District (more than 2,900 employees) and Kirkwood Community College (1,700 employees), do not have policies on body art.
Some Cedar Rapids' human resources professionals said they deal with body art that is considered offensive on a case-by-case basis. At the school district, it is expected that employees appear professional and well-groomed, Sue Wilber, the district's lead human resources specialist, stated in an email.
"In addition, they cannot where anything that would disrupt the learning environment or create a material or substantial disruption," she stated.
At Unity Point Health-St. Luke's (more than 3,500 employees), the dress code policy states that tattoos need to be covered if they could be considered prejudicial, Whitney Frost, the hospital's spokeswoman, stated in an email.
Meanwhile at Mercy Medical Center (more than 2,900 employees), the policy states, "tattooing is discouraged and management reserves the right to ask that tattoos be covered. No tattoos that patients may construe as offensive symbols, words, or pictures are allowed." Karen VanderSanden, Mercy's spokeswoman, stated in an email that Mercy's human resources department has received very few compliance issues regarding tattoos.
"New and prospective employees understand that a hospital is a customer service-oriented organization and they are agreeable to the terms of our appearance policy," she stated.
In Johnson County, many employers also say they don't have a written policy on tattoos.
According to Brad Baldwin, vice president of operations and client services at MediRevv, there is no policy on body art at the health care revenue cycle management company in Coralville. MediRevv has about 135 employees.
It's the same for the 1,250 employees at ACT in Iowa City.
"Given our desire to provide an inclusive work environment that appreciates the diversity of our workforce and the populations we serve, we do not prohibit tattoos," according to ACT spokesperson Katie Wacker.
There also is not a policy for the 1,700 employees throughout the Iowa City Community School district, according to Kate Moreland, spokesperson for the district.
The business of tattooing
Local tattoo shops are seeing the impacts of an increased acceptance of tattoos.
At Crossroads Tattoo, 508 Second Ave., Coralville, business is not the same as it was when the shop opened in 1997, said Crossroads owner Steve Barjonah.
"I think that the population is generally more aware and accepting of tattoos so that does give tattooers more business," Mr. Barjonah said.
But just like many other businesses, as the economy fluctuates, so does the strength of the company, he said.
"In general, it's not as busy, and when I talk to other artists, than it was since the economic crash of 2008. Business dropped off a bit and we're still feeling that. A tattoo is a luxury, so it comes at the very end of a paycheck budget," Mr. Barjonah said.
Along with changing perceptions of tattoos, people are also changing the way they view tattoo shops.
"It's changed from 20 years ago, before that tattoo parlors were looked on as a midnight, bad-side-of-town accidents. They were not really legitimately recognized as a tax-paying member of the business community. That perception has changed progressively over the last 20 years," Mr. Barjonah said.
Crossroads sees a range of customers, such as professionals, upper managers and university students.
"It does surprise me sometimes when you get to talking to somebody about what career they're in and the job position they hold and where they want to put the tattoo," he said, adding that it's not rare to tattoo the forearm of an upper manager.
In many cases, Mr. Barjonah said, a company may not have a written policy on body art, so the decision on what is acceptable falls on management.
"We've always had a handful of professionals come in to get tattoos. Most of them do get the tattoos in hidden places, underneath their clothes," said Matthew Cooper, owner and artist at Nemesis Tattoo Studio in downtown Iowa City.
Nemesis has been in business in Iowa City for 14 years.
"I definitely say it's gotten a little more relaxed, but at the same time I do know of people who have to cover their tattoos for their jobs, either with clothing or makeup," Mr. Cooper said.
In general, the popularity of tattoos has increased in recent years, he said.
"It's definitely become more popular and people are more open-minded. Times are always changing and everybody has to keep up and keep open-minded," Mr. Cooper said. "Tattoo trends come and go with different designs and styles, but the trendiness has blown up because of all the TV shows (about tattoos)."
Business has improved steadily over the years, Mr. Cooper said, but with the increasing popularity of tattoos, more shops are opening up.
"There are shops opening up every day in the U.S. To survive you have to be good, courteous to the clients, have a decent portfolio, good artists who are willing to work hard and have fun with the job," Mr. Cooper said. "There are a lot of shops opening up that don't have good artists or they aren't good business owners."
Tattoos and tattoo parlors remain controversial, locally, as some Corridor towns' city councils have recently considered removing them from zoning ordinances, deeming them "not family-friendly enough."