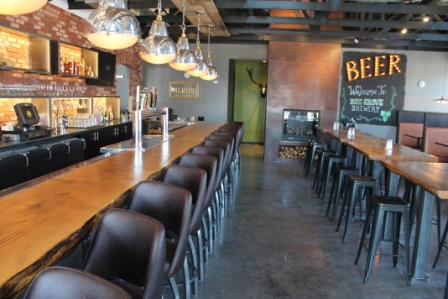 By Pat Shaver
SOLON—A new business is brewing in the Corridor.
Big Grove Brewery, 101 Main St., Solon, opened Aug. 29. The brewery and restaurant was started by the owners of Red's Alehouse in North Liberty and Blackstone restaurant in Iowa City. They considered adding a brewery onto Red's, but instead decided to create a new restaurant and brewery in Solon.
"I call it rural contemporary. We tried to match the menu to the building," said Doug Goettsch, managing partner of the brewery. "It's heritage foods from Iowa done with a more refined touch and a professional touch."
The 5,200-square-foot building can seat about 159 inside and 50 more on the patio. Big Grove Brewery employs about 50 people.
"It's contemporary meets barn," added Matt Swift, Big Grove Brewery partner.
The city of Solon gave the business a $120,000 incentive to help with demolishing of the Jonesy's Restaurant building. Jonesy's, once known as "home of the biggest and best pork tenderloin in Iowa," closed in 2012. The business had struggled since 2007, when the Johnson County Board of Health shut the restaurant down based on a complaint-based inspection.
The Jonesy's building was razed. The new owners have since constructed a new building on the site.
"We had growing pains and learned a lot during construction. The brewery was a challenge," Mr. Swift said. "But we're getting really close to the beer tasting really damn good."
The location in Solon was appealing with its proximity to both Cedar Rapids and Iowa City, Mr. Swift said.
"We've heard so many times that people have waited for something like this. I think there was a desire for it here," Mr. Goettsch said.
And Solon is a growing community. According to the U.S. Census Bureau, population was 2,037 in 2010; that's a 73 percent increase over its population in 2000 of 1,177.
"It's really great beer, great food and a great atmosphere and we're hoping it's a nice landmark for Solon," Mr. Swift said. "It is a pretty big concept to put into a smaller town but it feels right."
Constructing a brewery from scratch proved to be a challenge in itself, said Bill Heinrich, head brewer.
"Building a system from the ground up, it's pretty tough," Mr. Heinrich said, who was previously a brewer at Millstream Brewery in Amana and a brewery in Reno, Nev.
The beers haven't been perfected yet, but Mr. Heinrich is continuing to experiment with recipes until he feels he creates the right combination.
"The whole goal is to have a very clean, dry, effervescent, aromatic beer. It should be simple and well thought out," Mr. Heinrich said. "So long as we keep constantly improving the beer batch after batch, I think we're in business."
Since the brewery is a smaller operation, Mr. Swift said there are no plans to bottle or distribute outside of the restaurant. The small operation, though, allows the brewer to experiment with different flavors without a major investment.
There will be three to four house-brewed beers offered, including Solon Wheat Beer and Big Grove IPA. The bar will also feature a range of craft and local beers.
Although there seem to be more breweries popping up in recent years, Mr. Swift said it isn't overkill.
"You've got to remember that most people are drinking Bud Light," he said. "I don't look at those other breweries as competitors; I look at them as friends."
There are 2,538 breweries operating in the United States, according to the Brewers Association. In 2011, there were 2,027 breweries in operation.
The restaurant menu will feature reasonably-priced sandwiches, burgers, pizzas, salads and entrees using local and seasonal food.
"We do a pork chop that will blow people away. The menu will change and be local," Mr. Goettsch said.
Menu items include: deviled eggs, buffalo or Korean barbecue wings, fresh mozzarella and summer Iowa tomato panzanella, burgers, adobo pork sandwich, bone-in Iowa Berkshire pork chop, pizza margherita, ham and egg pizza, sweet corn soup and tater tot casserole, among other dishes.
The restaurant's local suppliers include: Wild Wood Farms, Salt Fork Farms, Wilson's Orchard, Rebal Sweet Corn and Anything But Green Farms.
Big Grove's Executive Chef Ben Smart came from The Herbfarm outside of Seattle. The Herbfarm was one of the first restaurants in America to focus on regional foods from local sources, and is widely considered one of the top 50 restaurants in the country.
Mr. Smart grew up in Iowa City and graduated from the University of Iowa in 2004 and  received a culinary degree at Kirkwood College in Cedar Rapids. He has also spent time studying in the kitchen at Manresa in Los Gatos, Calif. Manresa has been named one of the World's 50 Best Restaurants. Mr. Smart has two young children and was looking to get back to the area to be closer to family.
Mr. Goettsch worked for Hawkeye Food Service for about 18 years before becoming director of corporate relations at the Culinary Institute of America in Napa Valley. He fell into the restaurant industry when he was in college at Clinton Community College.
He was on a basketball scholarship, but when he was injured and couldn't play, he lost his scholarship. His father told him he needed to get a job to support his education. He started washing dishes at the Clinton Country Club and has been in the restaurant and hospitality industry for the past 27 years.
Mr. Swift and his mother, Faye, are also partners in Red's Alehouse and Blackstone; and 30hop, which is being constructed in Coralville's Iowa River Landing.
Hours:
Monday: Closed
Tuesday-Thursday: 3-10 p.m.
Friday and Saturday: 11 a.m.-10:30 p.m.
Sunday: 11 a.m.-9p.m.