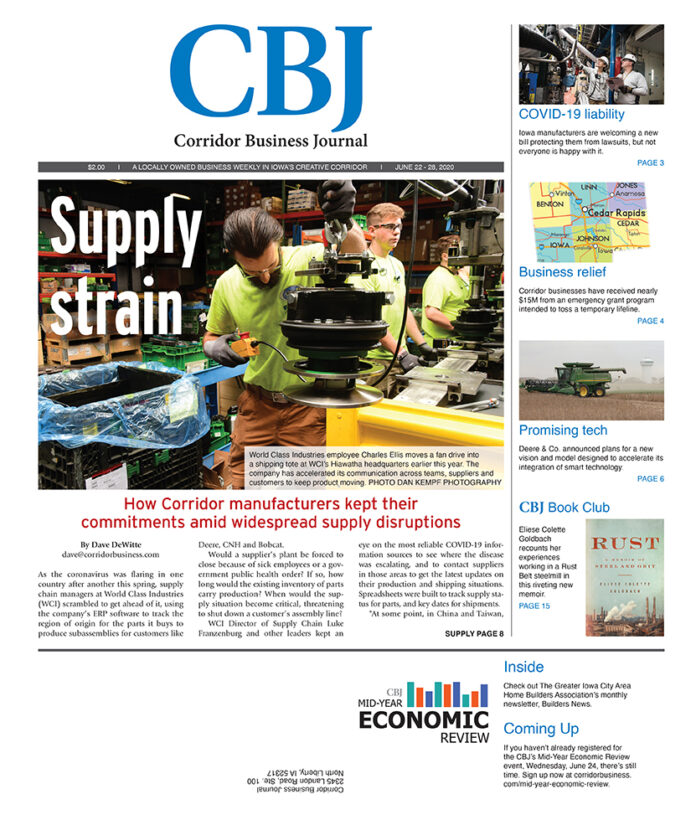 World Class Industries employee Charles Ellis moves a fan drive into a shipping tote at WCI's Hiawatha headquarters earlier this year. The company has accelerated its communication across teams, suppliers and customers to keep product moving. PHOTO DAN KEMPF PHOTOGRAPHY
By Dave DeWitte
dave@corridorbusiness.com

As the coronavirus was flaring in one country after another this spring, supply chain managers at World Class Industries (WCI) scrambled to get ahead of it, using the company's ERP software to track the region of origin for the parts it buys to produce subassemblies for customers like Deere, CNH and Bobcat.
Would a supplier's plant be forced to close because of sick employees or a government public health order? If so, how long would the existing inventory of parts carry production? When would the supply situation become critical, threatening to shut down a customer's assembly line?
WCI Director of Supply Chain Luke Franzenburg and other leaders kept an eye on the most reliable COVID-19 information sources to see where the disease was escalating, and to contact suppliers in those areas to get the latest updates on their production and shipping situations. Spreadsheets were built to track supply status for parts, and key dates for shipments.
"At some point, in China and Taiwan, we were tracking 70 or 80 different parts," Mr. Franzenburg said. When production delays left insufficient time for the usual land and ocean shipping methods, WCI worked with customers and suppliers to arrange expedited direct air shipments to its factory at various times. And that wasn't all.
"We pride ourselves on being a supplier base solution provider, and there were instances where we found suppliers who would be shut down for extended periods, and couldn't make deliveries. The parts number our customer gave us was made from four different parts, and we would track all four of those parts back to their original source and assemble the component in our facility from parts," Mr. Franzenburg said.
Enter the world of supply chain disruption. It's been the buzzword of the year for manufacturers in the pandemic, as factories deemed non-essential were forced to close, and worker absenteeism forced production slowdowns or shutdowns among those still operating.
The disruption will lead to permanent changes in supply chain logistics, according to an expert who has been researching it.
"I absolutely think the pandemic will change the whole thinking about supply chain – the whole landscape," said Haozhe Chen, associate professor of supply chain logistics at Iowa State University's Ivy College of Business. "We are putting doubt in a lot of traditional thinking."
Japanese-style Lean manufacturing, or kanban, has been widely accepted as the best way to attack waste in the supply chain by getting product to the factory just as it is needed for production, minimizing inventory and storage cost, Mr. Chen said. It spawned a saying: "inventory is evil."
"Now, with the pandemic, we need to think differently," Mr. Chen observed. "We want to keep minimal inventory, but the system with the leanest inventory might be the most fragile supply chain."
Pandemic-related shortages have led to a new focus on supply chain resilience – the ability of a supply chain to withstand interruptions from one or more suppliers – and supply chain agility, the ability to make rapid adjustments to maintain a good supply of parts and materials.
Some manufacturers that once relied heavily or exclusively on foreign-sourced components are now sourcing more parts domestically. Timberline Manufacturing, an employee-owned contract manufacturer of wiring harnesses in Marion, said some of that business is coming its way.
"It's been part of the key to us surviving [the pandemic]," CEO Tom Pientok said, noting that some of Timberline's large customers have suspended or reduced production, and needed fewer harnesses.
Timberline gets most of its parts through U.S. distributors rather than ordering directly from Chinese factories. Nevertheless, Mr. Pientok said Timberline management became concerned by early news accounts of the pandemic in China, and extended its ordering window for parts and materials by two weeks. As the pandemic spread and worsened, Timberline extended its orders from two weeks to four weeks ahead of normal to guard against disruption.
"We had a fairly significant [inventory] backlog," Mr. Pientok said. "We were blessed with that and were able to very quickly fill some supply chain disruptions for OEMs, which in turn helped fill some voids for us and helped build relationships with those customers. … I do believe there will be some rocky roads ahead in late Q3 and Q4 as spending slows."
Adjustments & feedback
Hiawatha-based Crystal Group and Marion-based Legacy Manufacturing both saw some disruption, but also managed to make adjustments that have helped them survive the pandemic.
As Legacy Manufacturing in Marion experienced supply chain disruption, the maker of hoses, air tools and lubricating equipment adjusted its inventory to higher levels of "safety stock," according to Purchasing Manager Jacob Weems.
Legacy also began to shift sourcing from China to other countries and bought products in larger quantities, doing so earlier than normal.
At Crystal Group, where employees design and manufacture ruggedized computers and servers, the company saw its lead times extend as suppliers closed their doors for one to two months. It usually had ample advance notice, however, due to efforts to stay in frequent contact with suppliers from the beginning of the pandemic.
"We were contacting our main suppliers weekly to make sure we had the latest information on any delays," wrote Purchasing Lead Justin Pegump in an email. "If necessary, we flexed our production schedule accordingly so all orders could meet delivery dates."
Instead of waiting for customers to contact Crystal Group about their orders, the company proactively updated them regularly, Mr. Pegump said, an extra step customers clearly appreciated.
Communication was also a critical part of the response at WCI. If a supplier indicated that they were not going to be back in production in time to make a critical delivery, WCI would call in its quoting department to see who else in its extensive supplier base could potentially be used to make the same part. Regardless of price, if it found a supply source that made sense, WCI would do whatever it could to keep the goods flowing, Mr. Franzenburg said.
If a critical supply of delayed parts was coming, WCI's receiving department would sometimes come to work in the middle of the night to receive it, and the manufacturing team would come in by 4 a.m. so that subassemblies could be shipped that day, preventing its customers from having to suspend their own production.
"It was a constant balancing act of supplier versus customer, internal versus external, turning parts on versus turning parts off," Mr. Franzenburg said. "People stepping up and going the extra mile, and communication were the two biggest things."
Supply chain lessons
A common response to the supply disruption in the United States and a number of other countries has been a call to move more of the supplier base back from low-cost overseas locations, Mr. Chen said.
It's a call that has growing political support, but Legacy Manufacturing doesn't need persuading at this point.
Long-term, Legacy plans to "do less with China and more with other countries, but with a heavy emphasis on domestic sources," Mr. Weems wrote in an email. "We will also be doing more of our own operations and production in-house."
Mr. Chen does not expect the shift to domestic production to be as rapid as some political leaders might prefer, however, for a number of reasons.
As China developed its huge industrial base, Mr. Chen says large industry clusters developed in different regions. One region may specialize in consumer electronics, with dozens or even hundreds of suppliers making parts, materials and finished goods. Another region would make shoes or cellular equipment, developing large pools of talent and suppliers with expertise to contribute.
Even if a company moved its manufacturing to the United States in the pursuit of more domestic jobs and production, Mr. Chen said it would be virtually impossible to move its entire supplier base.
A move like that could take years, and until it was complete, the manufacturer would not enjoy the advantages of a Chinese final assembly plant with all its suppliers clustered nearby.
"Companies need to have a long-term vision," said Mr. Chen, who worked in the import-export business in China for more than seven years. "What do I want to do eventually? What do I want my supply chain to look like five years from now? Maybe it's hard to move all my supply chain from China now … but gradually."
One of the more poignant examples of supply chain risk to come out of the pandemic has been the issue of foreign-sourced pharmaceutical ingredients. Supplies of widely used drugs like the antidepressant Zoloft and its generic equivalents fell into short supply, because the manufacturers could not get the ingredients from their usual suppliers in COVID-19-impacted countries like China or India.
"Companies really need to do an analysis – make or buy," Mr. Chen said. "For critical products such as medicine or critical parts or components for some industry sectors, you want to make them at home, even if the cost is higher."
Despite the many challenges, Mr. Chen sees several positives coming from the COVID-19 cycle of supply chain disruption, which has been described as a "black swan" event, impossible to predict by forecasting models.
The crisis has led to a growing understanding of the importance of the supply chain, as consumers tried to figure out why certain items like toilet paper, bicycles and household freezers have been in short supply. The students Mr. Chen teaches in his "Introduction to Supply Chain" classes at ISU became more engaged last spring, he said, and some said they were switching their majors to logistics.
Another positive has been a renewed understanding of the importance of risk management in supply chains, Mr. Chen said. Whereas companies may have once thought that risk was not important enough to warrant investing in solutions, they now can see clearly that widespread disruption is a possibility for which they can, and should, prepare.
Looking ahead, Mr. Chen recommends manufacturers spend more time visiting with their suppliers personally and learning about their own production cycles, supply bases and priorities. Although some promote digital connectivity as the key to supplier relations, he says it can't replace the influence of strong relationships when a manufacturer is asking for support in a shortage situation.
"You can advance your supply chain technologies as much as you want, but the decisions will be made by a human being," he said.
Nobody knows how much longer the pandemic will continue to hamper supply chains. At WCI, "we're far from out of the woods," said Mr. Franzenburg, adding he's extremely impressed with how the WCI team has stepped up to the challenge.
The next big challenge for manufacturers may lie at the end of the pandemic, according to Mr. Chen.
"We will see a sharp surge in demand for a lot of things, and companies will start to buy," he said. "In that case, how can companies keep up with that surge in demand? Parts will still be in short supply, and how can you procure enough parts to meet all the demand?"
"I'm sure not many companies are preparing for that yet," he continued. "The difficulty is, we don't know when the pandemic will end, and how much demand surge there will be. It's just really hard to predict."   CBJ