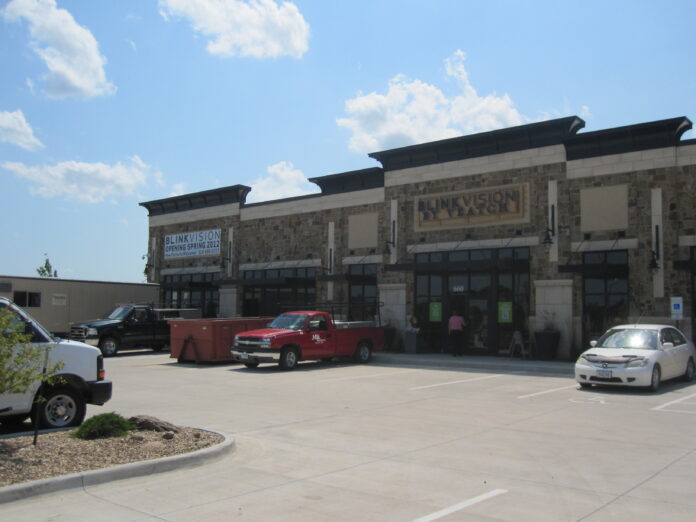 By Gigi Wood
NORTH LIBERTY — The paint isn't dry.
But North Liberty's newest development, StoneBridge Promenade, at 650 W. Cherry St., is nearly full of tenants, despite a wealth of commercial vacancies elsewhere throughout the Corridor.
The major development is located in the middle of one of the fastest growing towns in the state. The two commercial buildings were constructed on formerly vacant land, where many community festivals once took place and are located along Highway 965, a road city officials can't widen fast enough to keep up with the increasing traffic.
Stonebridge Promenade includes several businesses, including one business that has already become a local favorite, Bluebird Diner's second location. Bluebird also operates a restaurant inIowa City. The diner is the only place inNorth Liberty that offers a sit-down breakfast. The development also includes a mail packaging store, hair salon and professional offices. So many bicyclists park their bicycles while visiting businesses at the development, the development added another bicycle rack to accommodate the overflow.
On July 9, Blink Vision opened at the development, as well. Formerly located at2441 Coral Court, Coralville, the optometry clinic is operated by Dr. Ryan Veatch, who owns and developed StoneBridge Promenade.
His new office has three more exam rooms than before, for a total of five, allowing more than one optometrist at a time to treat patients. He practices with his father, Dr. Marlin Veatch, who works half-time. The new, 8,000-square-foot office will allow the practice to eventually hire additional optometrists to treat patients.
"The office will be dramatically more efficient; it's laid out ideally for our patient flow, so we'll generate a lot of efficiencies and is all-around better suited for our needs," Ryan Veatch said.
The space will also accommodate Blink Vision's increased staff. The practice opened in August 2010 with one employee and now has five. Mr. Veatch's long-range plans include expanding into space now occupied Intelec, an electrical equipment company. Blink Vision also added more medical equipment with the move and constructed a gazebo for employees behind the building.
Eighty percent of Stonebridge Promenade is occupied. Several businesses have inquired about the remaining three spaces, two of which can be consolidated into one. Ideally, Mr. Veatch is searching for medical or professional office tenants to fill the remaining spaces.
Mr. Veatch said he decided to design, build and develop Stonebridge Promenade because he wanted to control the appearance of the property.
"Obviously, visibility and location are great for where we're at and being neighbors with so many good businesses here," he said. "The location I wanted to see in North Liberty was this spot and it's much more land than I need for an individual clinic. Rather than subdivide it and try to sell it, it made more sense to control the whole thing and set up the look and style and the overall appearance and landscaping and the way I would like it to be for the long term."
A property manager oversees the development and Mr. Veatch said becoming a landlord has changed his workday somewhat.
"It adds one more ball to the things I have to juggle," he said. "I do have a lot of involvement with the tenants, checking on them and doing a lot of planning for the grand opening personally."
The development will celebrate its grand opening 10 a.m-1 p.m. July 14 with a variety of events and activities for the public.