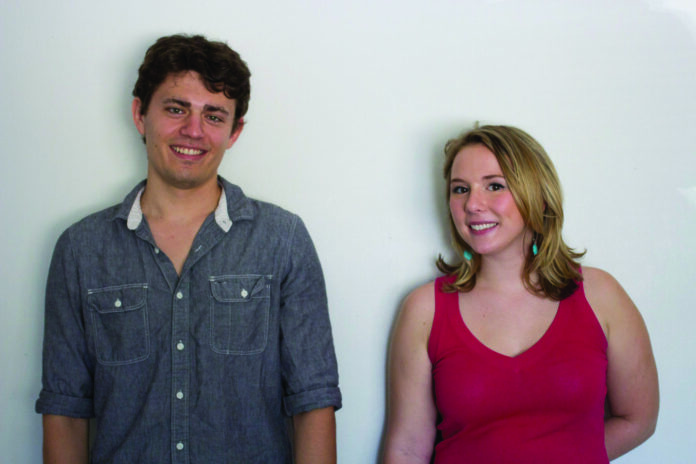 Needle Analytics hosts mapping contest
By Pat Shaver
IOWA CITY—The founders of Needle Analytics think maps are cool.
The company, started by two University of Iowa graduates, develops and analyzes data and turns that information into interactive maps and graphs for businesses and organizations.
Riley Gardam and Jacob Langenfeld started Needle Analytics last May and since then, they have continued to evolve and tweak their business.
"We thought about what we're really good at. We're storytellers, so we remodeled in November," Mr. Langenfeld said. "All of our energy has been put forth into the new model and it's been fruitful."
"That's how entrepreneurship works," Ms. Gardam said. "We stripped down all of the things we didn't like."
The two work remotely and use contractors to help with projects. They have completed graphics for organizations like the Iowa Department of Justice and Iowa Rivers Revival.
"The challenge has been figuring out who we are and what we do, and then what to do with that information," Ms. Gardam said. "It's like a big block of marble and we've been carving it down over the last year."
They started offering several data analysis services but now are focused on interactive maps and graphs and data visualization for storytelling.
"When you start a business, you're always setting goals with the mindset that things change and plans are fluid," Ms. Gardam said. Their goal is to continue serving clients throughout the state and eventually branch out into other Midwest states.
"This is going to get bigger. Finally, we have our footing," Mr. Langenfeld said. "Pretty soon, we won't be getting our feet in the door, we'll be walking through them."
To celebrate their first year in business, they decided to sponsor a map contest that encourages people to consider maps as an artistic undertaking.
"I don't think (a contest like this) is normal but it seemed like a good idea. We're not a normal startup, so why not," Ms. Gardam said.
They will accept submissions of artists' interpretations of Iowa maps until June 1. The contest combines cartography and art.
Needle Analytics, along with RAYGUN representatives, will select six semi-finalists who will each receive $50. The top three entries will be printed on posters and sold at the Iowa City RAYGUN store. The three designers will receive half of the profits from the poster sales.
"We're looking for anything that catches our eye," Ms. Gardam said. "We'll know it when we see it. It really could be anything."
Mr. Langenfeld said they are looking for the designer to incorporate personal experiences and geographies into the map.
They will host a reception celebrating the winners and the company's first anniversary July 5 at 4:30 p.m. at the Iowa City RAYGUN store. Sponsors for the event include the UI Pappajohn Entrepreneurial Center and the Iowa City Area Development Group.
For more information on the contest, visit www.needleanalytics.net.
The two graduated last May and were involved in the student group, the Iowa Community-Integrated Geography Organization (ICIGO). From their experience in the student organization, they saw a need for services like data cleaning and data analysis, which lead to the creation of Needle Analytics, based in Iowa City. Through that group, they worked on mapping and projects for local nonprofits at no charge. With the new company, they hope to cater to businesses. They have received several startup  awards which has also led to grant opportunities that are contributing to the company's funding.
One of the projects with the student organization was called the Bloom Index. They used several different categories and data to rank states based on how Steven Bloom, a UI professor who wrote a controversial article in the Atlantic about Iowa, described the state. The index examined the percentage of the population over 65, treatment admissions for meth use per state, number of hunting licenses, percentage of Christians and percentage of impaired stream lengths.