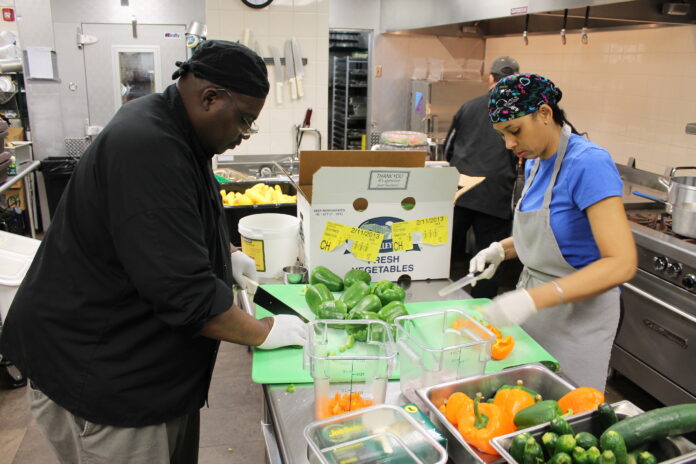 Shelter House features food, janitorial businesses
By Pat Shaver
The shelter house offers more than just shelter.
One of the Corridor's largest homeless shelters, the Shelter House, was established in 1983
in Iowa City and has continued to expand services.
The organization moved into its new location about two years ago, which has allowed it to offer a total of 70 beds (including 14 for veterans), compared to only 29 at its last location.
The move from a cramped house at 331 N. Gilbert St. to 429 Southgate Ave. on the  southeast side of Iowa City has also allowed the nonprofit the ability to expand its services, said Crissy Canganelli, Shelter House's executive director.
The move didn't come without controversy, though. Businesses and residents of a nearby mobile home park spoke out against establishing a homeless shelter there. They were worried about what it would mean for the neighborhood and predicted an increase in crime.
Despite that, the Iowa Supreme Court ruled in 2008 in favor of the city's decision to award the organization a special exception, allowing the Shelter House to proceed with building the new facility.
Since then, the shelter has expanded its offerings, including the Fairweather Lodge and Fresh Starts programs, where participants live in a house and are given the opportunity to train for six to nine months and work at the organization's janitorial business. The company has contracts to clean for several businesses and nonprofits in the area, including United Way and the city of Iowa City Landfill facility.
"Janitorial is an industry that has worked well for that population," Ms. Canganelli said. "In that business, after a period of time, they graduate and become Shelter House employees."
The Culinary Starts Training Program, which began in 2011, is a 12-week food  production training program that helped shape the catering business that started last year.
"It's a different way for the community to interface with the Shelter House. It gives everyone the opportunity to challenge their perceptions of the folks that we work with," Ms. Canganelli said. "We want to dispel the myths. That's an intentional part of this."
The catering company offers meals for business and other organization events. They also have a contract to prepare the menu for the deli at the University of Iowa's University Services Building. They prepare everything from scratch daily.
"The Johnson County Public Health Department caters lunches with us. I think that's a pretty good sign of approval," Ms. Canganelli said.
The kitchen runs 13 hours a day, seven days a week, said Jeremiah Schultz, Shelter House head chef and trainer.
Along with contributing to the catering business, participants in the training program also help prepare the meals for those staying at the Shelter House.
"We learn a lot from mistakes," he said. "Everybody learns differently." Mr. Schultz said the training focuses on the basics and gradually gets more advanced. They start the first few weeks washing dishes and keeping the kitchen organized, transition into peeling
and cutting and learn about spices, soups and stocks.
"I feel like I say the same thing 10,000 times and then there's a new batch of people here," he said.
At the end of the 12 weeks, the participants are prepared to take the Serve Safe Certification test. The Shelter House will also help set them up with a job. Ms. Canganelli said they have had students who have gone on to find jobs at Heirloom Salad Co. in Iowa City and the Cornell College food services department in Mount Vernon, for example.
From July 2011 to June 30, 2012, 629 people (adults and children) used Shelter House residential facilities, amounting to about 24,703 nights of shelter. The average person stays for two to four weeks for emergency shelter. There are also those transitioning into stability who can stay up to 90 days.
Clients must show progress, though, Ms. Canganelli noted. They work with a case manager and need to seek housing stability, income sources and participation in the workforce.
"In 1983 when it started, it was just a roof over peoples' heads. It was just that essential service and was mostly volunteer driven," Ms. Canganelli said.
Throughout the years, they've had to turn people away because of limited space and capacity. It wasn't until 1994 that the organization began informally offering clients help finding community services. Today, she said, their function is not only to provide shelter, but to address the whole person.
That includes the Nurse Managed Health Clinic that started in 2011. The Shelter House has partnered with the University of Iowa College of Nursing to provide weekly on-site acute care and health screenings. They also offer skills workshops that focus on topics like resume writing, reliability and accountability and productivity in the workplace, among others.
"It's been an evolution. The thing that held us back for years was the building, giving us issues at every turn," she said.